If getting a new lawn irrigation system is the most exciting thing to happen in your yard since you hosted the block party and the Andersons brought that artichoke lobster dip, you've stopped by the right place.

There's a lot to celebrate about installing an irrigation system — and a lot to discover.

Will installation tear up your yard? What do you need to do in the months after it's up and running? How much does a sprinkler system cost? What the heck is a backflow preventer? What happens to your sprinkler system during the winter? How do you get the Andersons' top-secret recipe for that lobster dip?

Read on for the answers to almost everything you want to know.
The Basics of Lawn Irrigation Systems in Wisconsin & Minnesota
Here's the basics: water sprays out of the ground like magic, watering your lawn, flowers, plants, and trees so they stay alive.

Too basic?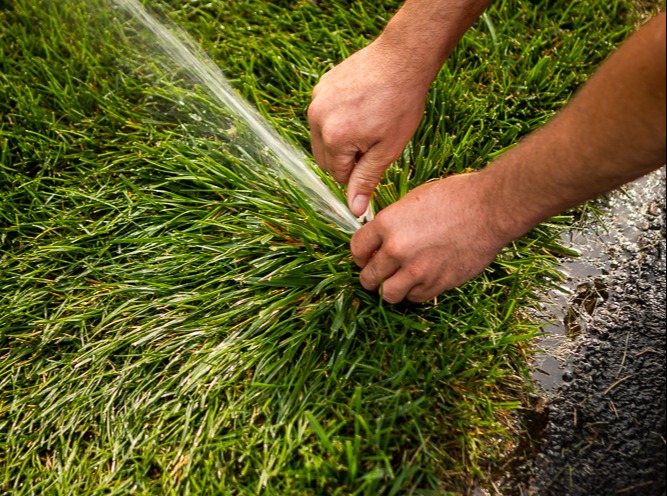 OK, there's a bit more to it than that. The whole process is pretty cool, actually, combining electricity and hydraulics, using all kinds of spinning sprinkler heads, yards of pipe, loads of valves, more wire than you'd care to measure, all working together to keep your landscape watered and thriving.

Meet some of the important parts working hard out there:
Irrigation Controller
The brains of the operation, it tells the rest of the system when and how long to water. You used to have to trudge out to your garage to operate it, but today's technology lets you command it from your smartphone, from anywhere.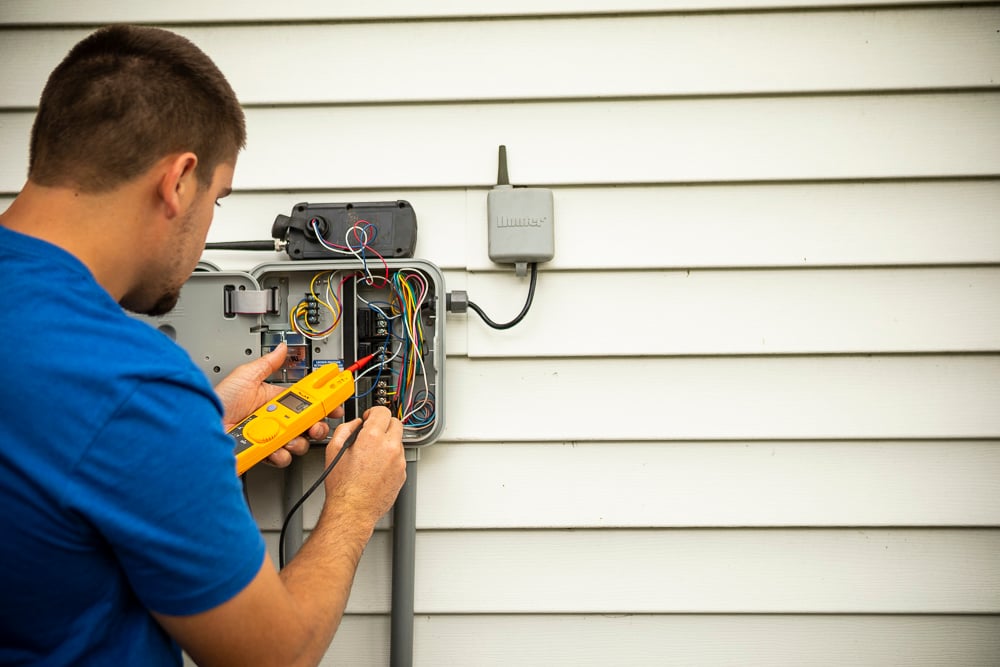 Water Lines
The sprinkler lines are buried underground and carry the water. One main line supplies several others that make up your irrigation system.
Backflow Preventer
The backflow device prevents water contamination. Most sprinkler systems are set up along potable municipal water supply lines. The water from the irrigation system may be contaminated with fertilizer, dirt, germs, and pesticides. Not too appetizing, right? Allowing water to flow back into the supply line contaminates the water, making it unsafe to use or drink.
Sprinkler Valves
Each valve in your sprinkler is like a faucet, which shuts off and turns on water flow. Once the controller sends an electrical current to the valves, they open and allow water to flow to your sprinkler heads.
Sprinkler Heads
Placed underground, heads rise up when the water turns on and water your lawn. It's kind of fun to watch. They come in a variety of types, to perfectly water every part of your landscaping.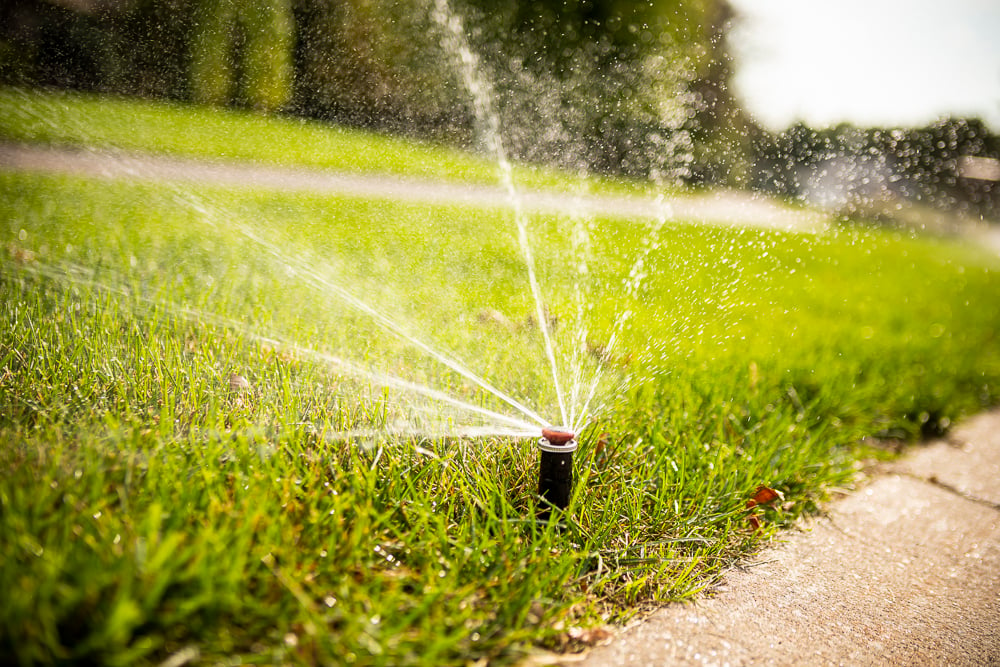 Irrigation Zones
Each area of your yard gets divided into sections called zones, set up so every part of your landscaping gets the perfect amount of water for its unique needs.

Combine a variety of sprinkler heads, and just the right spacing, and everything from your grass to your shrubs to your flower beds gets the right amount of water, without waste. Most irrigation systems have 6-9 zones.
Should You Have an Irrigation System Installed?
Better settle in, put your feet up and grab a snack, because there are so many reasons you should install an irrigation system.

Let's dive in:
A Sprinkler System Protects Your Precious Landscaping
That lovely green lawn. Your prized hydrangeas. The rose bushes your neighbor keeps threatening to steal. Those heirloom tomatoes that make your salsa the best in the county.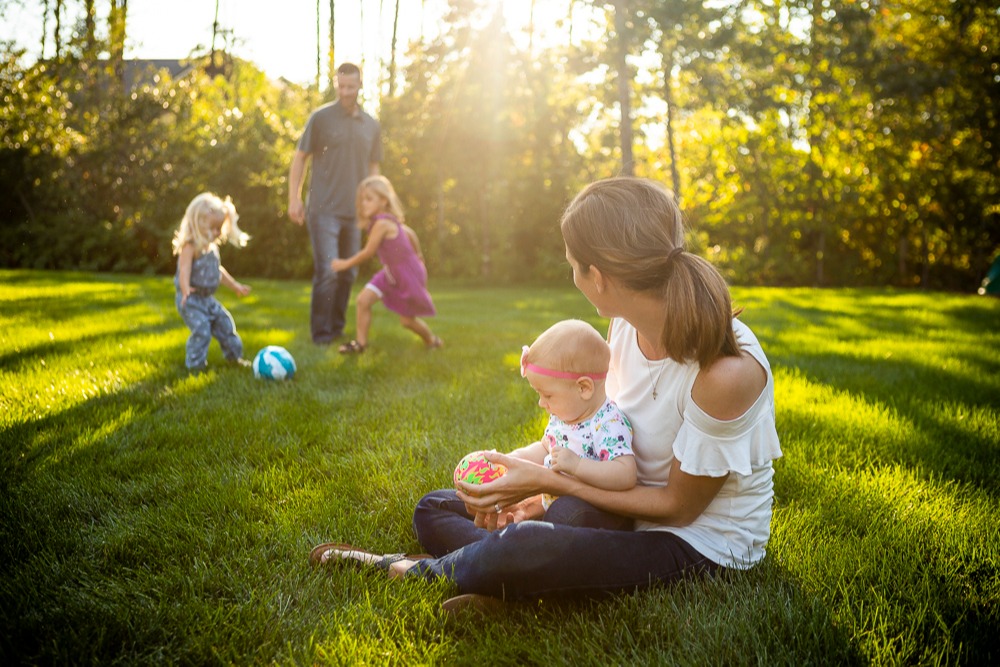 It all adds up to a big investment in time and money. An irrigation system protects it all with dependable watering in exactly the right amount.
Dragging Sprinklers and Hoses Around is the Worst
Think of all the better things you could be doing instead of dragging wet and bulky hoses and sprinklers around your yard and trying to remember how long everything has been watered. Can we all agree it's a huge pain
Peace of Mind is Awesome
Some people have nightmares about zombies or aliens or being late to work. Not you. You fear brown grass, wilted flowers, and the embarrassment of neighbors whispering that your yard looks terrible. An irrigation system erases the terror and has you drifting off to sweet dreams of owning your own tropical island or winning the Great British Baking Show.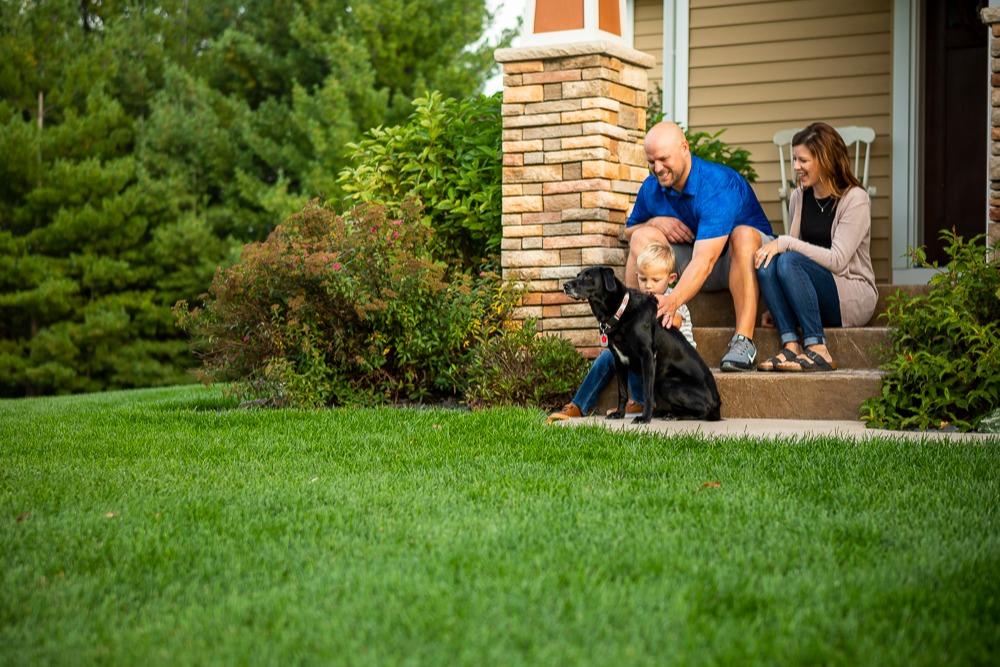 The Water Savings is Huge
A lawn irrigation system puts just the right amount of water exactly where it needs to go, with no waste. That means more money in your pocket.
Two Words: Curb Appeal
Whether you plan to sell your home one day or those 32 heirloom tomato plants mean you're never leaving, either way, you want your home to look nice from the street. Healthy, thriving green grass is crucial for great curb appeal, and a lawn irrigation system is an investment you'll appreciate every time you pull in the driveway.
Is it Time for a New Irrigation System?
Maybe you've had several kids or several jobs since your last irrigation system installation. The irrigation repair truck is such a familiar sight, your kids think the irrigation guy is a relative.

Hmmm. Is it time for a new sprinkler system?
Probably not.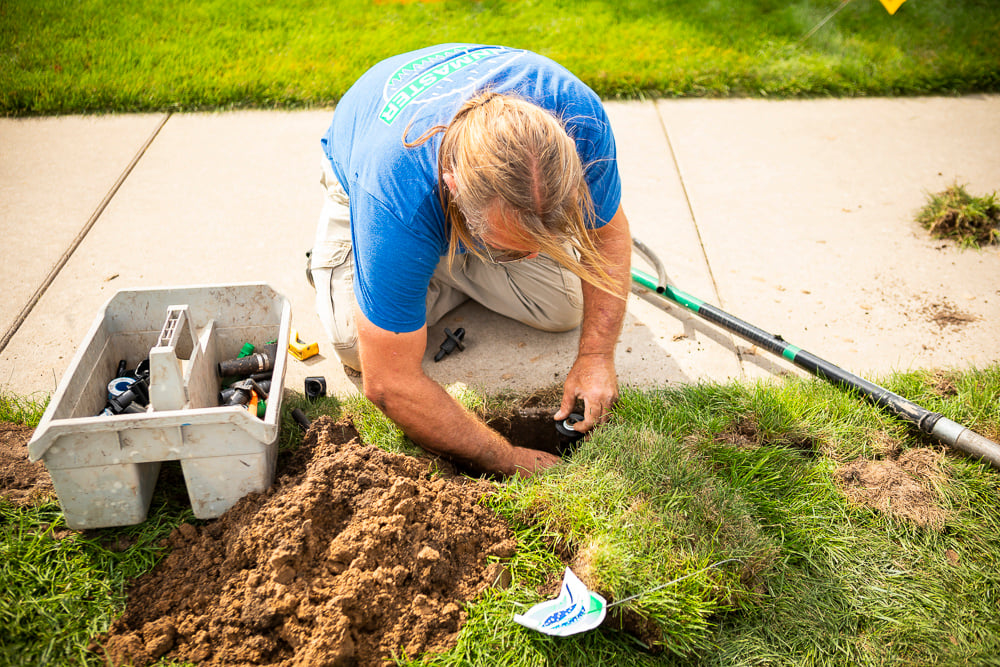 About 80 percent of the time, your irrigation system can be repaired.

It's normal to need occasional lawn sprinkler repairs. Your sprinkler system works hard out there.

Sprinkler heads break. Valves leak. Wires wear out. These typical irrigation repair services are much cheaper than the cost to install a sprinkler system in your yard.

But there are a few situations when it's time for new irrigation installation:
If your irrigation system is more than 20 years old and was made with PVC pipe, you might be looking at new sprinkler system installation. PVC gets brittle with age and can break. Newer sprinkler systems have polyethylene pipe, which is flexible, moves with the ground, and lasts much longer.


If you're doing a major landscaping renovation and have to dig up and reconfigure many zones, it's actually cheaper to start over with a new irrigation installation.


If your lawn sprinkler system installation was designed so poorly that all areas of your lawn and landscaping aren't getting coverage, or there isn't enough water volume and pressure, you'll need new irrigation installation.
What is Smart Irrigation?
It has nothing to do with your sprinkler system answering questions on "Jeopardy." That would be cool, though, right? "I'll take broken sprinkler heads for $400."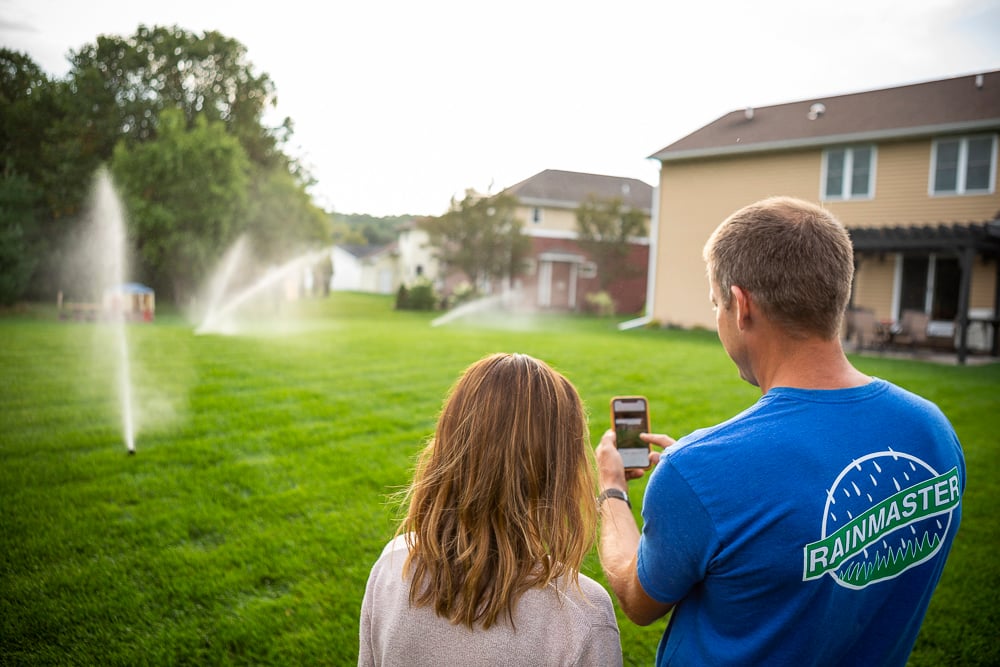 Smart irrigation system controllers have changed the way we water. What can they do? It's pretty amazing:
You can save thousands of gallons of water a season with a smart irrigation controller when used correctly. That means you save money.


They tell you right away when something's wrong, from a leak to a problem with the electrical system. The alert can go directly to your Minneapolis irrigation company, so they can fix the problem right away.


Control a smart irrigation system from anywhere, using an app on your smartphone, tablet, or laptop. Running out to the garage is so yesterday. You can give us that remote access, too. So, you don't have to be home for us to access your smart irrigation controller.


It keeps you in the know. Handy notifications alert you when your lawn irrigation system turns on, or if it skipped watering that morning because it rained.


It knows the weather forecast and acts accordingly. A smart irrigation controller will skip watering if it rains or if rain is in the forecast. Too windy? Too cold? Your controller knows not to water.


Do you know all the plants in your yard and how much water they need? Your smart irrigation system does. It even knows how much water is in the soil and how much water has evaporated. Pretty amazing.


Irrigation services in Minneapolis, MN and Eau Claire, WI can set up your irrigation timer to water different zones of your yard on different schedules. Customizing zones this way saves water and pampers each area of your yard.
Smart irrigation is a great tool to help you get that healthy, thriving lawn. And it does all the work. Pretty smart.
What to Expect During Irrigation System Installation
Maybe you expect the worst: huge piles of dirt, entire families of moles uprooted and standing on your front porch with tiny mole suitcases.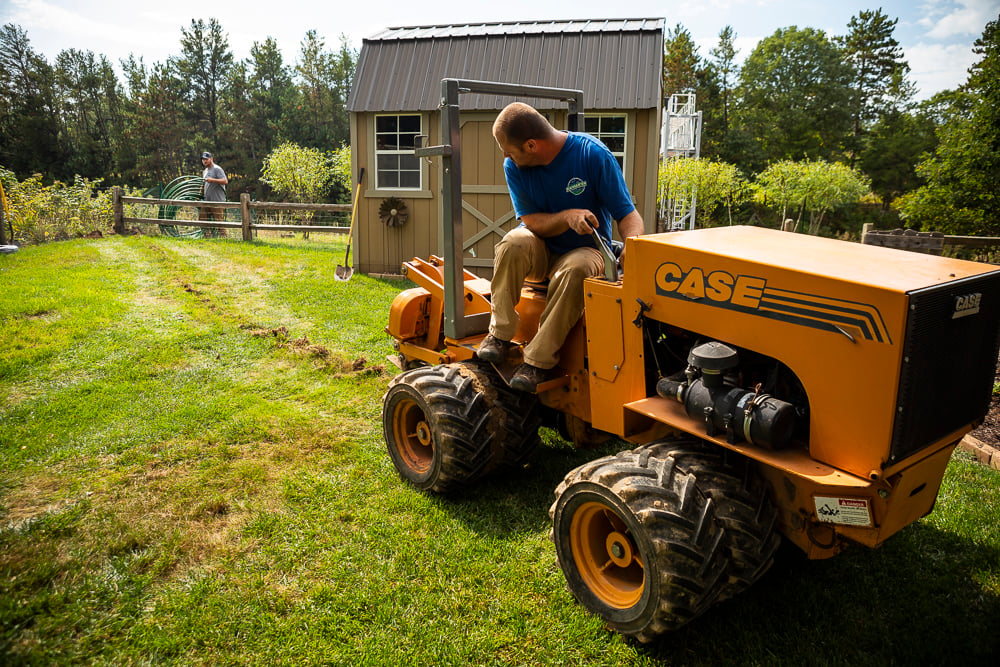 Relax. Irrigation installation goes pretty smoothly when you have pros on the job.
We schedule the plumbing, call the dig hotline, mark all utility lines, work with your landscaper if needed.


Reputable irrigation contractors in Minneapolis, MN and Eau Claire, WI, like RainMaster, use a technique to "pull" pipe under the ground, not messy trenching, for lawn sprinkler system installation. We cut a slit in your lawn and a machine drags the pipe through underground. No cutting invasive trenches that throw dirt everywhere.


Expect lawn irrigation extras from RainMaster: flexible tubing attached to each sprinkler head to make future renovations and repairs easy. Extra wires in case you want to add another zone in the future, or in case one gets damaged. A controller big enough to handle at least one more zone. You want a lawn irrigation installer who plans ahead, saving time and money.


Courteous Clean-up. RainMaster specialists clean up after they're done with lawn sprinkler installation and even reseed any areas they disturbed. Most companies don't do this — it costs extra money. Your yard will be tidy when the truck drives away


Follow-up. You'll get a free follow-up inspection where specialists will check for any leaks, pressure issues, proper coverage, and more. You'll also get details about lawn irrigation maintenance programs to make sure your system runs great for the long haul.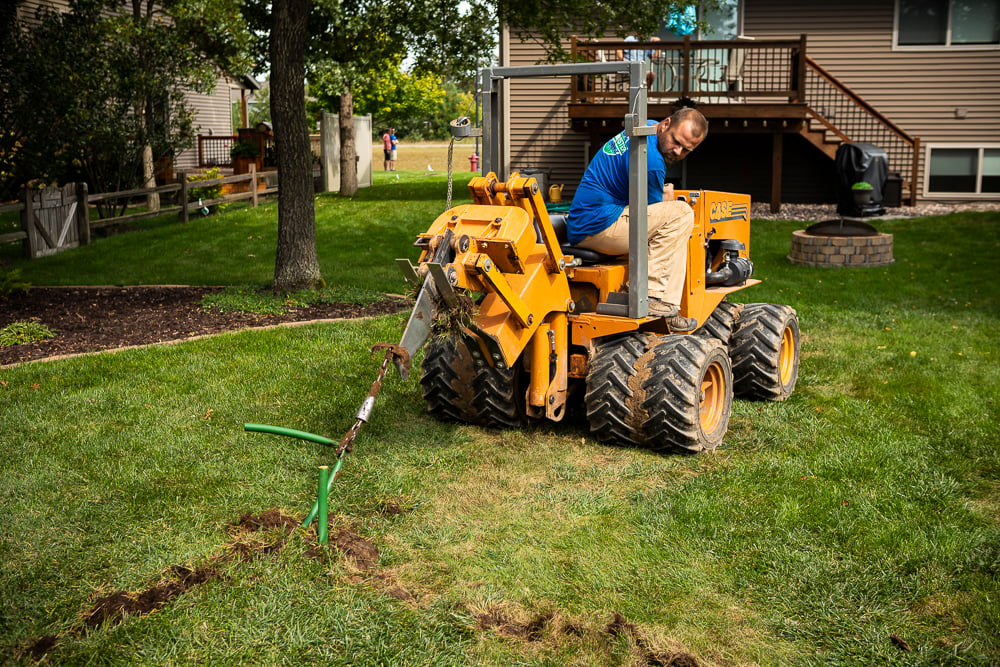 Sit back and enjoy. It's kind of fun to watch. Especially when you don't have to worry about hassle or mess.
How Much Does Irrigation Installation Cost?
You're probably hoping for a nice tidy exact figure here, like $4,530 or $3,618 or even better, $258.13.

But irrigation installation pricing doesn't work that way. Lots of factors affect the price for your particular yard.

The cost to install a sprinkler system in your yard is between $3,000 and $27,000 or higher, depending on the size of your property and the water source.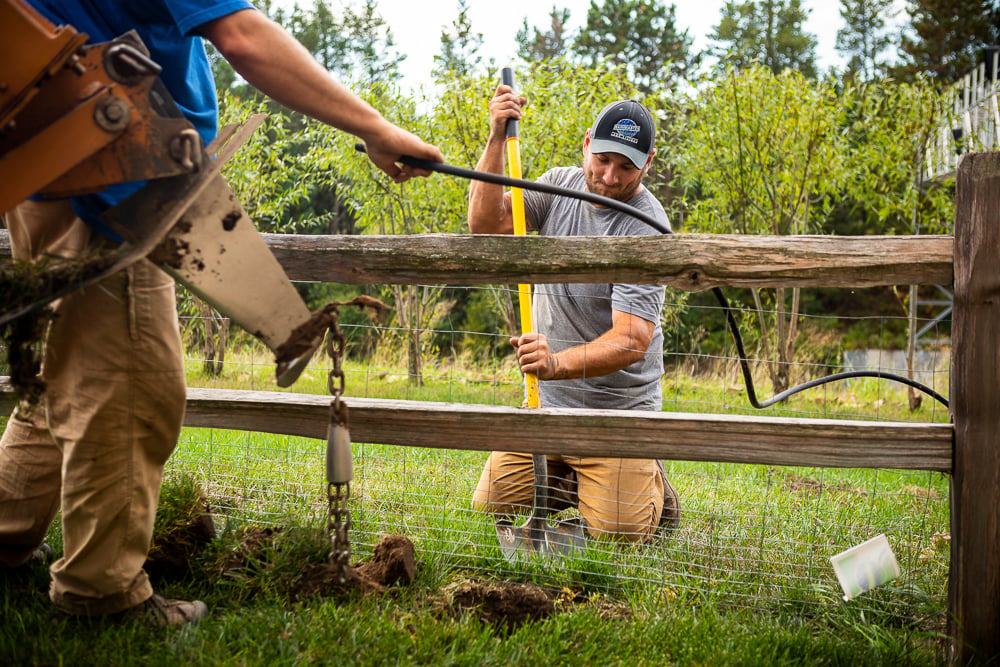 Why such a wide range? It's all about materials and labor. The more materials, the more labor it takes for Minneapolis irrigation companies and Eau Claire irrigation companies to put them in. That increases the cost.

So, is the cost much less for a tiny yard? It would seem so, but not necessarily.

Small lots often need many tiny sprinkler heads to efficiently reach all the nooks and crannies in your yard without wasting water by over spraying.

Design plays a big factor here, too. You absolutely want to hire a Minneapolis MN or Eau Claire WI irrigation company that emphasizes expert design.

Why?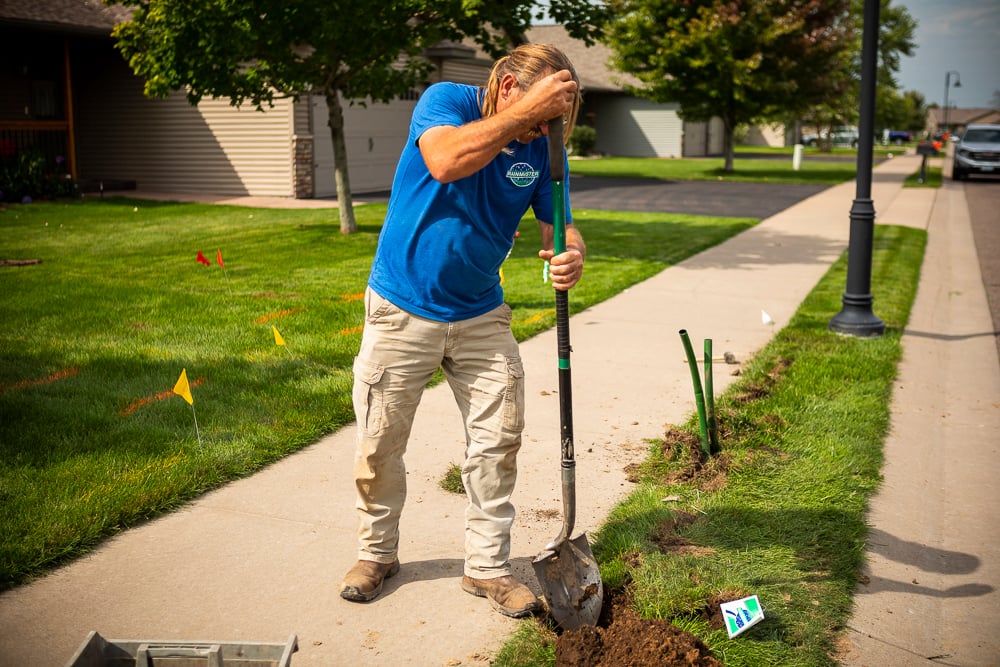 You have to install a sprinkler system right the first time. If it's wrong, it's really expensive to fix. Sometimes it even means starting over.

Be careful of sprinkler system companies that skimp on the number of irrigation heads or the number of zones to reduce the amount of materials and labor, so they can offer a lower price.

They might install two heads where there really should be three. They might install four zones when five would do a better job.

Once the job is done, all the spacing is set. In order to fix it, you may need to dig up and reposition 50 to 100 irrigation heads and install more zones. That's a massive, expensive task.
Don't underestimate the importance of skilled, expert irrigation installation design.

Sure, you could hire a guy in a truck who says he'll set you up for a couple thousand bucks.

Please don't.
Tips for Using Your New Irrigation System
What? You can get tips just for using your new irrigation system? A dollar, maybe? Even two?

Oh, not that kind of tips? Too bad.

Make the most of your new lawn irrigation with these tips (that are still plenty valuable:)
Water Before Sunrise
You want all that precious water to soak into your lawn — not evaporate in the sun or drift away in the wind.
Update Your Controller for the Seasons
Don't just set your controller timer and forget it.
When you turn your lawn irrigation on for the season, you set it for cool and rainy spring weather. That's fine for a while. But then July rolls around and it's hot and dry. Your lawn needs more water. Stay on top of those changes.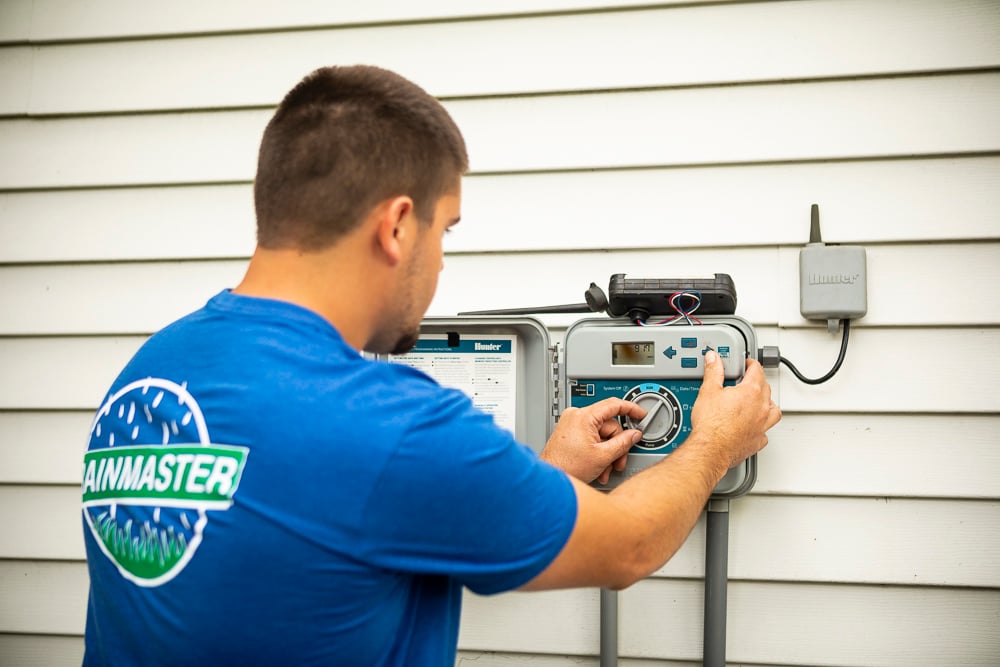 Don't Water Every Day
Yes, watching the water spray is fun at first. But calm down and let the soil dry out between waterings — which means water longer and less frequently.

You want your grass to have to search for water, sending its roots deeper into the soil. That encourages the roots to grow longer and deeper, which means your grass will be healthier.
Sign Up for Irrigation Maintenance Services
Your pretty green lawn depends on proper irrigation. That means regular irrigation system inspections so your sprinkler system won't let you down.

Irrigation specialists look your whole system over to make sure all the parts are working correctly and your entire yard is getting exactly the right amount of water, with no waste. You'll love the peace of mind.
Put Smart Irrigation to Work
The best tip? Two words: smart irrigation. A smart irrigation system follows some of these great tips for you, and more. So, you can do fun stuff like, well, you'll come up with something once the novelty of staring at your new irrigation system wears off.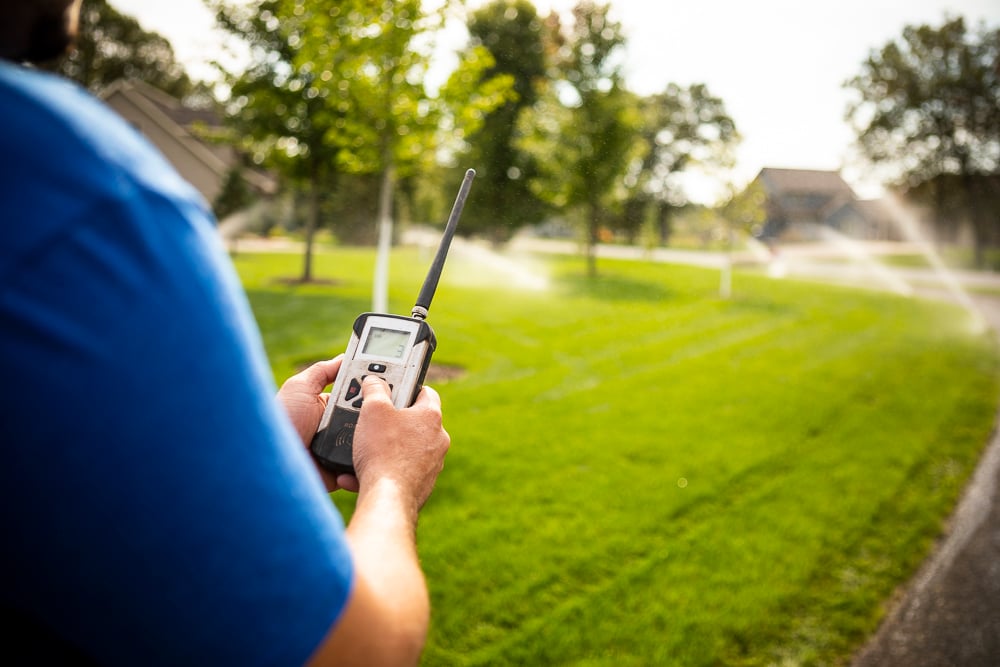 The Importance of Irrigation System Maintenance & Inspections
There are so many important reasons you need regular sprinkler system maintenance your lawn could be turning brown while we list them all, so let's get to it:
Stuff happens out there. Leaks. Broken sprinkler heads. Controller issues. Water spraying where it shouldn't. But most homeowners don't notice the warning signs that turn into big lawn sprinkler problems later. Ignore lawn sprinkler system maintenance and you could face repairs far more expensive than the cost to pay for maintenance.


Reprogramming your irrigation system every time the seasons change is a pain. Lots of people don't do it, and that means they're wasting water and their lawns are suffering. Get it done for you, worry free, during your irrigation maintenance tune-ups.


Exploding water lines are exciting, but not in a good way. Winterizing your sprinkler system is a crucial task before the first deep freeze of the season. You absolutely must get the water out of your pipes, valves, and heads before the first deep freeze. If water freezes and expands, things break, and that means a costly repair.


Then, in the spring, irrigation system inspection includes a visit to check out all the parts of your lawn irrigation system and get it up and running for the busy watering season ahead.


Wasting water is just plain terrible. Don't do it. Regular irrigation system inspections include adjustments that keep you from wasting water.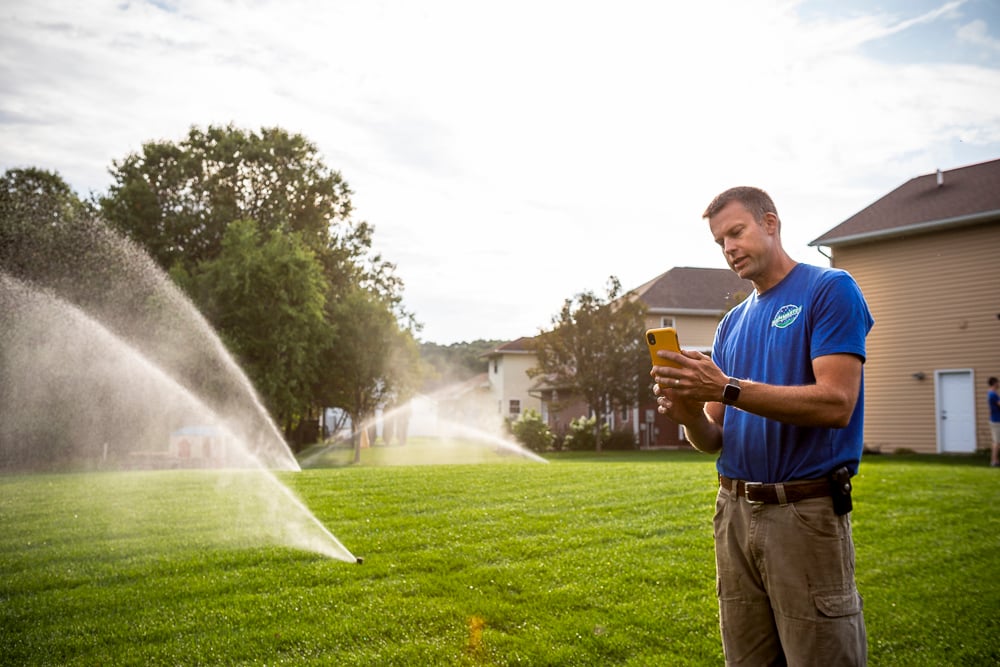 Love ugly brown spots in your lawn? We didn't think so. It doesn't take long for them to show up once your sprinkler system goes down. Prevent them with efficient watering. That means regular irrigation maintenance services.


A regular sprinkler system maintenance program means specialists will discover any repair needs throughout the year, rather than finding multiple problems in one or two yearly visits. Your wallet will thank you.


While you're relaxing in a lounge chair sipping a frozen drink, your lawn irrigation system is working really hard on the hot, dry days of summer. Sprinkler system maintenance is vital then, to keep things running smoothly and catch all the potential summer pitfalls like that sprinkler head your teen mowed over or that plant that grew so fast it's blocking a sprinkler head.


Great advice. It's free with your irrigation inspection. While your Eau Claire irrigation company specialists are out there catching problems early and keeping things running smoothly, they also offer you great advice for saving water and money.
Your lawn's health depends on proper irrigation. That means regular irrigation system inspections so your sprinkler system won't let you down.
How Much Does Irrigation System Maintenance Cost?
Watering your lawn can seem so effortless when you have an irrigation system.

The water is chugging away, heads are spinning, electricity is flowing through the wires...until suddenly, it isn't. What the heck?

Before you get all huffy about it, have you given your hard-working irrigation system any professional attention lately?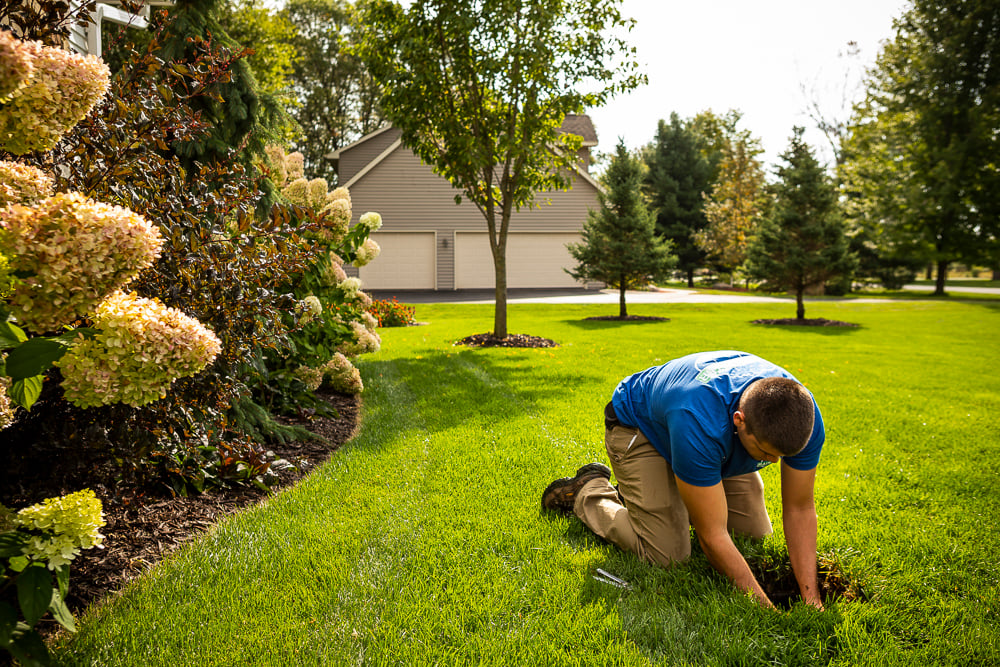 Sprinkler systems need routine maintenance to keep running smoothly and efficiently.

So, how much does irrigation system inspection cost?

Expect to pay $225 to $450 a year for a good irrigation maintenance program that includes some combination of spring activation, fall winterization, and tune-up visits throughout the busy summer months.

Sometimes everything is running great. Maybe the controller just needs adjusting for the season. Other times, your irrigation maintenance company will find sprinkler heads that need to be adjusted or replaced. Or broken valves. A zone that won't turn off. A loose fitting.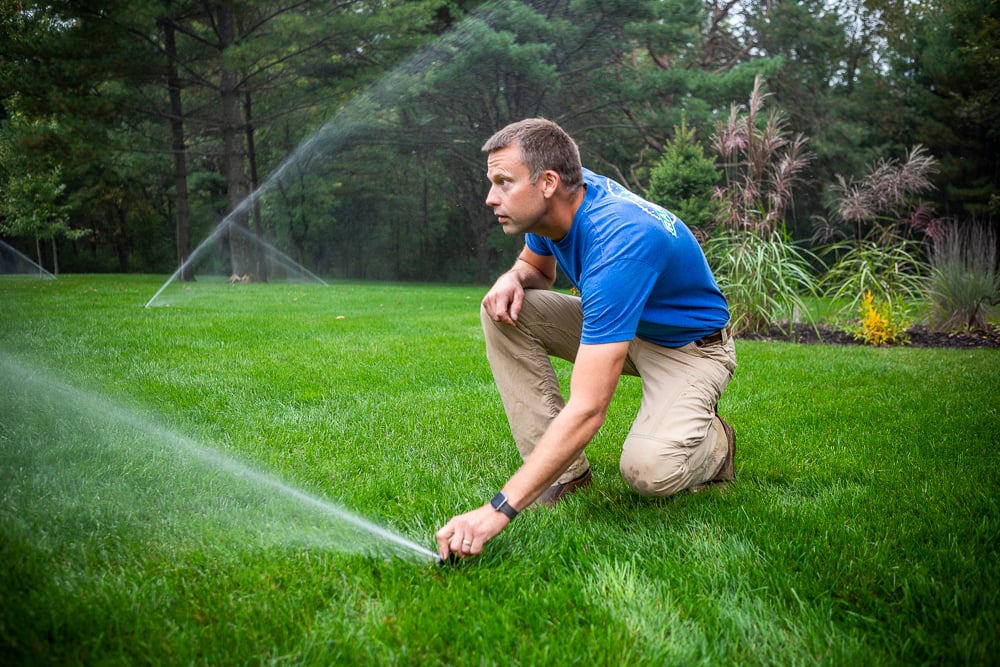 It's normal for parts to wear out or need to be adjusted.

Budget at least $300 a year for these kinds of repairs to make sure your irrigation system runs smoothly and keeps the water flowing to your thriving, healthy lawn.

Ignore irrigation maintenance and it can cost you a lot more for expensive emergency repairs. Then you'll really feel huffy.
How to Choose the Best Irrigation Services in Eau Claire, WI and Minneapolis
This is not the time to put the names of all the Minneapolis irrigation companies on a dart board and throw a dart.

Sure, it sounds fun, but that's no way to get expert irrigation services in Eau Claire, WI and Minneapolis. Also, you'll put your eye out.

How to choose? Ask some smart questions to make sure you're getting an expert, dependable company that makes everything easy and hassle-free for you.

Here's what to ask before irrigation installation:
How Will You Keep in Touch with Me?
Ask Eau Claire irrigation companies if they'll send you an email or text to remind you of your appointment. Do they have automatic scheduling, so you don't have to worry about calling to set up your irrigation services? Will they follow up to let you know exactly what they did, and any recommendations?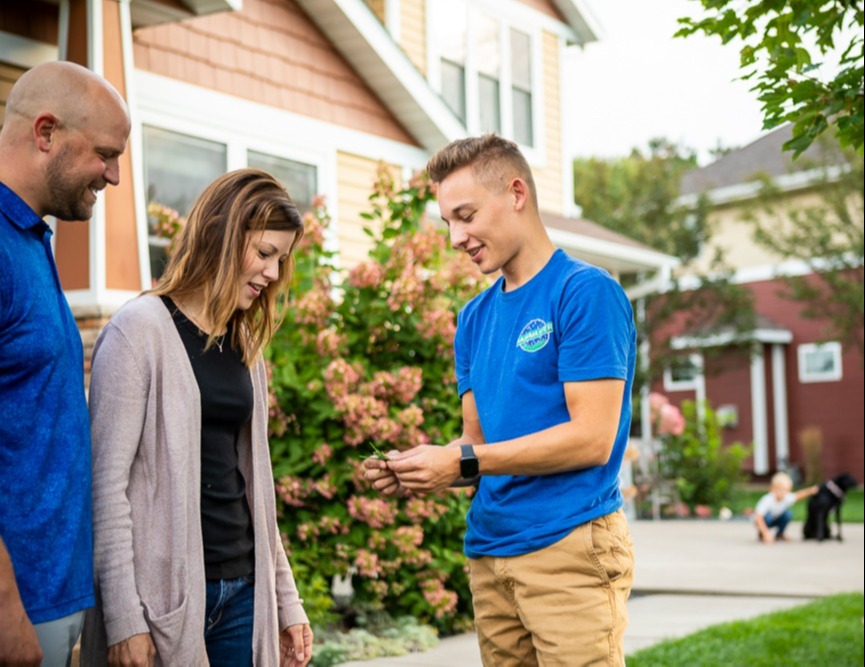 Will You Answer the Phone When I Call with a Question?
Sure, this seems basic. But it's not a given. You don't want the frustration of never being able to reach a real person.
Can I Talk to the Lawn Irrigation Specialist Who Works on My System?
Maybe you'll have a question about your irrigation repair. Can you talk to a specialist who will have the answer?
Will I Get the Price Up Front?
Or will you bill time and materials?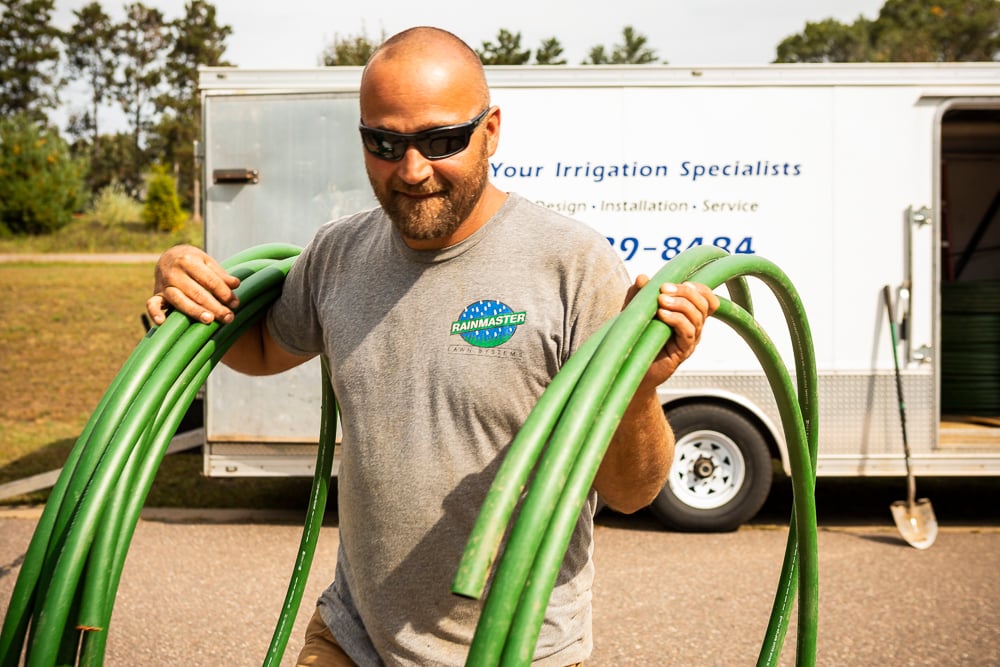 Most irrigation repair companies bill customers for time and materials, which means you go into the situation not knowing how much you'll pay at the end.

Yikes. Make sure Eau Claire irrigation companies will tell you the repair cost up front.
Do You Have Most Irrigation Parts with You?
Or at a nearby warehouse? Or will you have to order them?

The answer to this question makes a huge difference in how quickly your Minneapolis irrigation repair company will fix your problem.
Tell Me About Your Irrigation Specialists' Training
Do they know what the heck they're doing? Find out about their training and industry certifications.

Anybody can put their name on a truck and call themselves an irrigation repair service. You don't want that guy.
Will You Make Helpful Suggestions About My Lawn?
Wouldn't it be nice to get some expert recommendations along the way? How to help prevent future repairs? How your irrigation habits can lead to a healthier lawn?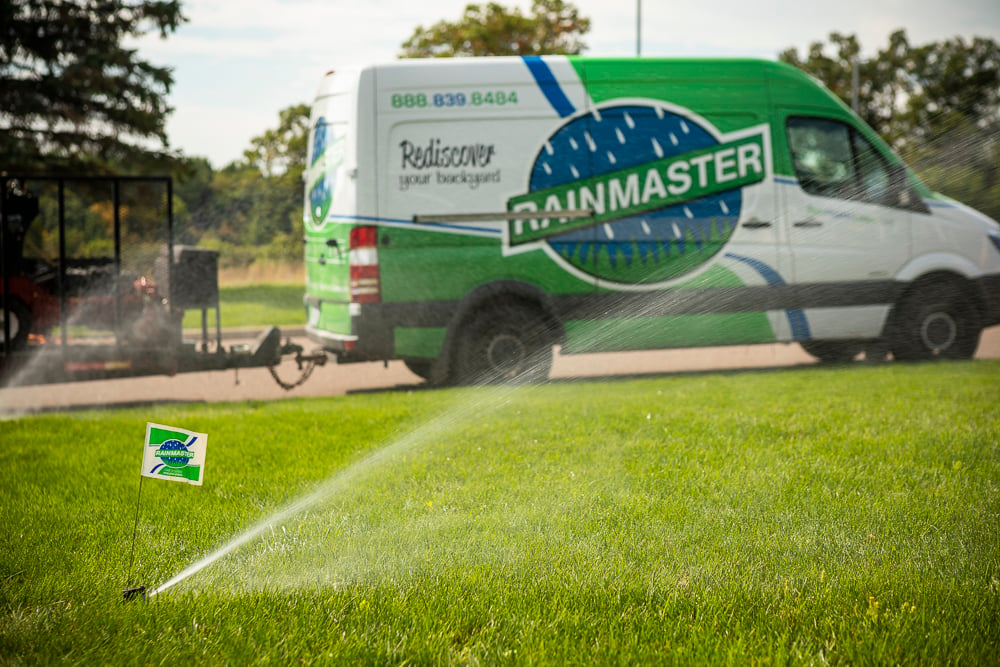 Look for irrigation services in Minneapolis, MN and Eau Claire, WI that will go beyond repairing problems and care about the health of your lawn.
Why Should I Hire You?
They should have lots of good reasons, including that they offer skilled, efficient irrigation repair; continued attentive maintenance; and friendly customer service that takes away the stress and makes things easy.
Trust Your Irrigation System to RainMaster
If you read this far and were hoping to get the recipe for the Andersons' artichoke lobster dip, cheer up — you can get recipes online. We're talking about a new irrigation system here!

Top-notch irrigation info is key to your lawn's health.

Ready to make your lawn life easier? Request a quote today! We'll review your options together so you can make a confident decision. Then, you can finally enjoy your well-watered lawn and stop worrying about it.