Let's face it, the best time to install a lawn sprinkler system is before your grass dies.

But if you're looking for more specific timing, we have some tips. A couple might surprise you.

When is the best time to install a sprinkler system?

Grab your calendar and let's take a look.
Thinking of Spring?
Lots of people do. It sounds like a perfect plan — get that system in as soon as the ground thaws and it'll be ready to roll for the heat of summer.

But good irrigation companies are crazy busy in the spring, getting lawn sprinkler systems up and running for thousands of their current customers.

It'll be a challenge to get on their calendar for a new installation until after Memorial Day.
New Lawn Sprinkler System? Shoot For Summer
Once the spring start-up season is over is the best time to install a sprinkler system.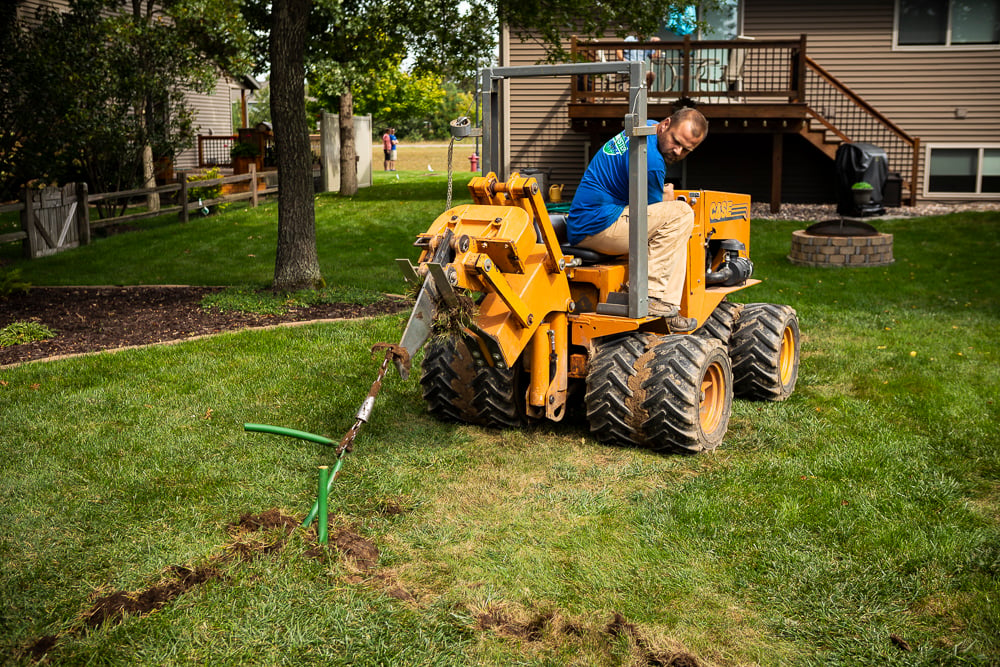 Installation can happen right through fall, until the ground freezes in late October.

In fact, fall is a good time for sprinkler installation. Then, you'll be up and running in the spring.
Building a New Home? Think Lawn Sprinkler Systems Now
If you're building a new home, that's the best time to install a sprinkler system.

You'll actually spend less money than having a system installed in existing landscaping.

Installing a lawn sprinkler system in dirt takes less time and labor than installing one in grass.

Installers don't have to worry about digging up portions of lawn and replacing them after running the lines.
Your Lawn Will Thank You
If you're building a house, you'll be planting grass. Growing grass is harder than you think.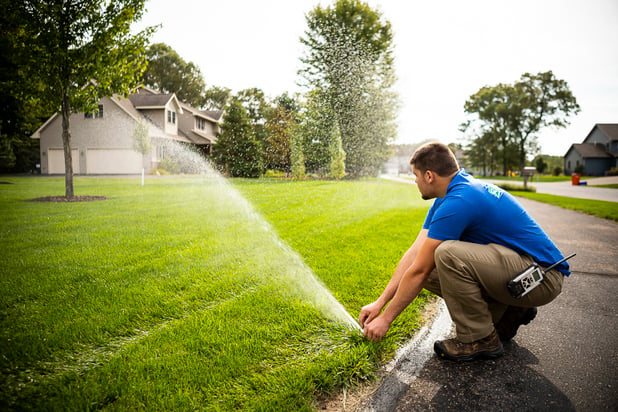 A new lawn needs lots of water as it's getting established.

Dragging your hoses and old school sprinklers around several times a day will get old fast.

You'll be happy for that lawn sprinkler system to get your grass growing.
Pondering a Lawn Sprinkler System? Plan Ahead
New homes are exciting — but real budget busters.

If your budget doesn't allow for an irrigation system when you're building your house, but you know one is in your future, work with your builder to prepare for it.

Increase your well pump size. Stub out the plumbing. That will make things easier when you're ready to roll.
Existing Yard? No Problem!
Actually, most of the lawn sprinkler systems we install are in existing landscaping. It's no problem at all.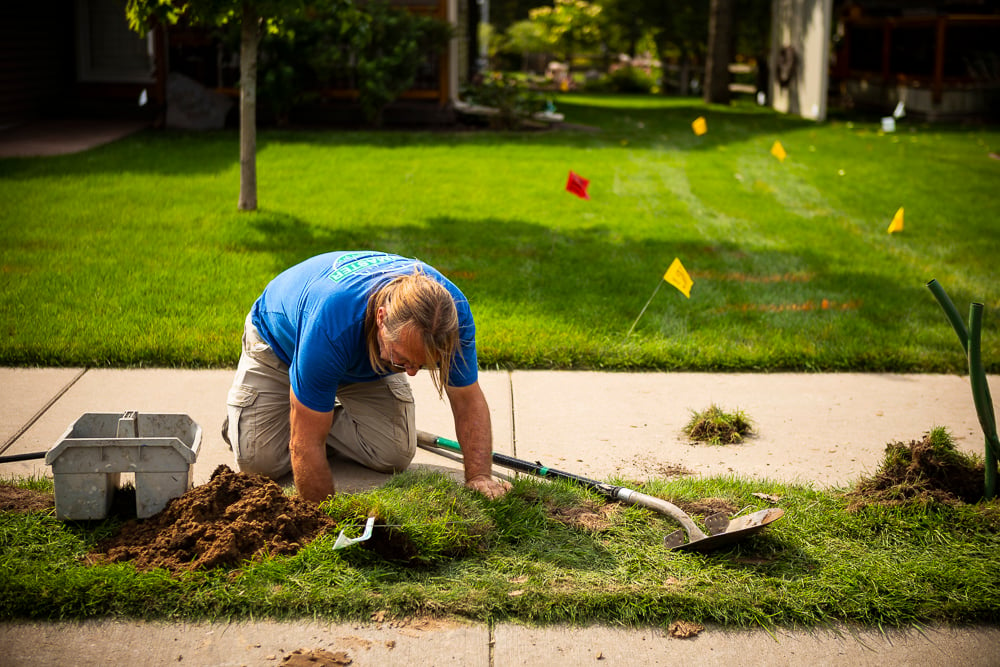 If it weren't for the beautiful sound of perfectly planned sprinklers chugging away outside, you might not even know we were there.

Your sprinkler heads tuck into the ground, neatly out of sight.

We install our systems using a trenchless process with seamless installation.

You'll have a nice clean yard after we're done, with minimal disruption. We even seed the areas we disturb in existing lawns.
The Best Time to Install a Sprinkler System? After You Call RainMaster
Once you decide you want a new lawn sprinkler system, you can't wait to make it happen.

Choose RainMaster, and we make it easy, from start to finish.
One less phone call, one less to-do: Don't worry about scheduling the plumbing or scheduling any routine maintenance. Our automatic scheduling takes care of that.
Simple Process: No need to coordinate the irrigation work with your landscaper, to make sure all the steps are done in the right order. Consider it done.
Reliability: No worries about whether we'll show up. You hired the right company.
Whatever the timing, we're happy you're trusting your new system to us.

Want to be confident about your choice for irrigation services? Request a quote today! We'll review your options together so you can make a confident decision. Then, you can finally enjoy your lawn and stop worrying about it.