If the first question you ask an irrigation repair company is "How soon can you get here? The water is up to my knees!" something has obviously gone terribly wrong.
When you're in the middle of an irrigation emergency, you don't really have time to ask a bunch of well-crafted questions to make sure the irrigation repair service is good.
You're too worried about drowning.
So, what if you found the best Minneapolis irrigation repair company before you have an emergency?
Ask a few questions now, so you'll already have reliable irrigation repair services on board when you really need them.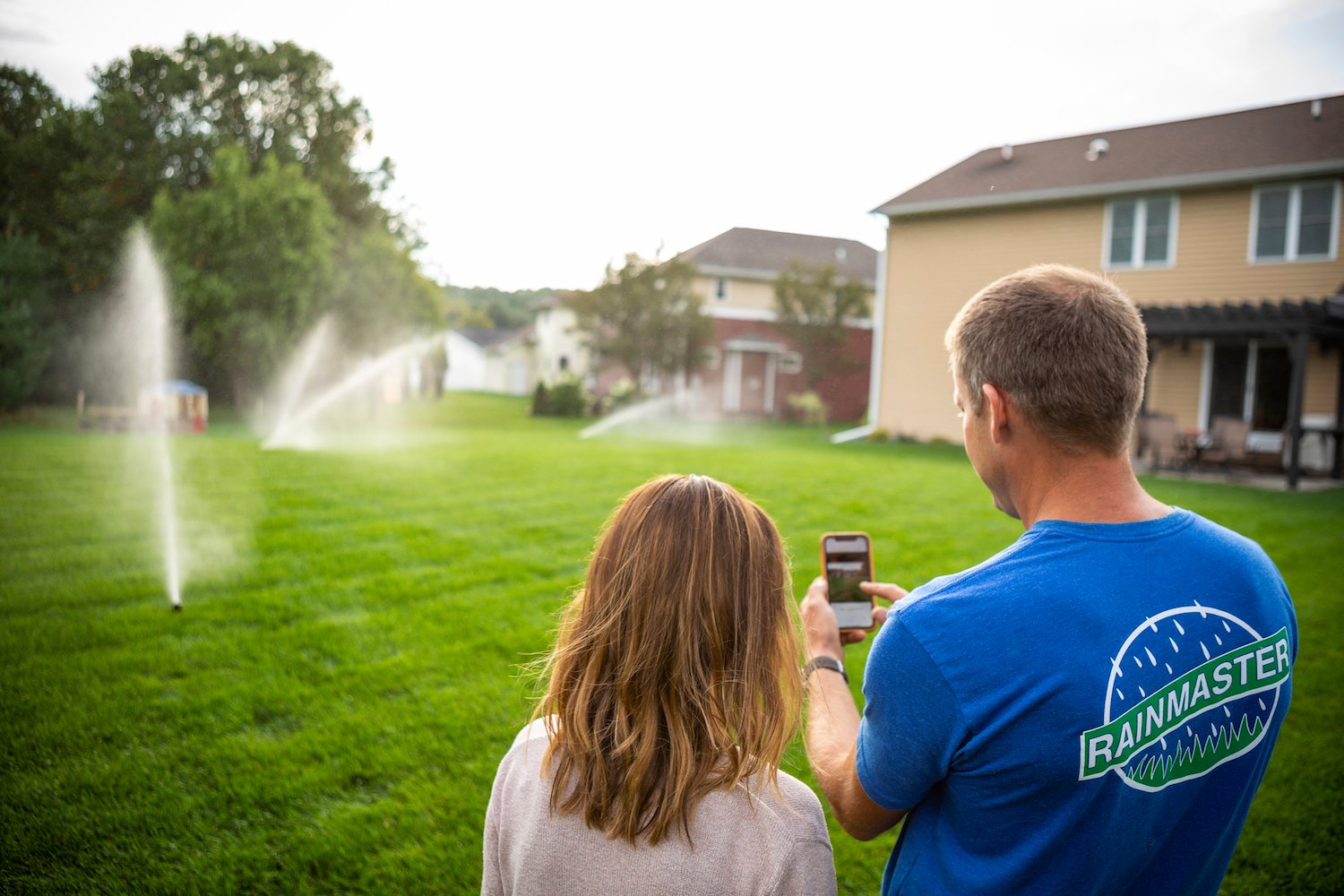 Think ahead. Rest easy. You've done yourself a big favor.
Speaking of easy, make sure some of your questions are about the customer service details that will make things easy for you.
Here's what to ask.
1. How Will You Communicate with Me?
Nobody likes surprises. Unless it involves cake.
Will the Eau Claire irrigation repair company send you an email or text to remind you of your appointment?
At RainMaster, you'll get automatic scheduling, which means you don't have to worry about calling us to set up your irrigation services.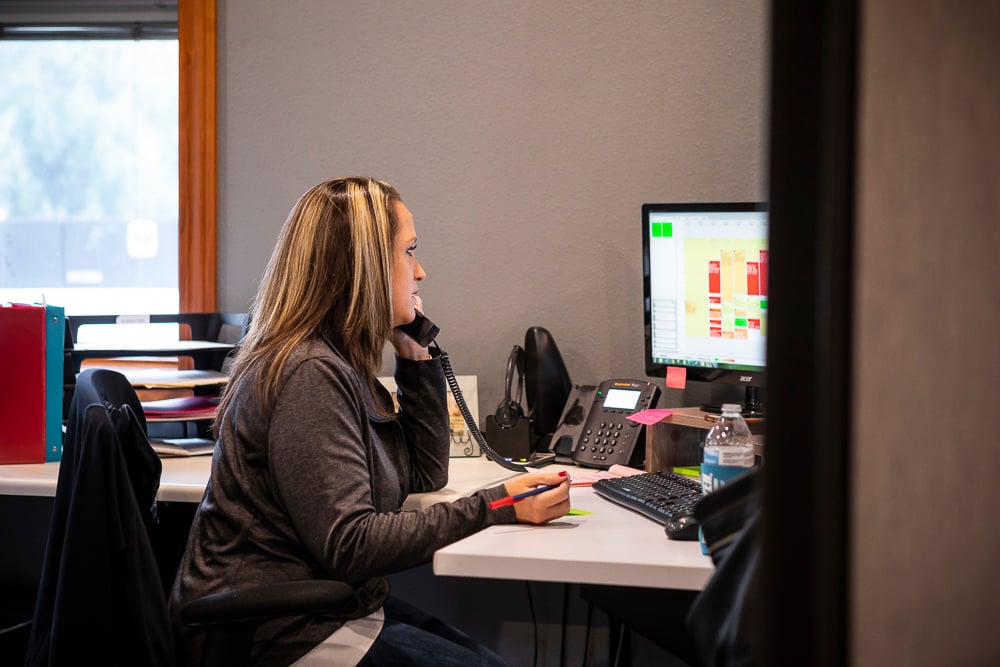 Then, we'll email or text you a reminder that we'll be there the next day.
There's no mystery about what services were done on your property. You don't have time to play detective.
We let you know when we're finished on your property and exactly what we did.
If we discover any concerns, or ways to improve your lawn, we'll fill you in. Maybe your lawn needs aerating or your watering schedule needs adjusting.
You get a phone call when we're done, and a follow-up email the next business day with a detailed list of what we did and any recommendations.
No surprises. But you'll have to bake your own cake.
2. Will You Answer the Phone When I Call with a Question?
Or will I get an automated system?
When you contact us, we answer the phone. We respond to your messages. Be ready to chat. You don't get stuck on hold in some call center across the country.
3. Can I Talk to the Irrigation Specialist Who Works on My System?
Sometimes you have a question about your irrigation repair. What happens then?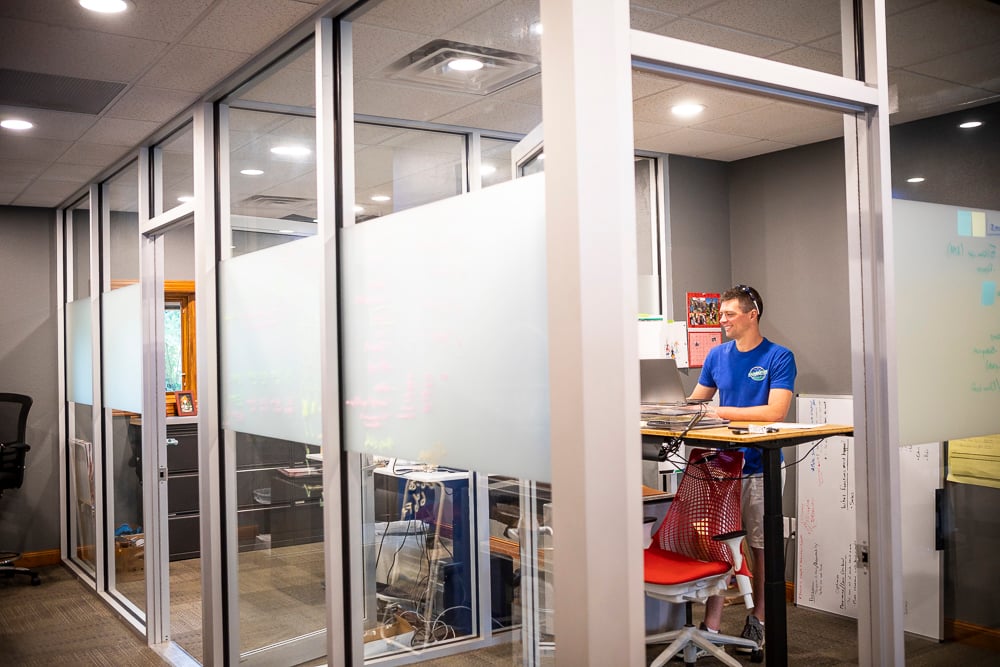 You can call your RainMaster specialist with any questions or concerns. They're happy to chat.
4. Will I Get the Price Up Front?
Or will you bill time and materials?
Most irrigation repair companies bill customers for time and materials, which means you go into the situation not knowing how much you'll pay at the end.
Pretty scary, right?
When a company tells you the repair job will cost you $100 an hour plus parts, that doesn't do you much good.
How long will it take? How many parts?
With RainMaster, you'll know the repair will cost $54 or $115 or $159. That's the price.
Then, payment is easy. When you sign up with us, you'll give your credit card information for no-fuss payments on auto pay.
5. Do You Have Most Irrigation Parts with You?
Or at a nearby warehouse? Or will you have to order them?
The answer to this question makes a huge difference in how quickly your irrigation repair company will fix your problem.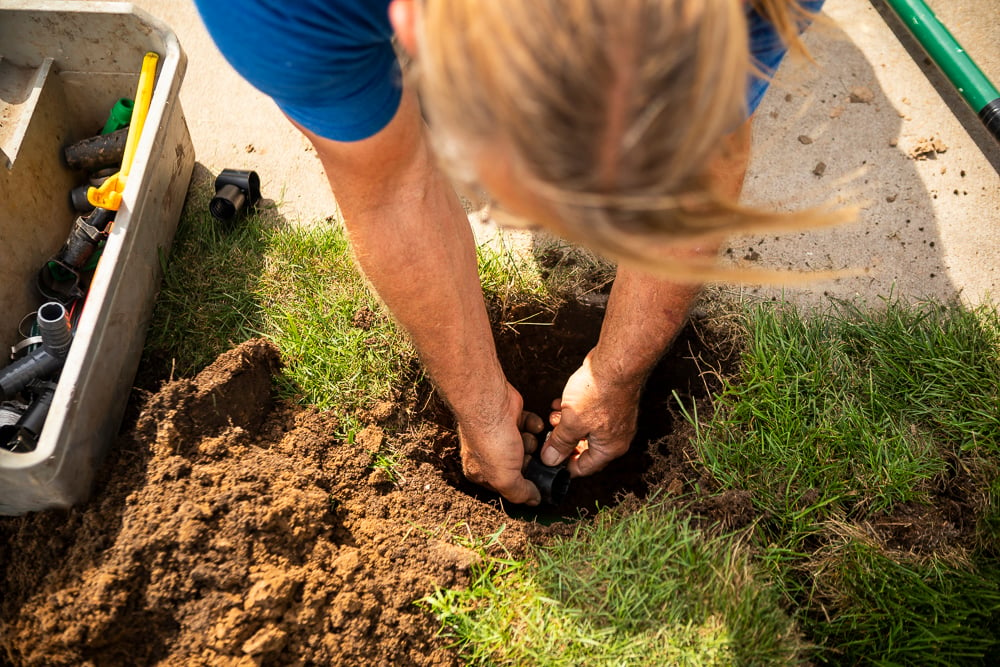 When a RainMaster truck rolls up to your house, you're basically getting an irrigation parts warehouse on wheels, stocked with the most-needed parts your specialist will need to get your system fixed ASAP.
6. Do You Know What the Heck You're Doing?
OK, this may seem blunt. You could frame it more politely, like, tell me about your specialists' training and industry certifications?
The thing is, pretty much anybody can put their name on a truck and call themselves an irrigation repair service.
But do they know what they're doing?
When you hire RainMaster, you get skilled, experienced specialists with industry certifications.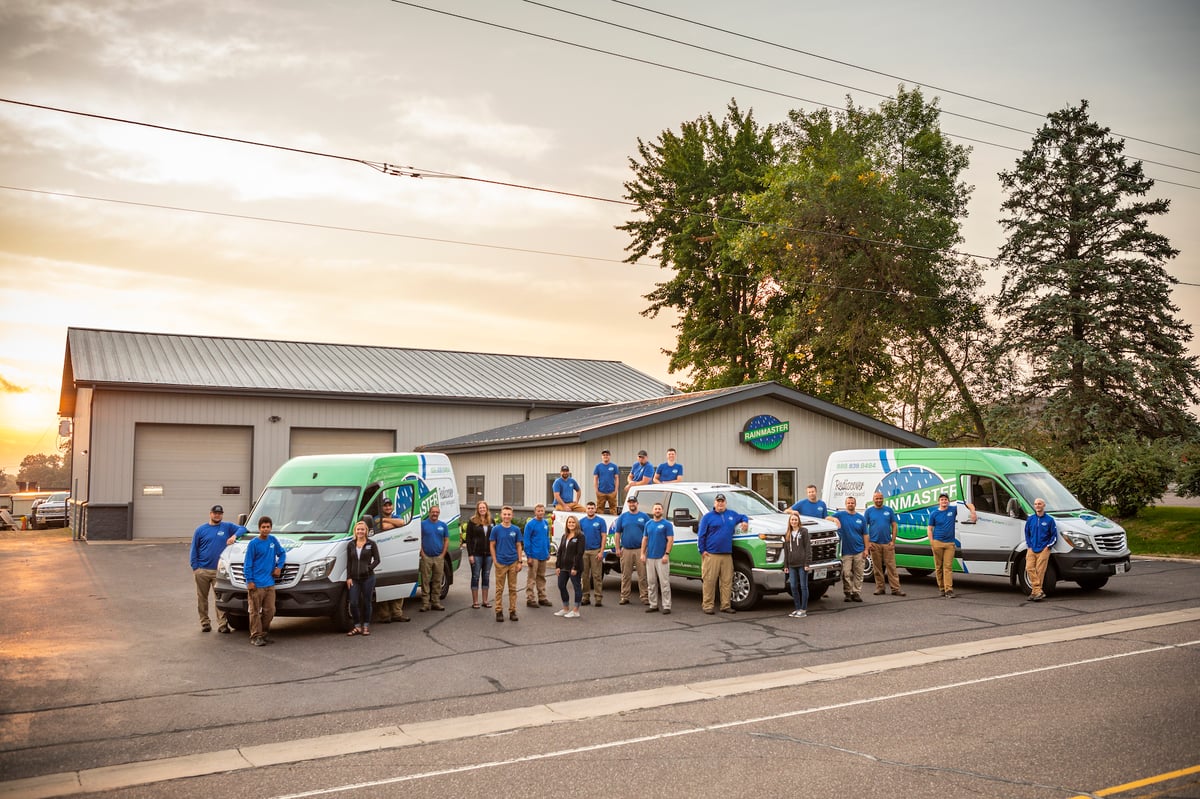 While most people who work in the landscaping industry are seasonal, we hire our employees on a full-time, year-round basis.
Then, we invest in them, providing training and education. Many have college degrees, and some have horticulture degrees. They continue to boost their knowledge and skills, year-round.
7. Will You Offer Helpful Recommendations About the Health of My Lawn?
Sure, the first thing on your mind is getting your irrigation repair done, quickly and efficiently.
But then what?
Wouldn't it be nice to know how to help prevent future repairs? How to make the most of the irrigation system you have? How your irrigation habits can contribute to a healthier lawn?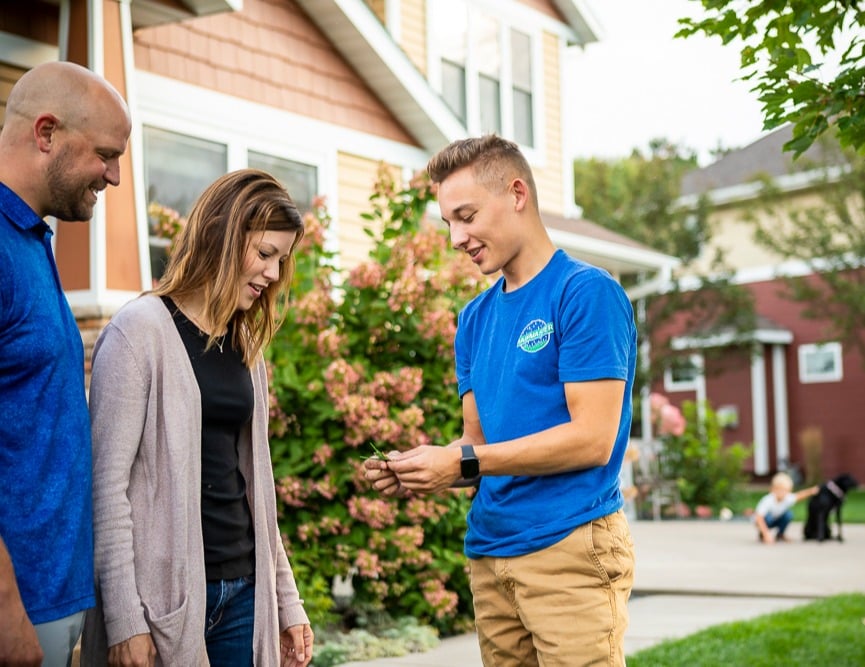 Your RainMaster specialist will fill you in.
If we discover any concerns, or ways to improve your lawn, we'll tell you.
Our irrigation specialists don't just know how to fix your broken sprinkler head. They learn about lawn care, in depth, which means you get an expert irrigation repair — and a lot more.
8. Is There an Advantage to Being on an Irrigation Maintenance Program?
There absolutely is. With regular sprinkler system maintenance visits, you don't have to wait until something breaks, call us, and wait weeks for a service call. Or pay for a costly emergency visit. Our technicians will already be on top of any needs.
If you're a customer and you need a sprinkler system repair, we have helpful information about your sprinkler system in our files. We know what kind of a system you have, what specialist visited last, what's been done.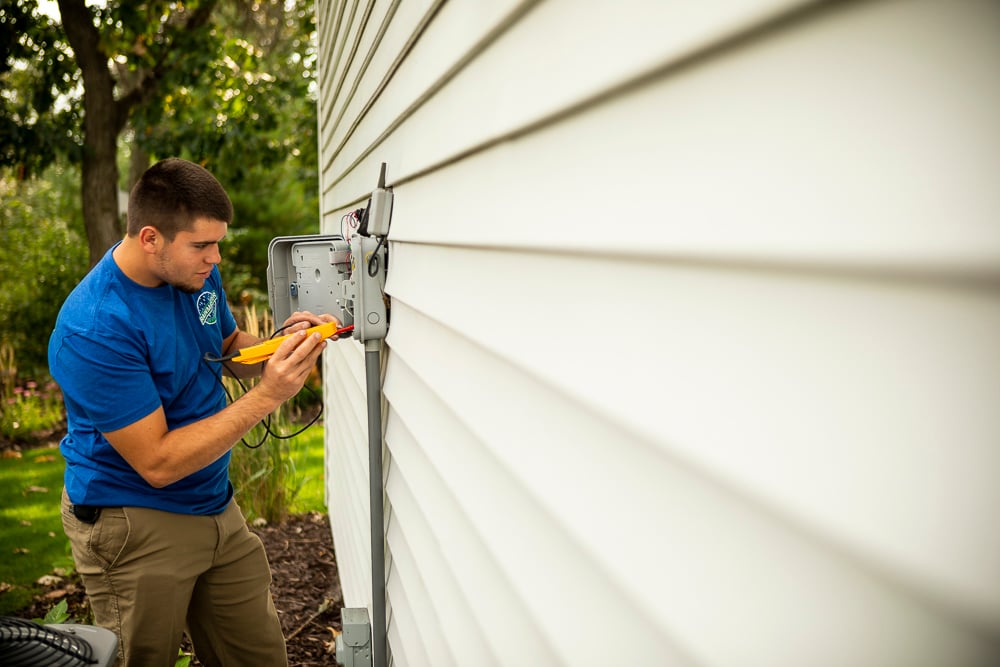 When irrigation specialists visit your property for routine maintenance, they find water-wasting issues you didn't know were happening.
Regular visits also include adjustments that keep you from wasting water.
Technicians will adjust sprinkler heads that are spraying where they shouldn't or spraying out too much water.
If you're an irrigation maintenance program customer, you get first dibs on service. There's value in being a customer.
9. Why Should I Hire You and Not Your Competitors?
Yes, you should ask good questions to hone in on the best irrigation repair company in Minneapolis or Eau Claire, but really, they should be able to tell you why you should hire them.
Ask RainMaster, and you'll get an earful, including all the points you just read.
You get skilled, efficient irrigation repair; continued attentive maintenance; and friendly customer service that takes away the stress and makes things easy.
Trust Your Irrigation Repair to RainMaster
You need a sprinkler system that won't let you down. That means hiring an irrigation repair company that won't let you down.
It's in your hands. Don't just do a quick search on "irrigation repair near me."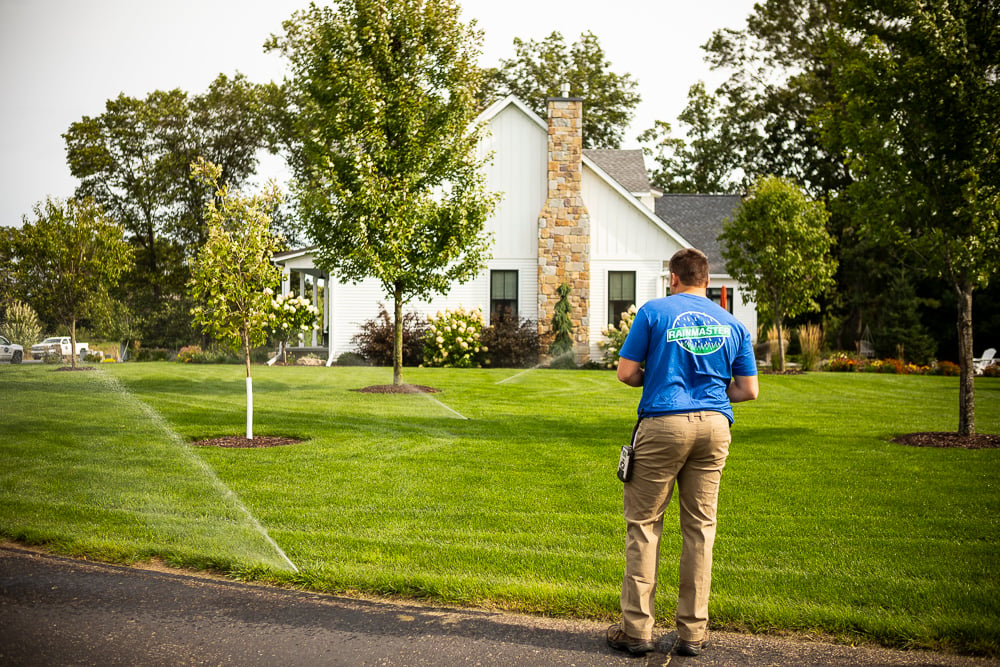 You want a hassle-free experience that actually makes life easier. Hire a company that goes beyond fixing that immediate irrigation repair problem and sets you up for easy maintenance designed for the long haul.
When you're ready to put your trust in us, we can't wait to meet you — and help you make the best choice for your lawn.
Want to be confident about your choice for Minneapolis or Eau Claire irrigation repair services? Request a quote today! We'll review your lawn care options together so you can make a great choice. Then, you can finally enjoy your lawn and stop worrying about it.