Don't get too excited. Your irrigation maintenance company shouldn't be doing your laundry. Or fixing that super annoying squeaky cupboard door. Or baking you chocolate chunk cookies.

But guess what? They're doing some pretty cool and important stuff out there in your yard.
What does irrigation system maintenance include? (Nope, not cleaning out your garage, sorry.)

Let's take a look at the irrigation system maintenance tasks your company should be doing, or at least offering.
1. Improve Your Irrigation Efficiency
Wasteful lawn watering drives you crazy, right? Out-of-whack sprinkler heads overshooting the grass and watering driveways. Sprinkler systems chugging away during rain storms. The same type of sprinkler heads watering vastly different kinds of landscaping.

Today's irrigation technology puts a stop to all that with targeted, water-saving sprinkler heads, smart controllers, and rain sensors that turn your system off if it starts to rain.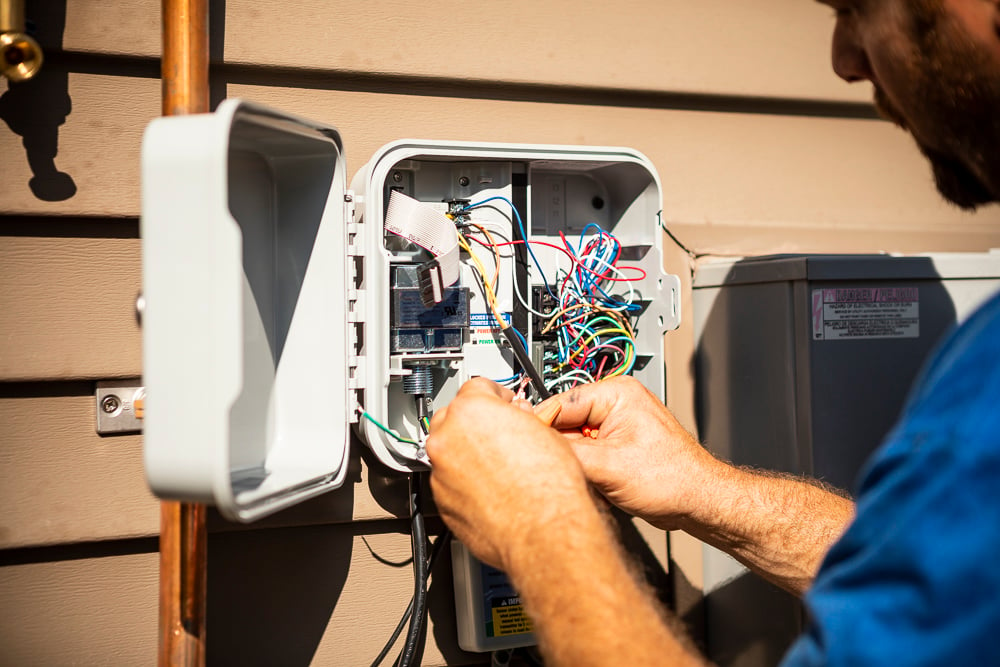 But saving water isn't just about smart technology.

When your irrigation maintenance company visits your property for routine maintenance, they should find water-wasting issues you didn't know were happening, from sprinkler heads spraying out too much water to a controller set for the wrong season.
2. Retrofitting Existing Sprinkler Systems with Smart Controls
Maybe you're ready to install a brand-new irrigation system and kick those old rubber hoses and ancient sprinklers to the curb.

But if you already have an irrigation system and it just needs updating or repairs, your irrigation maintenance company should be able to help you with that — even if they didn't install it.
3. Activate Your Sprinkler System in Spring
Here in Eau Claire and Minneapolis, irrigation system activation happens between mid-April and the end of May, depending on the weather.

Winter takes a toll here, and not just on your winter-weary spirit.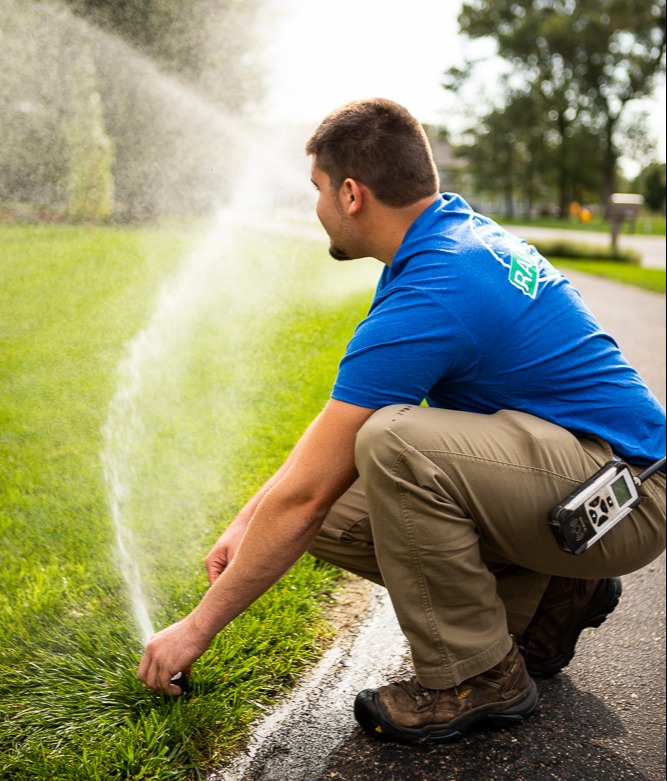 Most irrigation systems need some tweaks to get ready for the busy watering season.

When your irrigation maintenance company shows up to get things rolling, they should have this checklist:
Inspect Your Sprinkler Heads
Frost can cause the ground to heave and nudge your sprinkler heads out of whack. That means they might spray your driveway instead of your lawn.

Heads could be leaking. Maybe a snowplow caused damage. A fitting might have come loose. A thorough inspection will spot any problems.
Adjust Your Irrigation Controller
A lot of people unplug their irrigation controller for the winter and it loses all its settings. Now it's time to de-winterize your irrigation system, and adjusting your controller is key.

Even if you didn't unplug it, chances are your settings will be all wrong. Spring is cold and wet. Your settings shouldn't be the same as in August, when it's 90 degrees with no rain.
Check Your Rain Sensor
They'll make sure the batteries are still working and that it's clear and not obstructed by debris.
Test Every Irrigation Zone
They'll make sure each of your zones turn on and off and run properly, so your entire lawn gets the water it needs without costly waste.

Any leaks, tweaks, or problems after the long winter? No worries.
4. A Mid-Season Inspection to Diagnose Problems and Do Repairs
Spring and fall checkups aren't enough.

Think about all the hard work your sprinkler system does all summer, during the driest, hottest days.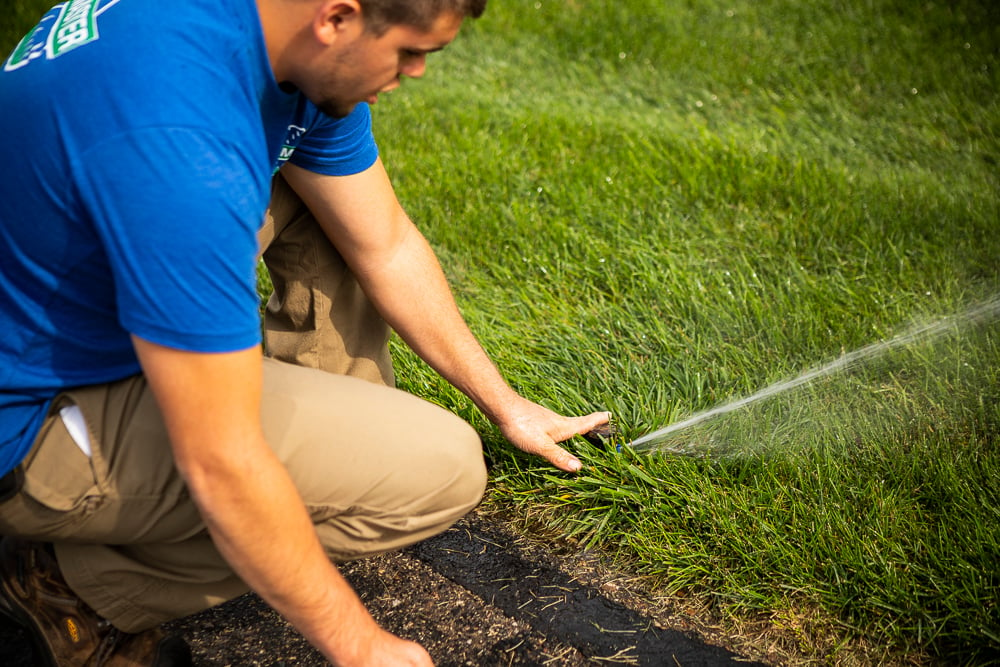 Doesn't it make sense to have irrigation maintenance services then, when your system works the hardest?

Your irrigation maintenance company should check those hard-working sprinkler heads, test your zones and update your controller for the hot summer weather.

Summer is also the perfect time for irrigation specialists to scrutinize your spray coverage when all your shrubs and flowers are in full growth.
5. Winterization to Protect Your Sprinklers from Damage
This is a big one. Shutting down your sprinkler system is a crucial task before the first deep freeze of the season. Your irrigation maintenance company absolutely must get the water out of your pipes, valves, and heads before the first deep freeze.

If water freezes and expands, things break, and that means a costly repair.
Other irrigation system maintenance tasks before winter:
They should winterize your lake pump, if you use one, so it doesn't break from winter's freezing temperatures.
They should add RV antifreeze to protect it, cover up the ends of the pipes so critters don't crawl in and camp out; and remove the wiring so it doesn't accidentally get turned on.
Winterization should also include getting any water out of your backflow device. Freezing water will damage the internal components and can crack the body.
6. Offer Helpful Recommendations About the Health of Your Lawn
This seems like a bonus, right? But it should be standard procedure for a good irrigation maintenance company.

Wouldn't it be nice to know how to help prevent future repairs? How to make the most of the irrigation system you have? How your irrigation habits can contribute to a healthier lawn?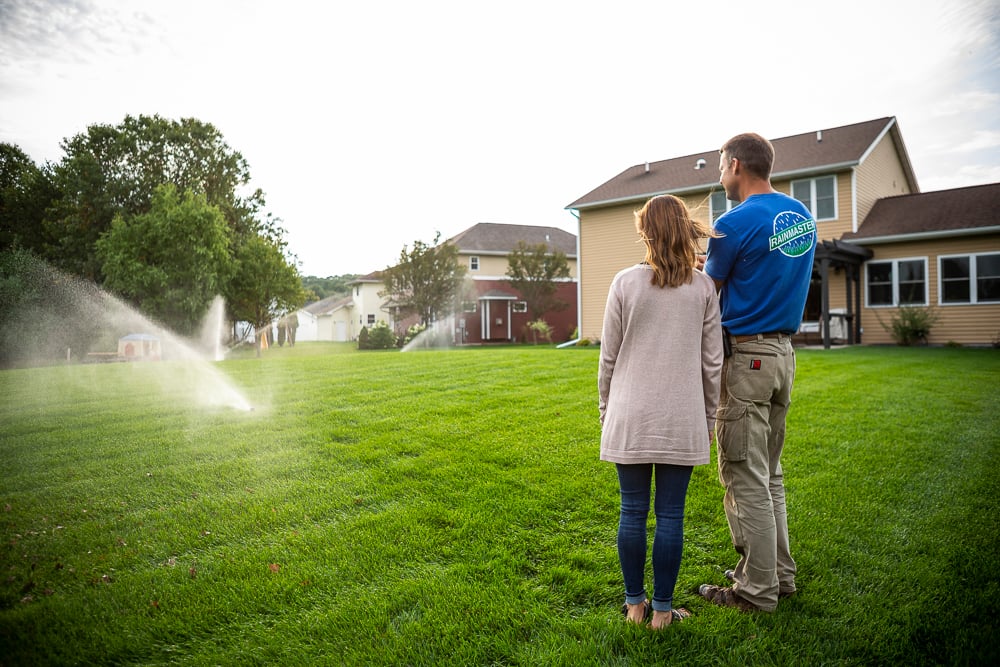 Your irrigation specialist should let you know if you're watering too much, or too little, and keep you posted on updates that can help your system run more efficiently.

Great irrigation specialists don't just know how to fix your broken sprinkler head. They learn about lawn care, in depth, which means you get an expert irrigation repair — and a lot more.
Need Irrigation Maintenance Services in Eau Claire or Minneapolis? Trust RainMaster
Did we mention your irrigation maintenance company should make all of this super easy?

You deserve skilled, efficient irrigation repair; continued attentive maintenance; and friendly customer service that takes away the stress and makes things easy.

Hire an Eau Claire or Minneapolis irrigation maintenance company that goes beyond fixing that immediate irrigation repair problem and sets you up for easy maintenance designed for the long haul.

Choose from our three irrigation maintenance programs to make sure everything is running smoothly.

When you're ready to put your trust in us, we can't wait to meet you — and help you make the best choice for your lawn.

Ready to make your lawn life easier? Request a quote today! We'll review your options together so you can make a confident decision. Then, you can finally enjoy your well-watered lawn and stop worrying about it.