Seems like an easy enough question, right?
It's pretty easy to find the cost of a dozen eggs or a gallon of gas.
But how easy is it to pin down the cost of lawn care treatment? It depends on where you look.
Most lawn care companies in Eau Claire, Wisconsin offer some detail on their website, but not the actual cost for lawn treatment. You'll need to call and ask some questions.
How much does lawn care cost?
Let's take a look.
Cost of Lawn Care in Eau Claire, WI
Cost for lawn treatment in Eau Claire varies in price, depending on the size of your lawn, the number of services included and the results you want.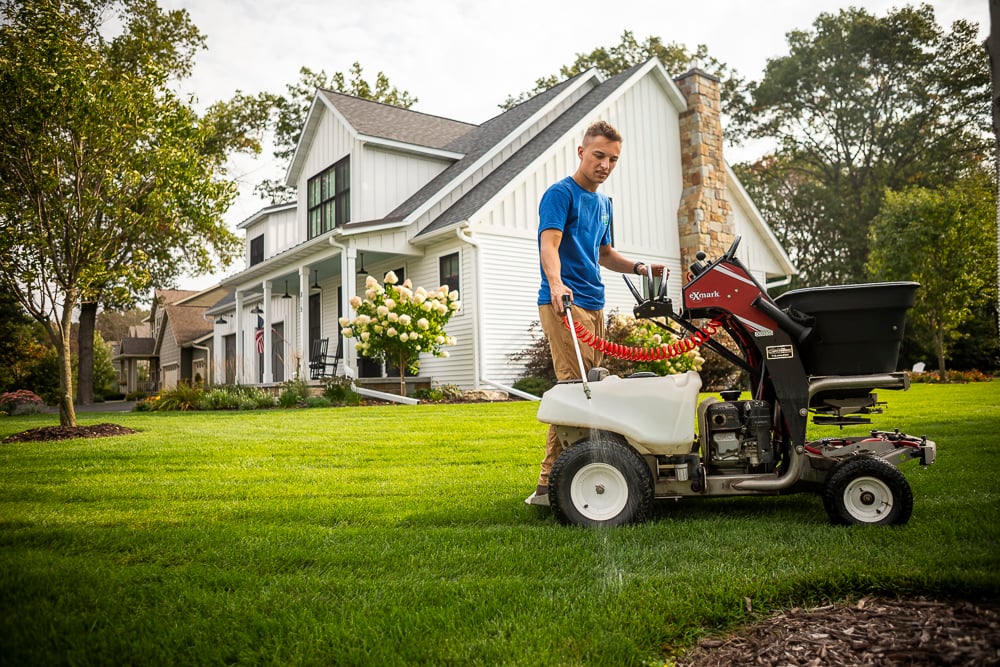 Plan on spending between about $400 and $1,000 a year for a 5,000-square-foot lawn.
What's the difference between the lower cost and the higher cost? What do you get for your money? It depends on the company you choose.
What should you get for your money? That's easier to pin down.
Lawn Care Service Cost at RainMaster
At RainMaster, you choose from three different levels of lawn care programs, from a basic plan that includes the elements you need for a better lawn, to a high-end, proactive program for the quickest and best results, especially if your lawn needs a lot of help.
Right in-between is a mid-level program option, a popular program to grow a thick, green lawn and deal with most challenges.
Luscious Lawn
An advanced approach for both new and established lawns for optimum health, this plan will:
Knock out weeds and prevent crabgrass
Boost color, thickness, and roots
Test pH and improve nutrient availability
Protect against grubs with a bee-friendly grub guard
Improve soil structure
Fill in bare and thin spots
Price: From $979 per year.
Terrific Turf
An intermediate approach for maintaining a healthy lawn with proactive care, this plan will:
Knock out weeds and prevent crabgrass
Boost color, thickness, and roots
Test pH and improve nutrient availability
Protect against grubs with a bee friendly grub guard
Improve soil structure
Price: From $709 per year.
Healthy Habitat
A basic approach to handle the most common lawn care challenges, this plan will:
Knock out weeds and prevent crabgrass
Boost color, thickness, and roots
Test pH
Price: From $409 per year.
Prices listed are for 5,000 square feet.
Why Choose a Higher Level Plan?
Everybody wants to save money. It's human nature, right?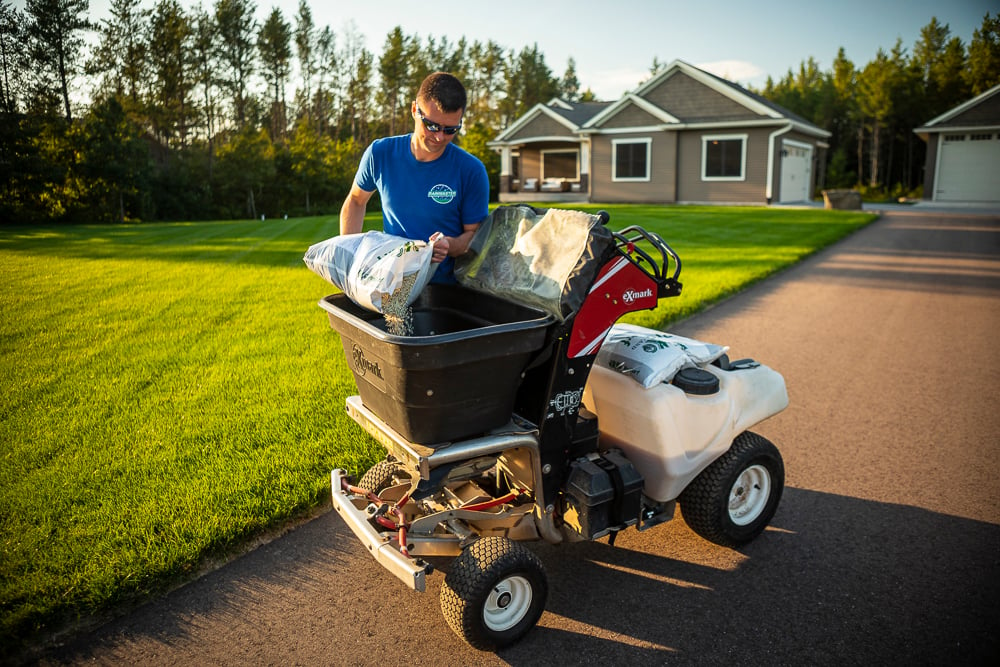 You can sign up for Healthy Habitat, RainMaster's least expensive lawn care program, and still get good results.
If it didn't improve the health and appearance of your lawn, we wouldn't offer it.
But choose Terrific Turf or Luscious Lawn, and you can expect a thicker and greener lawn, better water retention, and better soil health.
Why?
The higher-tier programs include more emphasis on proactive lawn health, preventing problems before they're problems, from the roots up.
The most crucial part of your lawn's health happens underground.
For instance, our second and third tier program include aeration, which dramatically helps lawns that are compacted and helps every lawn develop a better root system.
When your soil becomes compacted, either from age or from heavy foot traffic, your lawn's roots can't take in water or nutrients. Aeration uses a machine to pull out tiny cores of soil from your lawn, allowing water and oxygen to get to the roots.
Then, those roots stretch deep into the soil, producing a lush, healthy carpet of green that can better resist pests, weeds, and disease.
What Should You Expect for Lawn Care Service Cost?
Make sure you're getting results for your money. That's what it really boils down to, right? A greener, thicker, healthier lawn with fewer weeds. Ask what you're getting for your lawn care service cost.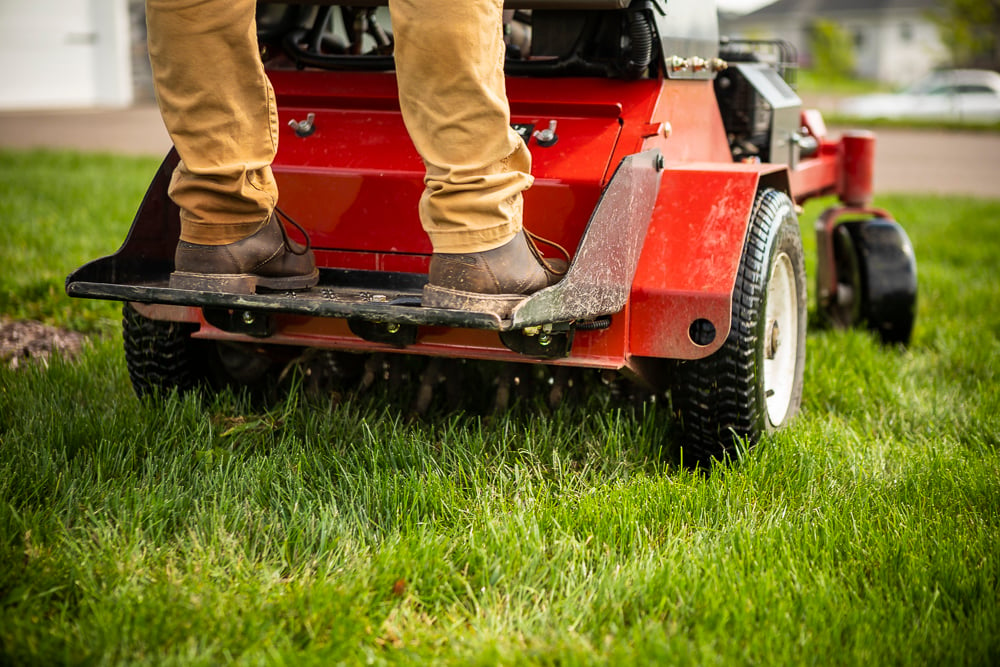 Here's what you want to hear:
An educated, experienced team. RainMaster's skilled and educated lawn care team includes pros with horticulture degrees, and decades of experience. You won't find this level of training and experience at other companies. It costs money to employ skilled, experienced lawn care specialists.


Proactive pros. You want a lawn care team that works hard to prevent problems, not just fix them.


Grub control that doesn't kill bees and other pollinators. Most grub control kills bees. RainMaster pays considerably more for grub guard that's bee-friendly. It doesn't harm them. Bonus: While typical grub guard lasts for maybe three months, yours will last for six to eight months.


Suggestions targeted just for you. You want lawn care specialists who really get to know your lawn, and exactly what it needs. Expect recommendations for your lawn's unique needs, from skilled lawn care consultants who help guide your decisions.


Quality grass seed. Sure, you can buy cheap grass seed. Maybe you already have. It's tempting, right? It's also full of weed seed. Premium grass seed is expensive. But it produces beautiful grass, with envy-inducing color that resists disease. It's one reason why lawn care service costs are higher at the best companies — they have more invested in your grass seed.


Liquid weed control and granular fertilizer. These are the formulations that work the best. Granular fertilizer is more expensive than the liquid counterparts many of our competitors use. Liquid is more common in our industry, but granular fertilizer breaks down slowly, giving you consistent benefits from fertilization. It also contains organic nutrients, which gives your lawn that beautiful, deep green color that makes the neighbors gawk with envy.


Valuable communication. The cost for lawn treatment should include communication you can count on. RainMaster lawn care specialists call you. If you're not home when specialists visit, they follow up with a phone call to let you know what's up with your lawn. If you have any questions or concerns, call us. Somebody will answer.
Trust Your Lawn Care to RainMaster
How much does lawn care cost? What kind of results do you want? How high are your expectations? How important is it to you to have skilled, educated lawn care specialists ready to give you a targeted plan to improve your lawn?
There's a lot at stake here, right? Your pride. Your relaxing outdoor living. But mostly, the health of your lawn.
Are you ready for a vibrant, green lawn that not only looks great, but is healthy, right down to the roots? Request a quote today. We'll review your options together so you can make a great choice. Then, you can finally enjoy your lawn and stop worrying about it.