When you need to grow grass, good old dependable seed almost always does the trick.
It's the only method we use here at RainMaster, because it works.

Whether you need to spot seed a small patch or aerate and overseed your whole lawn, high quality grass seed and attention to watering is a solid option.

Curious about other methods, too?

Here's a look at how to grow grass.
How to Grow Grass with Seed vs Sod
It's easy to understand the allure of sod. It's instant lawn that looks great right away. Its roots are already developed and ready to take root in your soil.

But plan to pay for that instant lawn. Sod costs several times more than seed.

Sod is quick, but most people don't realize the long battle to keep it healthy.

Plan to aerate it for multiple years while the sod gets established.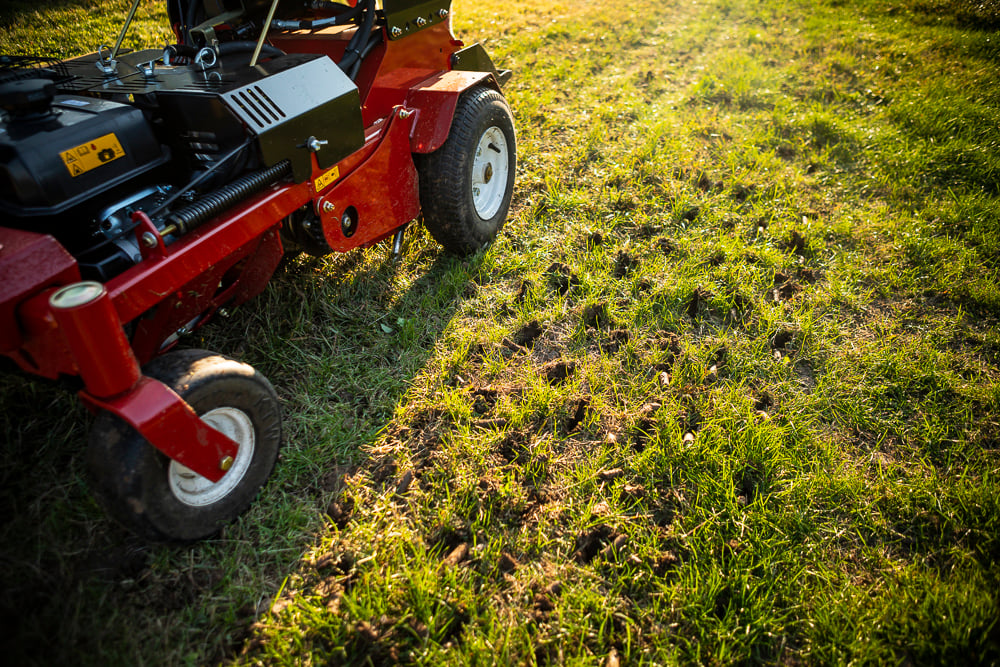 Sod needs even more irrigation than new seed does in order to get established.

We do recommend sod over seed if you're planting on a slope to avoid the seed washing away

But if you're willing to wait, you'll ultimately get better results from seed.
How to Grow Grass with Seed vs Hydroseeding
Hydroseed is grass seed with mulch mixed in to keep the seed moist.

Grass seed is mixed with mulch in a wet slurry, then sprayed onto the ground. This method tends to hold moisture in the soil better than regular broadcast seeding.

Spread out over bare soil, it has an advantage over dry seed alone, but you still need to wait for it to germinate and sprout.

Keep in mind you have to hire a company to hydroseed. It's not a do-it-yourself job.
How to Grow Grass with Seed: Pro Tips
Grass seed is pretty miraculous, but it needs your help to sprout into that pretty green lawn you crave.
The Magic of Mix
Every type of grass has advantages and disadvantages. Fescue does better in shade. Bluegrass thrives in the sun. Rye stands up well to high foot traffic.

That's why a blend of these grasses is great — you get a bit of all their good qualities. Plus, a mix is better at fending off lawn diseases. The best way to get a great mix of grasses: seed

You'll get a blend of high-quality grass seed from RainMaster based on your lawn's needs.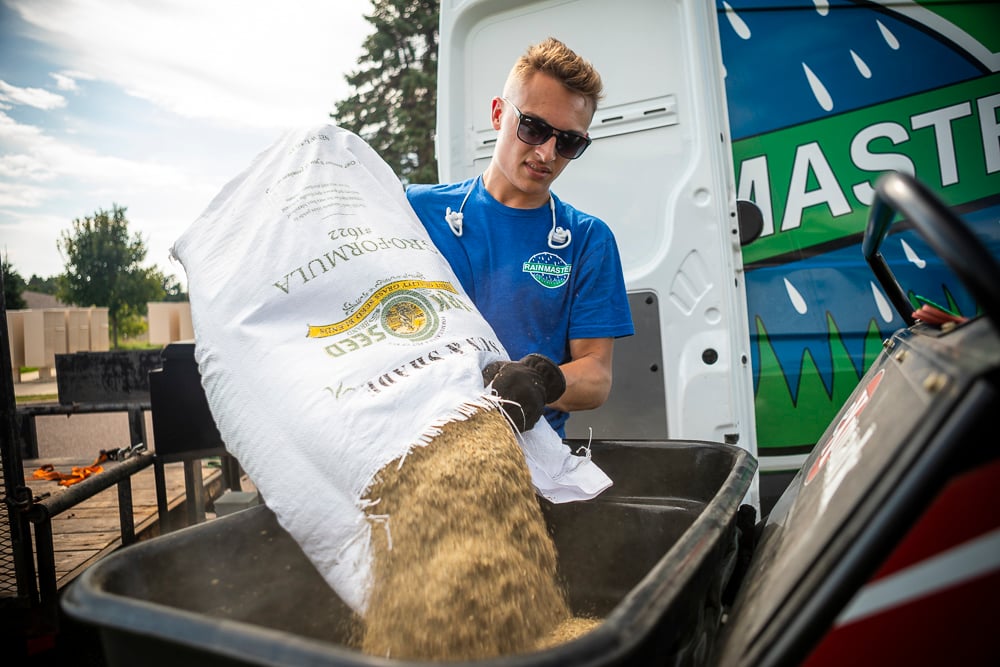 If your yard is shady, you'll get more fescue seed, and maybe just 10 percent bluegrass, or none at all.

Sunny? More bluegrass.

Rye isn't our favorite grass, but it serves a few good purposes.

If you have an erosion-prone hillside, or destructive dogs, you want coverage as quickly as possible. Rye seed germinates in just seven days. Bluegrass takes a month.
How to Grow Grass That Will Thrive? Be Picky About Seed
Be really picky about grass seed.

Sure, it sort of all looks the same spilled out in your hand, but there are important differences.

That image you have in your head of uniform, thick, green grass is probably not what's in that bag of cheap grass seed piled up in the aisles of the home improvement store. It may contain weed seeds and undesirable grasses.

It's absolutely worth it to pay more for premium grass seed.
How to Grow Grass to Fix Lawn Bare Spots
Every homeowner faces a few bare spots once in a while. A proper seeding with quality grass seed can often do the trick.
Rake out any dead, matted turf. Your grass seed will germinate and root best if It can snuggle up to bare soil.
Dig and loosen the soil a bit to prepare it for the seed.
Scatter grass seed over the loosened soil. Scratch it in a bit and tamp it down so you know there's good contact.
Add some fertilizer designed for new grass to get it off to a good start.
Keep it watered.
How to Grow Grass to Fix a Dead Lawn
So, you think your lawn is past saving? Not necessarily.

Aeration and seeding can be your best friend here. It's possible your lawn can't breathe.

When your soil becomes compacted, your lawn is gasping for air. Its roots can't take in water or nutrients, which weakens your turf and opens the door for disease and weeds.

Core aeration uses a machine to pull out plugs of soil, creating spaces so that air and water can penetrate, which leads to healthier roots.

Lawn aeration also helps break down thatch, that layer of dead grass and stems that sits between the grass blades and the soil.

Aeration is typically followed by overseeding, as the holes created by aeration are perfect new homes for the grass seed.

A good aeration and seeding can do wonders for a struggling lawn.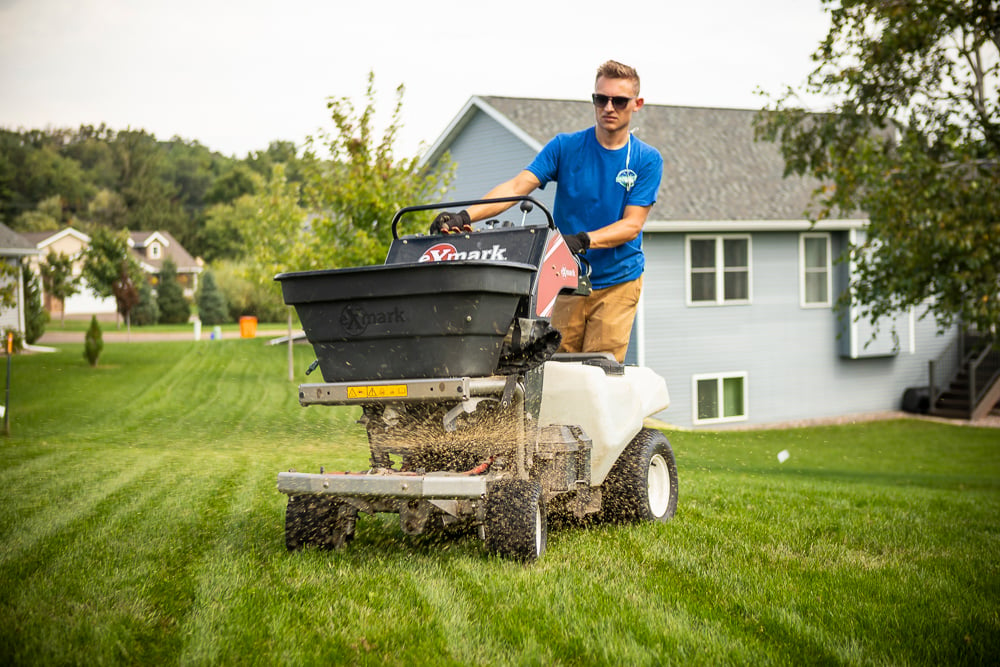 How to Grow Grass: Start with RainMaster
Repairing patches of dead grass or starting a whole new lawn is just the beginning.

Sure, kick off your shoes and have a bare-toe celebration once your new lawn grows in.

But don't stop there.

Invest in a complete, proactive lawn care program to continuously improve and protect your lawn.

Let's create a custom nutrition plan for your lawn, so the roots will be nourished, the soil packed with nutrients, and your grass thick and healthy.

You choose from three different levels of lawn care programs at RainMaster, based on the results you'd like, how fast you want to see results, and your budget.
Luscious Lawn is a high-end, proactive program that will promote amazing lawn care results. This is the program to choose for the quickest and best results, particularly if your lawn needs a lot of help.
Terrific Turf, a mid-level option, is our most popular program to grow a thick, green lawn and deal with most challenges.
Healthy Habitat is a basic plan that includes the elements you need for a better lawn.
Want to get to the bottom of your lawn problems and be confident about your choice for lawn care services? Request a quote today! We'll review your lawn care options together so you can make a great choice. Then, you can finally enjoy your lawn and stop worrying about it.