Maybe you already have a list of questions handy, like, "As long as you're here to treat my lawn, will you also clean out my garage?" Or "Do you mind watching my 2-year-old twins — I need a break. They like fruit snacks."

But that won't get you a great Minneapolis lawn care service. Also, nice try.

Choosing a lawn care company in Minneapolis? You want to know more than what day they'll show up. How about what kind of quality, skills, experience, accessibility, and results you'll get?

How to find out? Ask these questions:
1. Do You Have an Educated, Experienced Team?
If you wanted somebody caring for your lawn who basically read some instructions, you could do it yourself, right? You know how to read.

Make sure your questions to ask a lawn care service include asking about their training and education.

Does the company's staff have horticulture degrees? Have they had significant, targeted training? Years of experience? It's worth asking.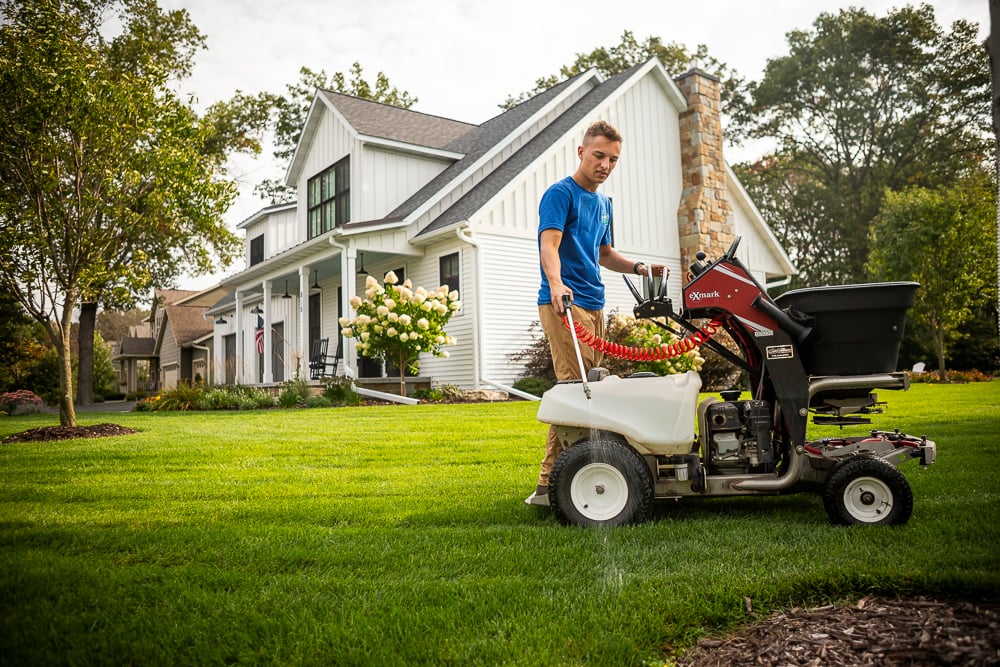 At RainMaster, our technicians work year-round, spending the off season boosting their knowledge — taking classes, earning certifications, and participating in webinars with lawn care professionals around the world.

It means they know how to improve your lawn, from the latest info about diseases and pests to the latest eco-friendly practices to new products and procedures in the industry.

It's what you want to hear when choosing a lawn care company in Minneapolis.

But you won't find this level of training and experience at all Minneapolis lawn care services. This level of expertise costs more. And it should, right? It's worth investing a little more to have skilled professionals who really know their stuff taking care of your lawn.
2. Are Your Lawn Care Services Proactive?
You don't want a lawn care company focused on covering up lawn problems.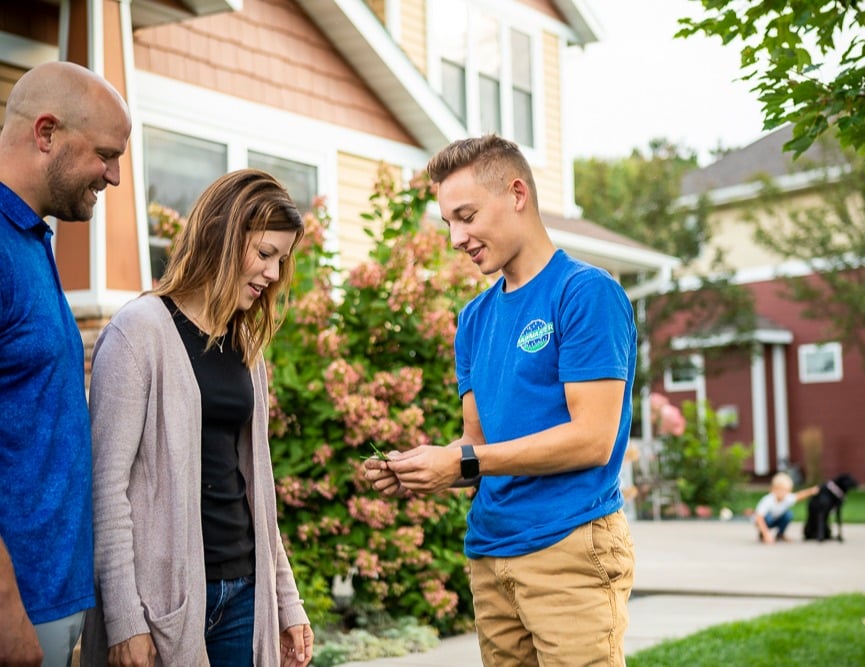 If you have problems with your lawn, of course, you want to fix them. But wouldn't you rather prevent them in the first place?

So as you gather questions to ask a lawn care service, ask what they do to prevent lawn issues, not just repair them. They should be able to tell you.
3. Is Your Grub Guard Safe for Bees & Other Pollinators?
You might not have thought of this one. But bees are having a tough time out there, including struggling against pesticides that kill them.

If your lawn care company is offering cheap deals on grub guard, it's probably the kind that also kills bees.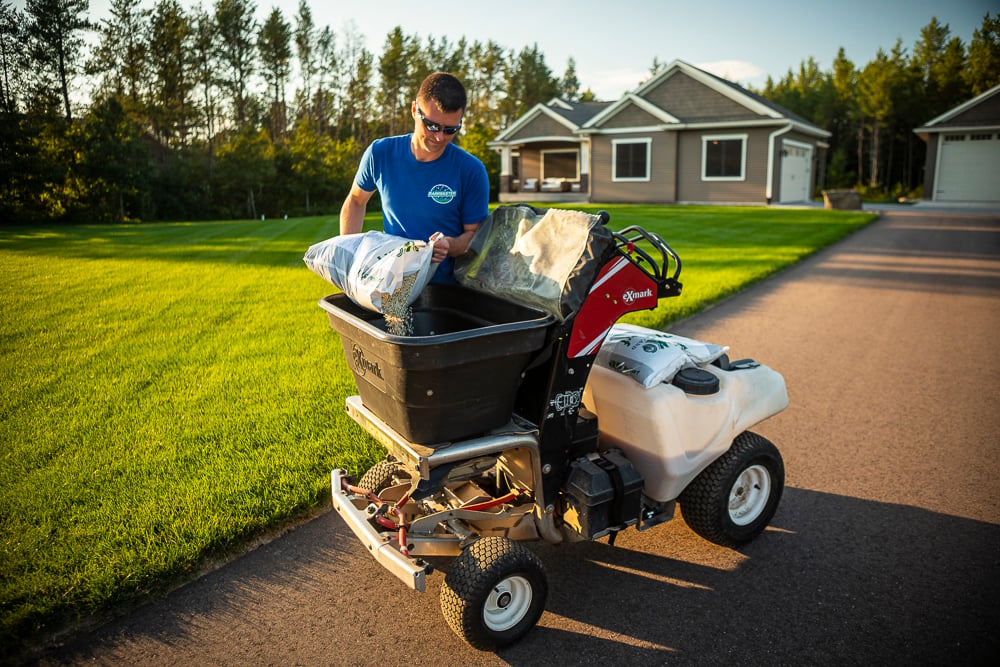 Bee-friendly grub guard is considerably more expensive than the kind that kills pollinators.

A lawn company's attitude toward protecting bees will also tell you something about their overall ethics, so it's a great question to ask when choosing a lawn care service.
4. Can I Talk to My Lawn Care Specialist?
OK, don't bore him with the details of your recent root canal, but you might have some questions to ask your lawn care service.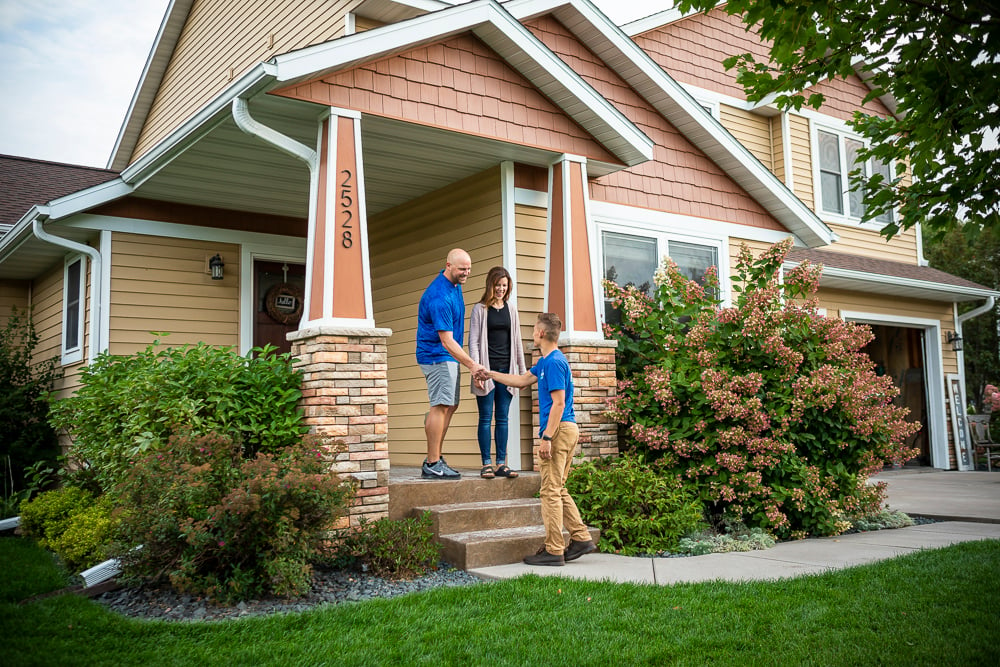 How accessible are the specialists who provide your lawn care services? If you have a follow-up question or a specific concern, can you reach them?
5. Will You Offer Helpful Suggestions?
You want your lawn to be the best it can be, right? That means it needs more than just a quick stop over to spray fertilizer and weed killer.

You need lawn care specialists who are skilled, educated pros who know enough about your lawn's needs to offer suggestions to improve it.

As you're choosing a lawn care program in Minneapolis, ask them about the kinds of recommendations they might suggest to boost your lawn's health.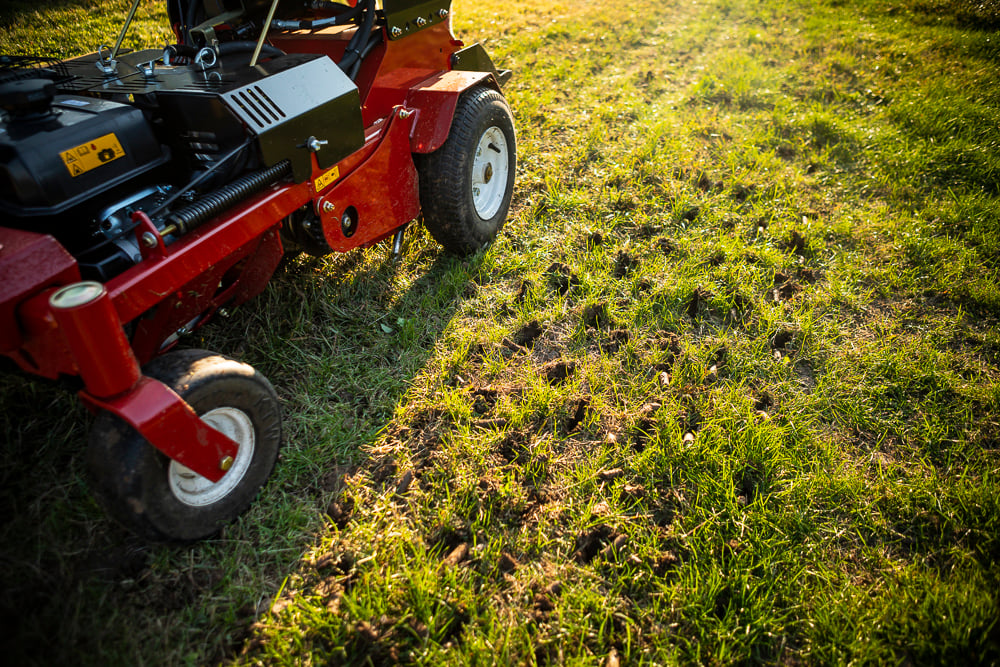 Soil pH adjustment? Grub control? Aeration?

You expect your lawn care company to be experts in lawn care. It only makes sense, right?

When's the best time to seed? Are you watering enough? How can you prevent weeds?

You deserve helpful information to keep your lawn looking great.
6. Tell Me About the Quality of Your Grass Seed
This isn't a great opening line at a dinner party, but it's absolutely a great question to ask when choosing a Minneapolis lawn care service.

Most people don't think to ask it. So you'll look pretty smart.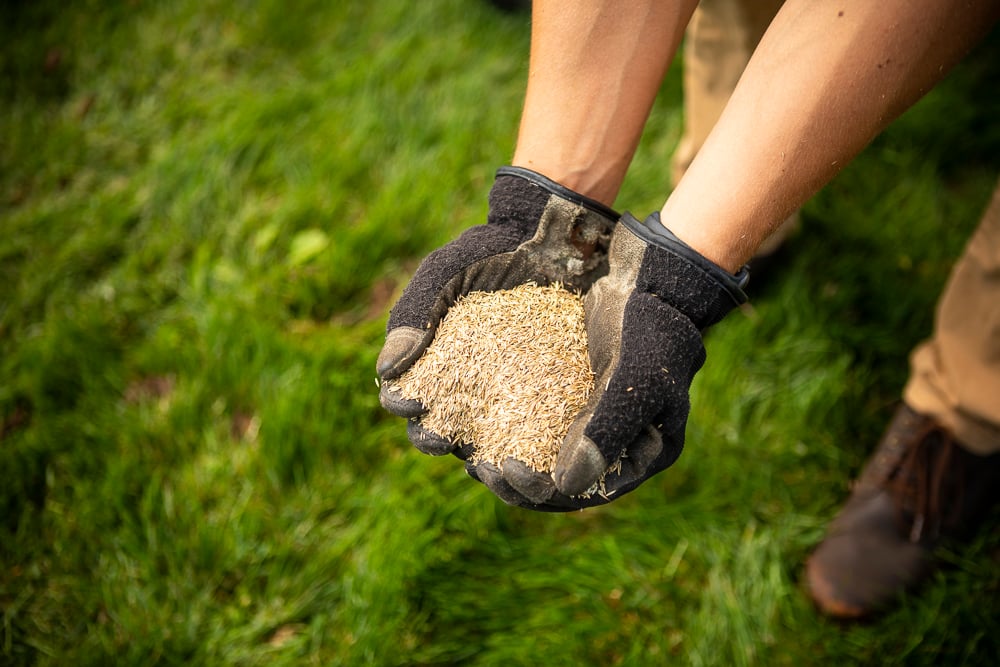 As you compare lawn care services, you want to hear that your lawn care company pays more for premium grass seed — even if that means they charge a higher price.

Yes, it's more expensive. But high quality grass seed is less likely to contain weed seeds and will be a darker shade of green. High quality seed produces beautiful grass, with envy-inducing color that resists disease.
7. Do You Use Liquid Weed Control and Granular Fertilizer?
If you think this is an unnecessarily picky question to ask a lawn care service, sorry, you're wrong.

This really matters.

Some companies just use granular weed and feed and hope the product finds the weeds.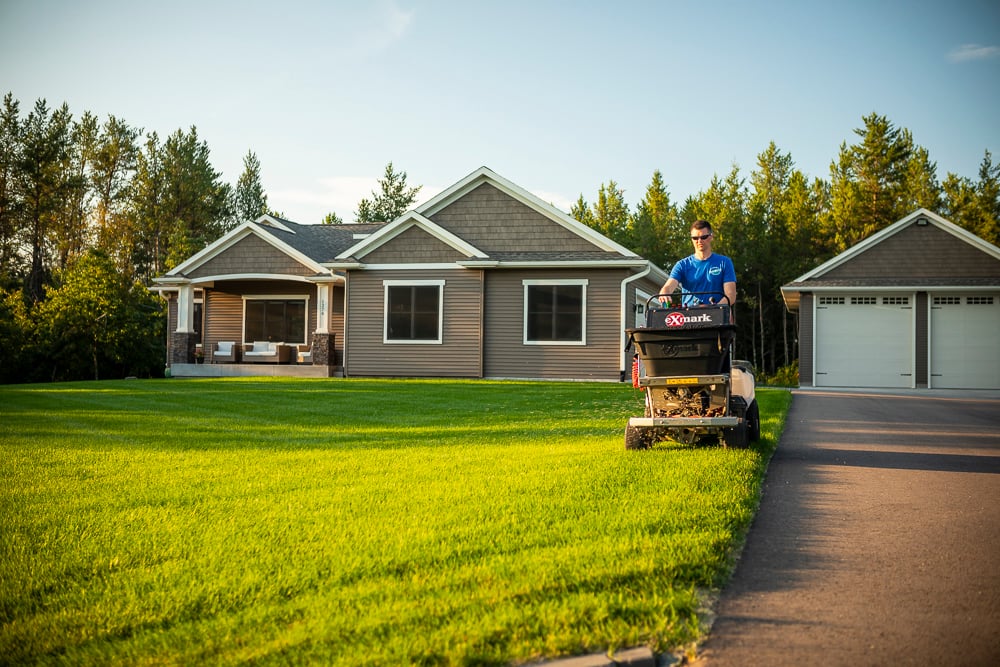 You want them to use a quality liquid weed control, specifically designed to kill the weeds in your yard. This also includes using different products throughout the year.

Weeds are tough customers. One product doesn't kill them all.

And you want granular fertilizer, which is more expensive than the more common liquid stuff, but it breaks down slowly, giving you consistent benefits from fertilization.

It also contains organic nutrients, which give your lawn that beautiful, deep green color.
8. Tell Me About the Communication I'll Get
You don't want to discover your Minneapolis lawn care company is terrible at communicating after it's too late, and you've called seven times trying to get somebody on the phone.

It's not that hard to pick up the phone. Or call somebody back. But you'd be surprised how many lawn care companies aren't great at this.

Also, is it too much trouble to let you know when they're coming over? It shouldn't be.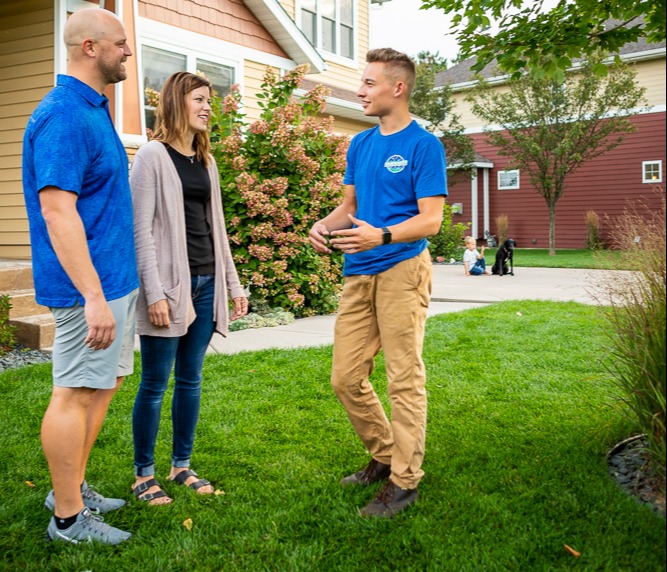 That's why you'll get email and text notifications prior to your services from RainMaster.

It's just common courtesy, right? But many homeowners complain they never know when their lawn care company will show up.

Bad communication is really annoying. As you're choosing a lawn care company in Minneapolis, make sure your lawn care service thinks so, too.
Trust Your Minneapolis Lawn Care Service to RainMaster
Don't be shy about asking specific, targeted questions when choosing a Minneapolis lawn care service.

A top-notch company will be happy to answer them — with the responses you want to hear.

You deserve great customer experiences, competent pros on your lawn, and high-end products ensuring you get results.

Ready to hone in on the best company to help you get that amazing lawn? Request a quote today! We'll review your options together so you can make a great choice. Then, you can finally enjoy your lawn and stop worrying about it.