If only comparing lawn care services was as easy as comparing avocados.

Line them all up. This one is too hard. This one is too mushy. This one seems perfect.

Then, in the end, you get guacamole! How great is that?

No such luck.
When you try to compare lawn care companies, you soon realize many have terrible websites, boasting a lot, but not offering clear info on their services.
Most don't even post their prices, much less exactly what they offer.
It's definitely not comparing avocado to avocado.

You have to do some real work. You'll have to call them to get detailed information so you can compare lawn care services.

Here's how to get started:
1. When You Compare Lawn Care Services, Get Ready to List
If you're a pen and paper person, start a sheet for each company you plan to call. Or start a file for each on your laptop.

Prepare to ask each one the same questions.

What questions? Don't worry — we'll share some here.

After you record their answers, you can feel more confident when you compare lawn care companies in Eau Claire.
2. Don't Be Fooled by Number of Visits
Great lawn care isn't all about quantity. It's about quality.

You'll read more about this later, but for now, don't assume that a company that offers a couple more visits than everybody else is better.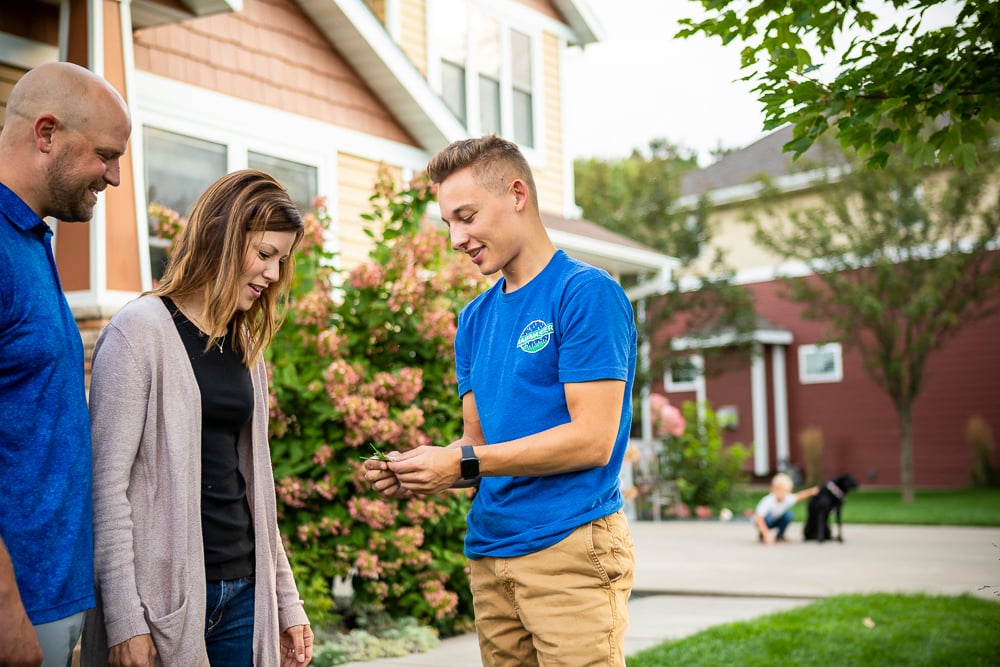 It's what happens during your lawn care visits that matters.

Which brings us to....
3. Don't Just Compare Lawn Care Prices — Ask What Services You're Actually Getting
Don't assume everybody is offering the same services.

They aren't.

One lawn care service might offer fewer visits than a competitor. Another might offer a couple more visits, which sounds good, but they might be applying half the amount of product as the other guys.

Not all lawn companies invest in quality products that really improve the health of your lawn. Many don't really focus on your lawn's health. They're concerned with covering up problems. This could cost you time and money down the road when your lawn has serious health issues.
This is why it feels so frustrating when you try to compare lawn care services.

Here are some detailed questions to ask, to find out what kind of quality, skills, experience, and accessibility you'll get.
4. Do You Have an Educated, Experienced Team?
It's tempting to hire that company with the cheapest price. Honestly, that's what a lot of homeowners do when they focus on comparing lawn care prices.

But exactly who will show up in that lawn care truck? Sure, they have a logo on their shirt. But what does that mean?

Does the company's staff have horticulture degrees? Have they had significant, targeted training? Years of experience — or weeks?
5. Are Your Lawn Care Services Proactive?
Some companies' lawn care services are about covering up problems more than preventing them.

If you have problems with your lawn, of course, you want to fix them. But wouldn't you rather prevent them in the first place?

You can drench your lawn in fertilizer, but if your grass doesn't have the proper, balanced soil pH, it won't do much good.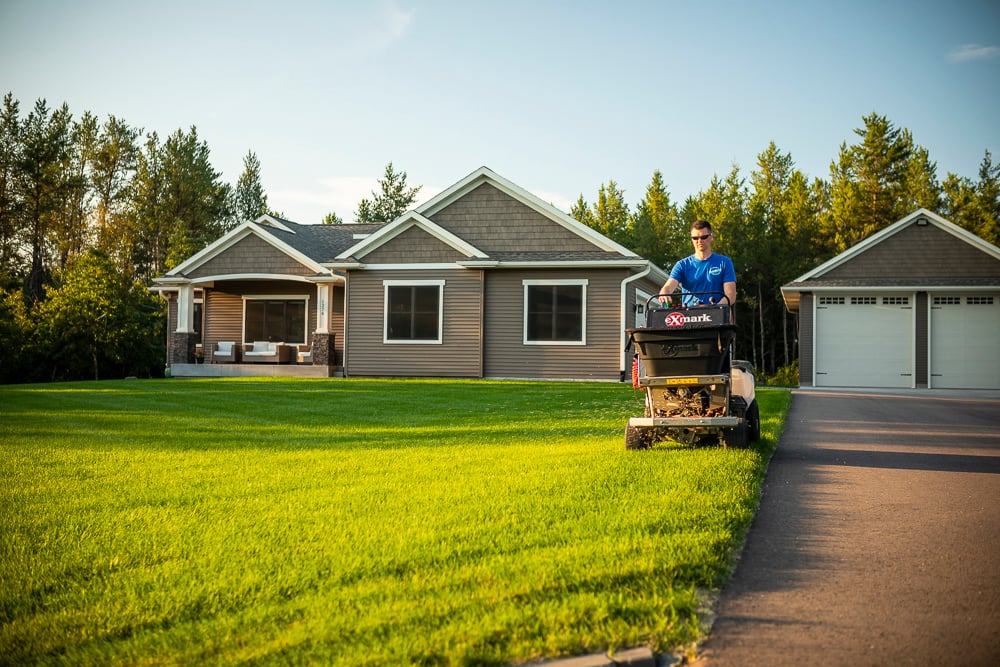 As you compare lawn care companies in Eau Claire, ask what they do to prevent lawn issues, not just repair them.
6. Is Your Grub Guard Safe for Bees & Other Pollinators?
Chances are, it isn't. Especially if the lawn care company is offering cheap lawn care pricing.

Bee-friendly grub guard is considerably more expensive than the kind that kills pollinators.
Bees have enough obstacles these days, right?

A lawn company's attitude toward protecting them will tell you something about their overall ethics.
7. Do Your Lawn Care Prices Include Soil Conditioner?
This goes back to the earlier point about knowing exactly what your lawn care company is providing.

Soil conditioner is a blend of minerals that boosts the health of your soil. If your soil is clay, soil conditioner loosens it. If it's sandy, soil conditioner makes it more robust.

Soil conditioner builds organic matter, so your soil holds more nutrients. Think of it as a multivitamin for your lawn.
It unlocks the potential of your lawn, creating better results from the fertilizer and other treatments your lawn care company performs throughout the year. Who wouldn't want to get more out of what you're already paying for?

It's an extra step that shows the company really cares about improving your lawn. Rainmaster offers this in our top-tier program or as an add-on service if you choose one of our other lawn care program options.
8. Will You Offer Helpful Suggestions?
Hopefully, your lawn care technicians are skilled, educated pros who know enough about your lawn's needs to offer individualized suggestions, just for you.

As you compare lawn care services in Eau Claire, WI, ask them about the kinds of recommendations they might suggest.
Aeration? Soil pH adjustment? Grub control?
Or do they offer a blanket program for everybody, one size fits all? (When's the last time you bought a one size fits all sweatshirt that fit you perfectly? Exactly.)
9. Can I Talk to My Lawn Care Technician?
How accessible are the technicians who provide your lawn care services? If you have a follow-up question or a specific concern, can you reach them?

Or are they like ghosts who hover around for a bit, then vanish?
10. Ask About the Quality of Their Grass Seed
Most people don't think to ask about this. Seed is seed, right?

Nope. You can buy really cheap grass seed. You've probably seen it, piled up in the aisles of the home improvement store.

Guess what? It's full of weed seed, too.

As you compare lawn care services, you want to hear that your lawn care company pays more for premium grass seed — even if that means they charge a higher price.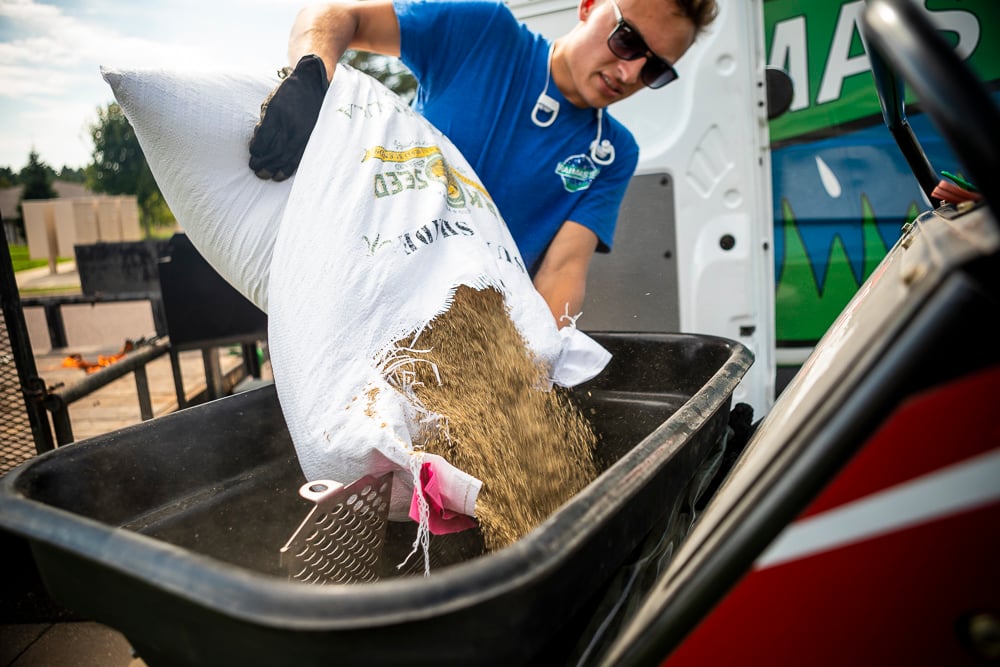 Great grass seed is more expensive. But it produces beautiful grass, with envy-inducing color that resists disease.
11. Do You Use Liquid Weed Control and Granular Fertilizer?
Does this really matter? You bet.

Some companies just use weed and feed and hope the product finds the weeds.

You want them to use a quality liquid weed control, specifically designed to kill the weeds in your yard.

Weeds are tough customers. One product doesn't kill them all.

And you want granular fertilizer, which is more expensive than the more common liquid stuff, but it breaks down slowly, giving you consistent benefits from fertilization.

It also contains organic nutrients, which give your lawn that beautiful, deep green color.
Trust Your Eau Claire Lawn Care Service to RainMaster
It's nice to have a solid plan that makes comparing lawn care services more like comparing avocados to avocados than comparing apples and oranges.

If you're prepared with specific, detailed, smart questions, and ready to jot down each company's answers, the right lawn care company should rise to the top.

Thanks for considering RainMaster as you compare lawn care service in Eau Claire, WI.

When you've made your choice, celebrate with some chips and guacamole.

Ready to hone in on the best company to help you get that amazing lawn? Request a quote today! We'll review your options together so you can make a great choice. Then, you can finally enjoy your lawn and stop worrying about it.