Sorry, brown and yellow. It must be hard to be you when everybody wants green grass.

Green, green, green. The darker, richer green the better.

What is the darkest green grass?

Should you even plant grass based on the darkest green grass type?

Let's find out.
Darkest Green Grass Types
Bluegrass is typically best known for dark colors, but it's not the only grass type that boasts dark green.

Perennial ryegrass and turf-type tall fescues also have good options.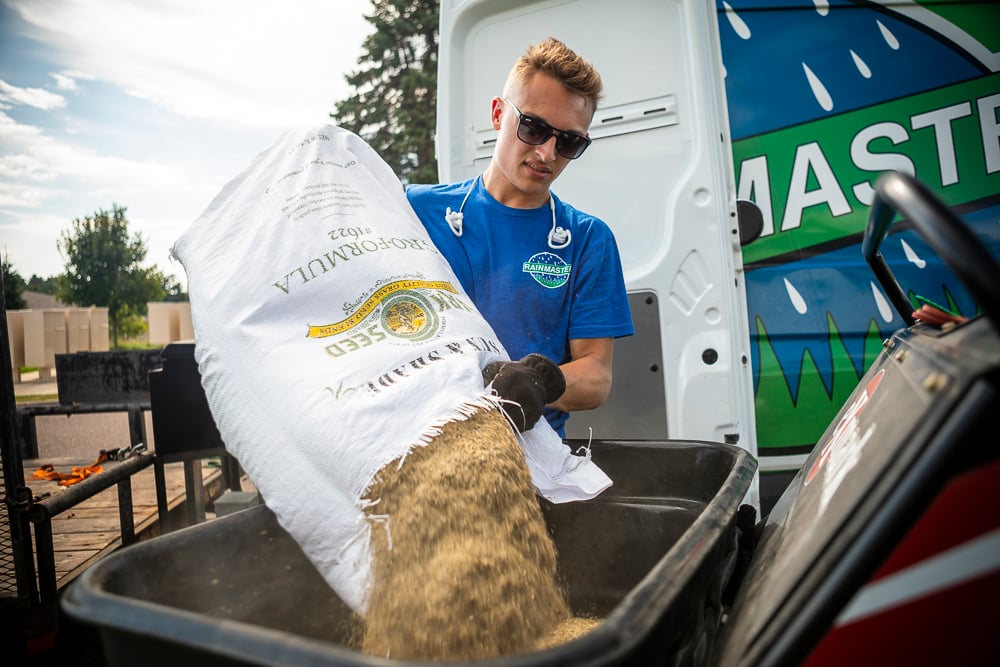 Check out these varieties:
Kentucky Bluegrass:
'Blueberry'
'Bedazzled'
'Prosperity'
'Bewitched'
'Blue note'
'Legend'
'Washington'
'Hampton'
'Emblem'
'Midnight'
'Total Eclipse'
'Blackstone'
'Arcadia'
Perennial Ryegrass:
'Pangea'
'Manhattan 7'
'Paragon 2'
'Hawkeye'
'Caddyshack II'
'Parkside'
'Prominent'
Turf -Type Tall Fescue:
'Rhambler 2'
'Titanium 2'
'Snapback'
'Regenerate 2'
'4th Millennium'
'Traverse'
Is the Darkest Green Grass the Best Grass for Minnesota?
Not necessarily.

There are lots of types of grass in Minnesota, and lots of other factors to consider when you decide what grass to plant.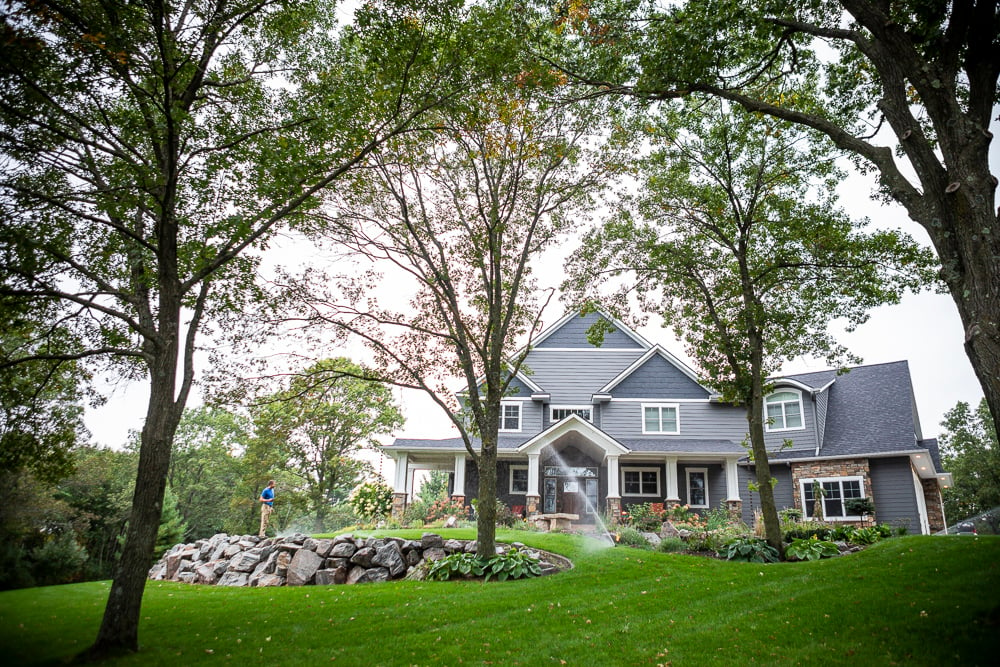 What kind of factors?
Yard light conditions (sun vs. shade)
Disease resistance
Drought tolerance
Leaf texture
Blending with your existing grass type
Spring green-up
Frost tolerance
Insect damage
Foot traffic tolerance
Mowing height tolerance
Feeding and watering requirements
Sure, everybody wants dark green grass, but don't you also want healthy grass that will thrive in your yard, stand up to pests, diseases, drought, and foot traffic? (Hint: the answer is yes.)
The Best Grass for Minnesota? A Blend
Most grass seed used here in Wisconsin and Minnesota is a blend of Kentucky bluegrass, rye and fescue.

Every type of grass has advantages and disadvantages. Fescue does better in shade. Bluegrass thrives in the sun. Rye stands up well to high foot traffic.

That's why a blend of these grasses is the best grass for Minnesota — you get a bit of all their good qualities. Plus, a mix is better at fending off lawn diseases.

You'll get a blend of high-quality grass seed from RainMaster based on your lawn's needs.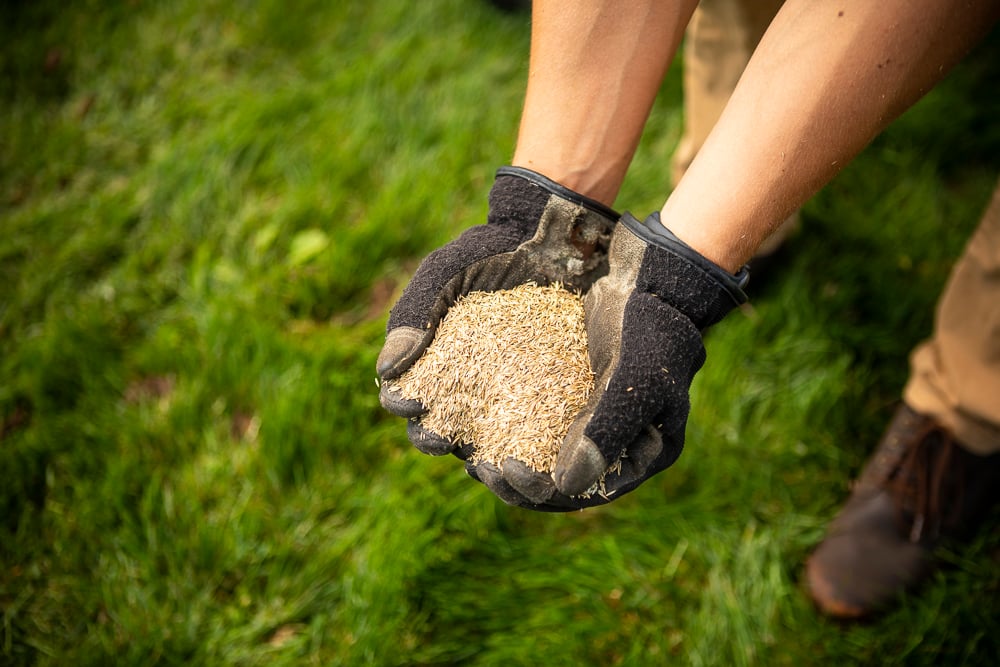 If your yard is shady, you'll get more fescue seed.

Sunny? More bluegrass.

Rye isn't our favorite grass, but it serves a few good purposes.

If you have an erosion-prone hillside, or destructive dogs, you want coverage as quickly as possible. Rye seed germinates in just seven days. Bluegrass takes a month.
Minnesota Grass Types: Always Buy the Good Stuff
Skip the cheap seed, please. First off, that inexpensive grass seed piled up in bags in the home improvement store may actually contain weed seeds and undesirable grass seed. Who cares if it's a dark green grass type if it will fill your lawn with weeds?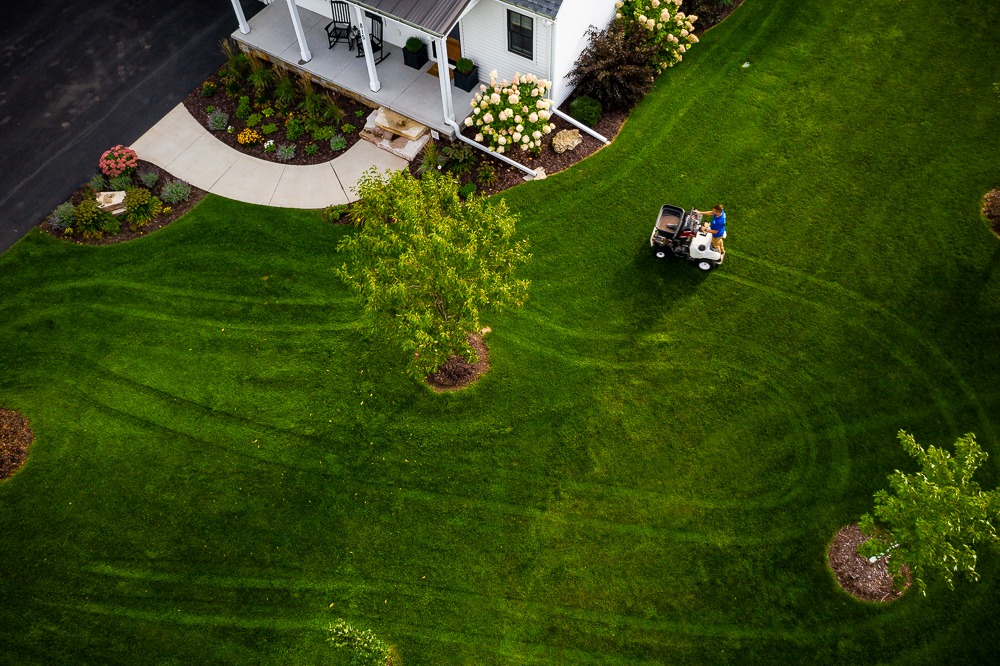 Also, be sure the new seed you're planting is the same variety as the rest of your lawn. Otherwise you may end up with a weird patchwork of different shades of green.
How to Encourage Dark Green Grass
There are things you can do to encourage your grass to be healthy and green even if you don't have the darkest green grass type:
Feed it. Granular fertilizer is preferred because it breaks down more slowly than liquid, giving you consistent benefits from fertilization. Look for blends that also contain organic nutrients, which give your lawn that beautiful, deep green color.


Aerate! Lawn aeration uses a machine to pull out plugs of soil, creating spaces so that air and water can penetrate, which leads to healthier roots. Healthier roots make for a healthier, thicker, greener lawn.


Test your soil pH. Important nutrients for grass are available in soil when the pH is at the right level — not too acidic, not too alkaline. If your soil's pH level is out of whack, we can add the right soil amendments to bring it to the right level, setting it up to be that beautiful green you love.


Mow tall. When you mow, you're removing a portion of the leaf surface that creates food through photosynthesis. Take off too much, and you're starving your grass. No more than a third of the grass blade should be removed during a single mowing.


Water deeper, longer, and not as often. That encourages deeper, stronger roots, which means greener grass.


Keep your mower blade sharp. A sharp blade makes a nice, a clean cut, which helps the grass to heal faster and promotes photosynthesis — which makes it nice and green.
Want the Darkest Green Grass? Be Proactive
There are a lot of things going on out there in your yard that can keep your grass from being its best beautiful green.

Weeds. Bugs. Disease.

Pros know how to diagnose lawn care problems before you even notice anything's wrong.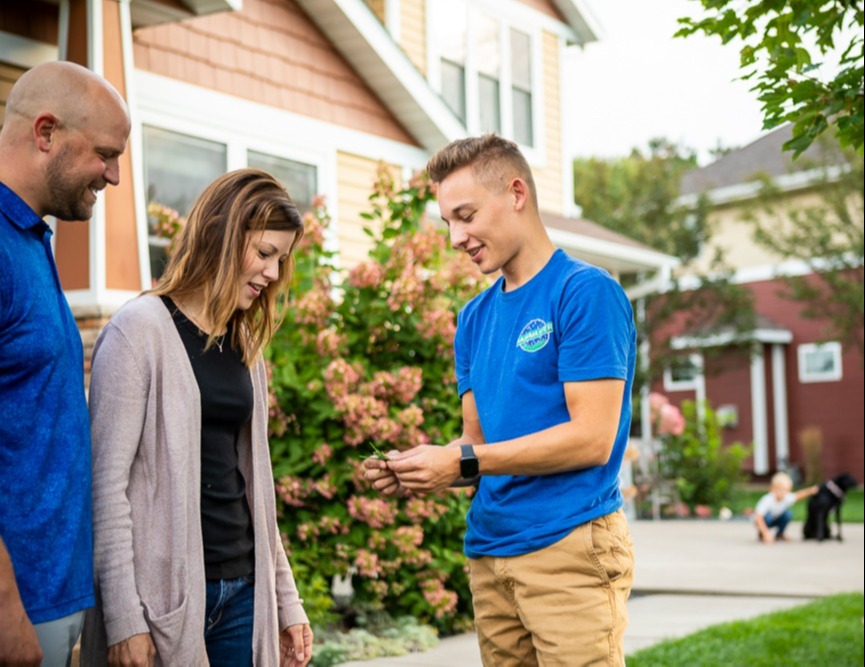 When our trained lawn care specialists are out there spreading seed, or applying fertilizer, or treating for weeds, they're looking at your lawn's total health.

They catch problems early — before they turn into worrisome and expensive situations that can keep your grass from being as green as possible.
Best Grass for Minnesota? Trust RainMaster Near Minneapolis
Everybody wants dark green grass. (Again, sorry, yellow.) but let's face it, it's hard work.

Sure, you could spend your hard-earned weekends fertilizing, aerating, seeding, and pacing your yard hollering, "What is the darkest green grass?!"

Or, here's an idea. Let us do the work.

At RainMaster, serving the Minneapolis area and Eau Claire, WI, you choose from three different levels of lawn care programs, based on the results you'd like, how fast you want to see results, and your budget.

When you're ready to put your trust in us, we can't wait to meet you — and help you make the best choices for your lawn.

Ready to make your grass greener? Request a quote today! We'll review your lawn care options together so you can make a great choice. Then, you can finally enjoy watching your lawn transform and stop worrying about it.