Of course, you compare companies when you're looking for a lawn care service.
Why wouldn't you?
Good lawn care companies love it when they're part of a comparison list.
It gives them a chance to shine.
Here's a look at how RainMaster compares to TruGreen in Eau Claire, WI and TruGreen in Blaine, MN.
Lawn Care Reviews
When you want recommendations, you ask your friends and neighbors, right? Checking Google reviews is like asking a whole bunch of friends and neighbors.
Here's what they say:
Eau Claire, WI
Minneapolis and St. Paul, MN area
Lawn Care Material Prices
TruGreen sells its services based on price. You'll likely discover they're the cheapest.
They're a massive, international company focused on providing investors with a healthy bottom line. This could mean skimping on products as well (think knockoffs vs. the original brand name known for performance), so they can purchase supplies cheaper, buying them at a large volume.
RainMaster spends more money on higher-end products, like high-quality granular fertilizer, and more expensive grub control that doesn't kill bees.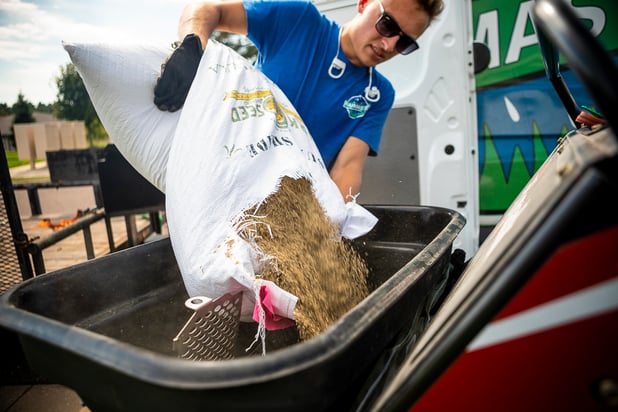 Our premium grass seed cost more but it's worth the expense. Paying for premium seed means more of it will actually germinate and the species often performs better against certain environmental pressures.
And our higher-tier programs include more emphasis on proactive lawn health, preventing problems before they're big issues, from the roots up. That costs more. Ultimately, we want your lawn to be healthy, not just look the part.
Accessibility to Your Local Lawn Care Team
Phone calls to TruGreen in Eau Claire, WI andTruGreen in Blaine, MN don't go to local offices, but to a centralized call center out of state.
Calls to RainMaster go to our local office. You can ask to talk to any of us — including the lawn care technician who services your lawn. Plus, our technicians will even call you when they are at your location in many instances. Many of our clients have their technician's mobile number.
We're all based right here. Questions? Just ask.
Type of Lawn Care Fertilizer
TruGreen uses mostly liquid fertilizer, sprayed onto your lawn from a big tank.
RainMaster uses granular fertilizer, which is more expensive than liquid counterparts some of our competitors use. Here is why...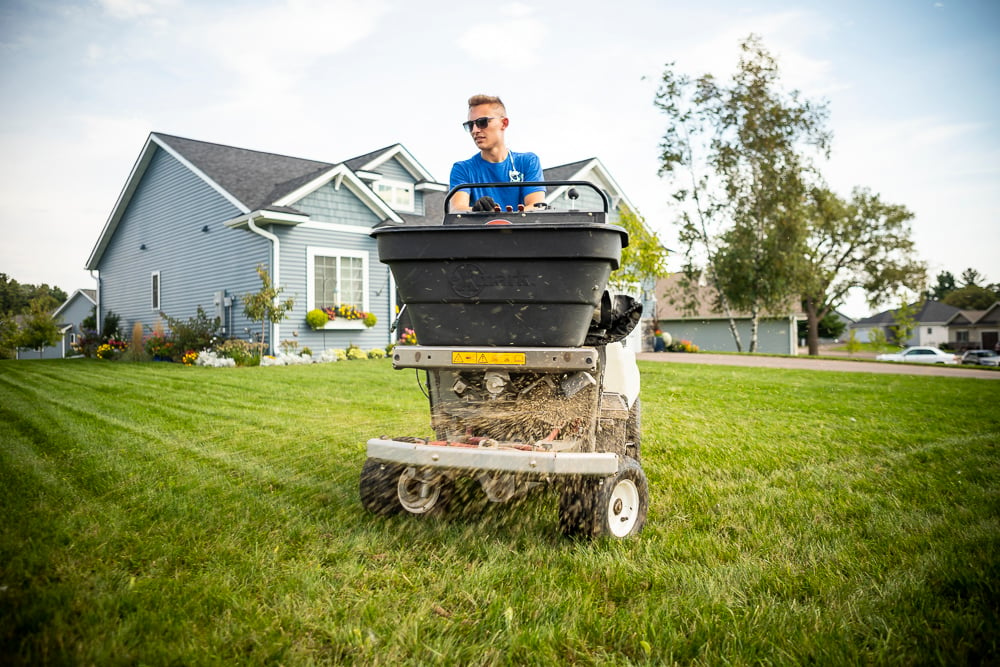 Granular fertilizer breaks down slowly, giving you consistent benefits from feeding your lawn over time. Our fertilizer also contains organic nutrients, which improves the color and thickness of your lawn.
Staffing of Lawn Care Professionals
TruGreen in Eau Claire, WI and TruGreen in Blaine, MN employ their technicians seasonally.
At RainMaster, our technicians work year-round.
What are we doing offseason?
Learning. Taking classes. Earning certifications. Participating in webinars with lawn care professionals around the world.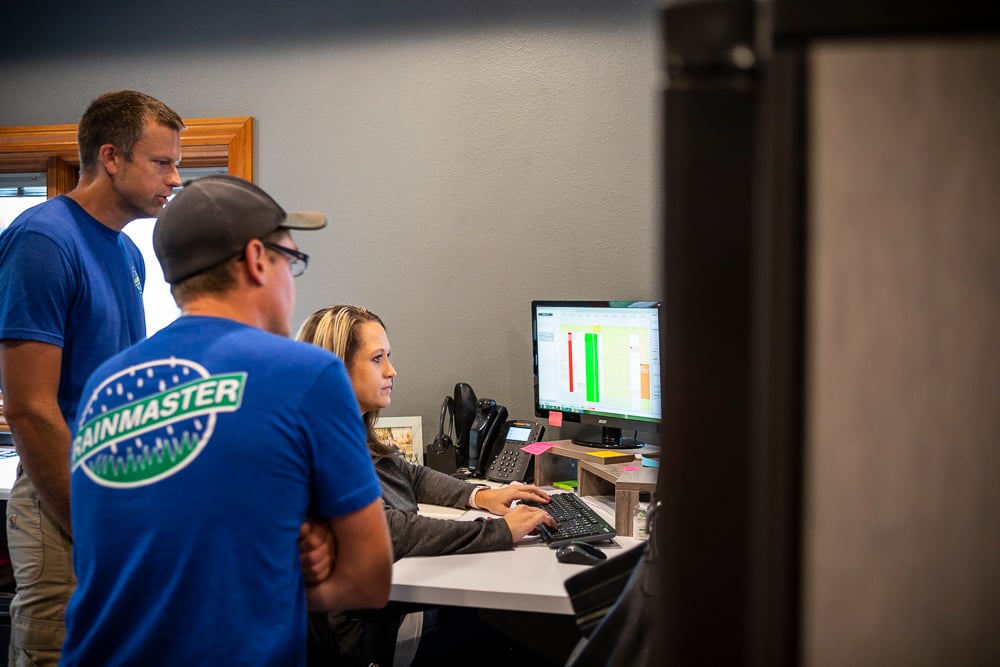 We're gaining more knowledge about how to improve your lawn, from the latest info about threats (disease, pests, etc.) and the latest eco-friendly practices to new products and procedures in the industry.
Our skilled and educated lawn care team includes pros with horticulture degrees, decades of experience, and time working on the pristine turf of the Milwaukee Brewers.
You won't find this level of training and experience at other companies. And this level of expertise will impact lawn care pricing. You often get what you pay for. But it's worth spending a little more to have way fewer headaches later.
Flexibility with Lawn Care Strategy
TruGreen in Eau Claire and TruGreen in Blaine are part of the nation's largest lawn care company, serving more than 2.3 million residential and commercial customers across the United States from more than 300 TruGreen branches in the United States and Canada.
It takes a while for a huge corporation to tweak any products or procedures.
RainMaster is one local company. We're able to switch to a different product tomorrow if we see a sudden need or advantage for customers.
Small Customer Service Differences with a Big Impact
You'll notice other differences in RainMaster services that might seem small at first.
RainMaster technicians physically call you on the phone after we're done on your property, to tell you what we just did.
Just a quick phone call. But it's rare in our industry. And it keeps you in the know.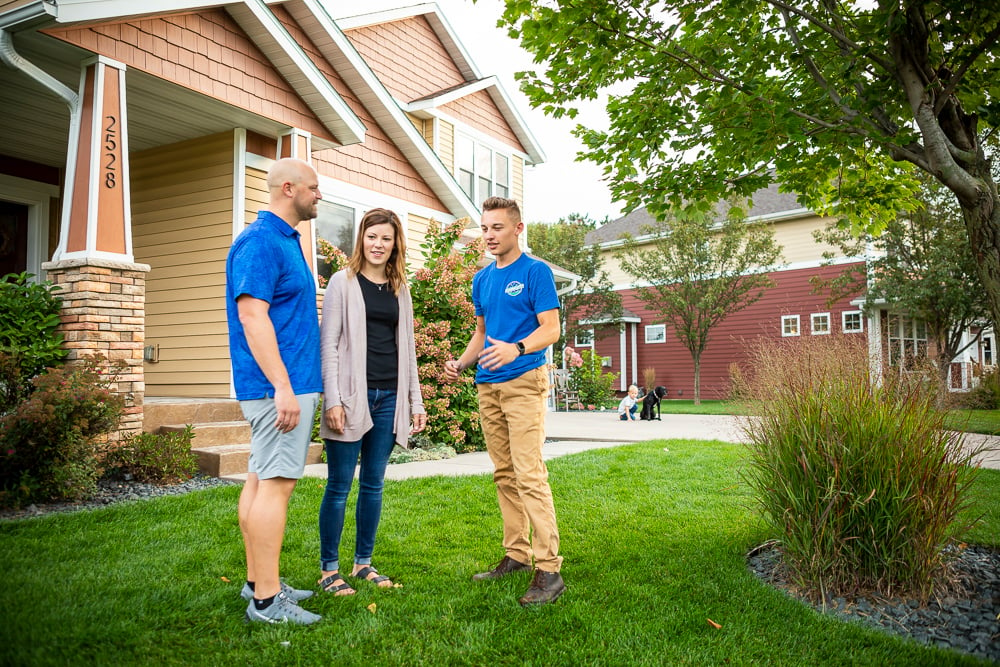 When RainMaster technicians show up to aerate and overseed your lawn, you won't need to worry about your sprinkler heads or adjusting your controller for new seed. If we have access to the controller, we will take care of that for you. We flag your sprinkler heads so we don't hit them. Then, we'll readjust your irrigation controller for the different watering schedule the new seed needs.
No charge. You'll notice other companies charge $50 to $100+ for this or won't even offer it.
RainMaster vs. TruGreen: Choose the Best For Your Lawn
When all the comparing and figuring is done, ultimately, we want the same thing you do: a healthy, vibrant lawn you're proud of.
Many times, former TruGreen customers call us, ready to try a new lawn care team.
When you're ready to put your trust in us, we can't wait to meet you — and help you make the best choice for your lawn.
Are you ready for a healthier lawn without all the hassle? Request a quote today. We'll review your program options together and help you make a great choice. Then, you can finally enjoy your lawn and stop worrying about it.