If you could choose between strawberries grown on a farm in your town and strawberries shipped in from Peru, you'd choose the local berries, right?
You could talk to the farmer. Find out how she grows them, ask questions about any products she uses. You could see the fields, watch the berries ripen in the sun.
Local is cool.
When you're comparing lawn care options, trying to find the best lawn care companies in Eau Claire, WI or Blaine, MN, local matters here, too.
TruGreen is a huge national company. RainMaster Lawn Systems is local.
Why does it matter? Let's take a look.
When You Call, Who Picks Up?
When you call RainMaster, you're calling our local office in Eau Claire, WI or Blaine, MN, not a centralized call center out of state.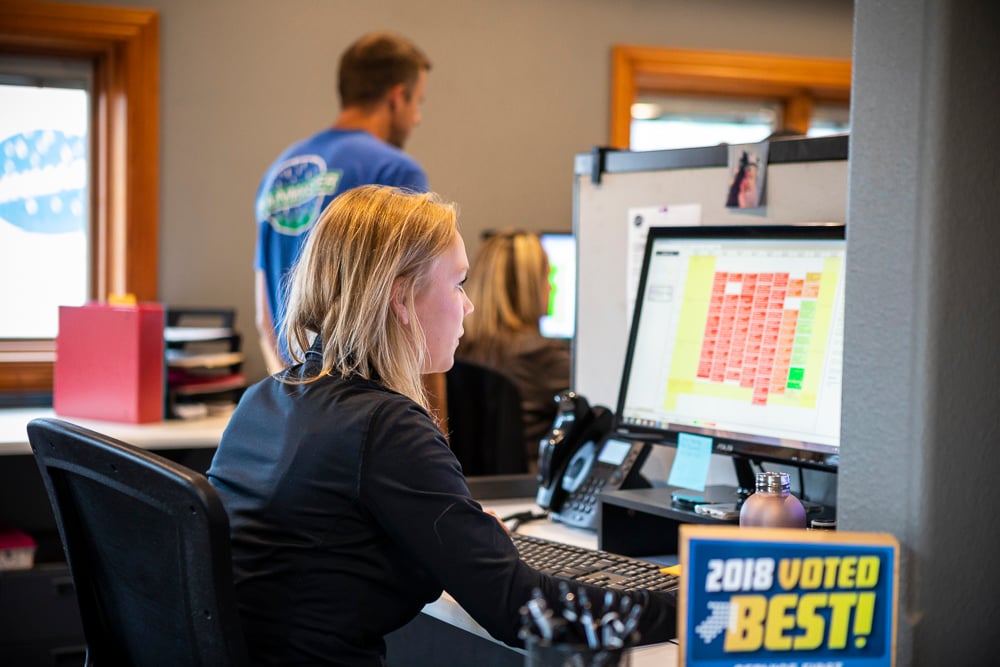 You can ask to talk to any of us — including the lawn care specialist who services your lawn. Many of our clients have their lawn specialist's mobile number.
We're based right here. Give us a call.
Staffing: Who's Taking Care of Your Lawn?
TruGreen employs their technicians seasonally. At RainMaster, our specialists work year-round.
What are we doing each offseason?
Learning. Taking classes. Earning certifications. Participating in webinars with lawn care professionals around the world. That means lots of extra knowledge about how to improve your lawn, from the latest info about threats like diseases and pests to eco-friendly practices to new products and procedures in the industry.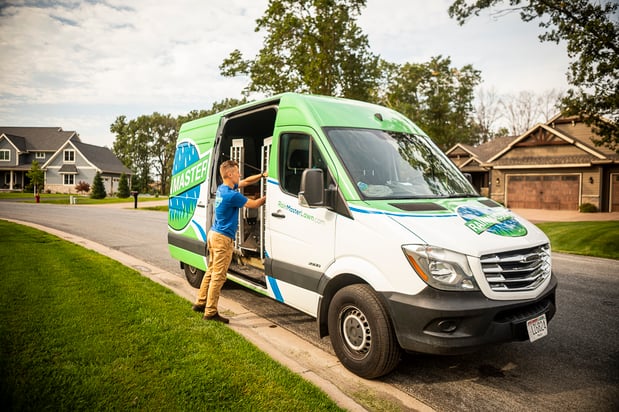 Our skilled and educated Eau Claire Wi lawn care team includes pros with horticulture degrees and decades of experience. The best lawn care companies know skill and training matter.
You won't find this level of training and experience at other companies. This level of expertise means prices are a bit higher. You often get what you pay for, right? But it's worth spending a little more for quality Blaine MN lawn care that means you get the results you want.
Flexibility with Lawn Care Strategy
TruGreen is the nation's largest lawn care company, serving more than 2.3 million residential and commercial customers across the United States.
It takes a while for a huge corporation to tweak any products or procedures.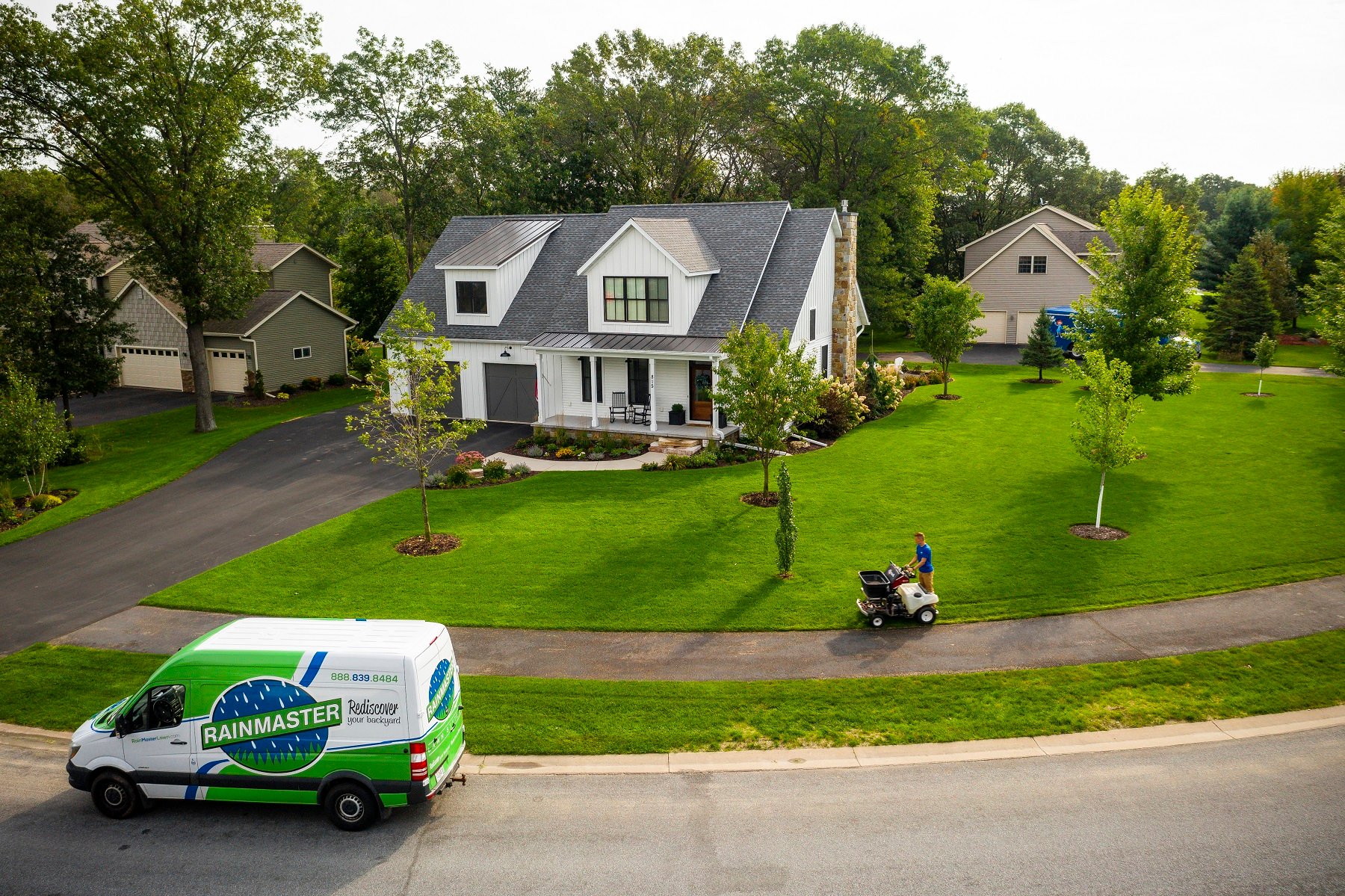 RainMaster is one local company. We're able to switch to a different product tomorrow if we see a sudden need or advantage for customers. That means you get a localized Eau Claire lawn care strategy designed to target the lawn issues happening right here — not the same stuff people all over the country are getting.
Personalized Customer Service You'll Love
You'll notice other differences in RainMaster services that might seem small at first. The best lawn care companies know little touches make a big impact.
RainMaster specialists physically call you on the phone after we're done on your property, to tell you what we just did.
Just a quick phone call. But it's rare in our industry. And it keeps you in the know.
When RainMaster specialists show up to aerate and overseed your Eau Claire, WI lawn, you won't need to worry about your sprinkler heads or adjusting your controller for new seed.
If we have access to the controller, we'll take care of that for you. We flag your sprinkler heads so we don't hit them. Then, we'll readjust your irrigation controller for the different watering schedule the new seed needs.
No charge. You'll notice other companies charge $50 to $100 for this or won't even offer it.
Small, personal touches in Eau Claire lawn care make a big difference.
What Kind of Fertilizer Are You Getting? It Matters
TruGreen uses mostly liquid fertilizer, sprayed onto your lawn from a big tank.
RainMaster uses granular fertilizer, which is more expensive than liquid counterparts some of our competitors use. But it's better for your lawn, giving you the results you want. The best lawn care companies use granular fertilizer.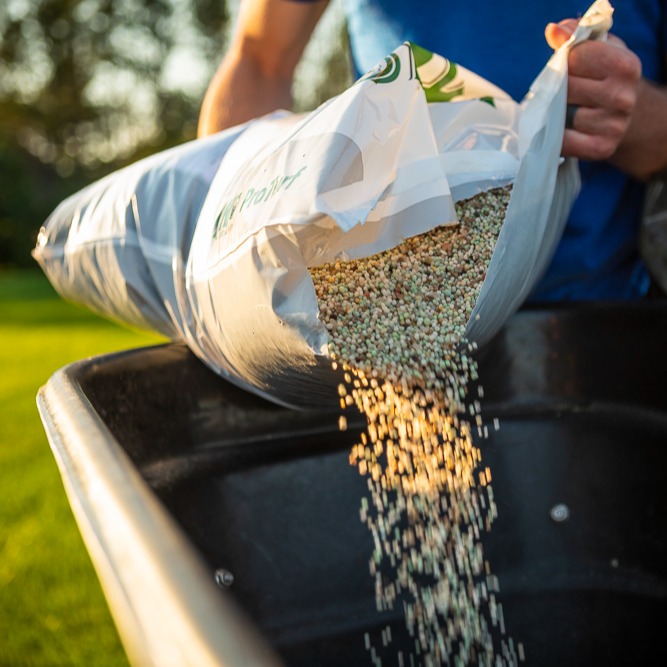 Granular fertilizer breaks down slowly, giving you consistent benefits from feeding your lawn over time. Our granular fertilizer also contains organic nutrients, which improves the color and thickness of your lawn.
Choose the Best For Your Lawn with RainMaster
Local matters.
Many times, former TruGreen customers call us, ready to try a new Eau Claire WI or Blaine, MN lawn care team. They want results. Dependable local professionals they can reach on the phone.
And the extra touches that come with RainMaster's local, personalized service are an appreciated bonus.
When you're ready to put your trust in us, we can't wait to meet you — and help you make the best choice for your lawn.
Are you ready for a healthier lawn without all the hassle? Request a quote today. We'll review your program options together and help you make a great choice. Then, you can finally enjoy your lawn and stop worrying about it.