When you give your lawn the gift of aeration and seeding, it's kind of like getting a whole new lawn.

All those fresh holes allow your lawn to breathe. New seed rejuvenates it and helps it grow thicker.

New lawn! And that's how you need to treat it — a little more gently than an established lawn.

Watering after aeration and seeding changes a bit. Fertilizer is super important.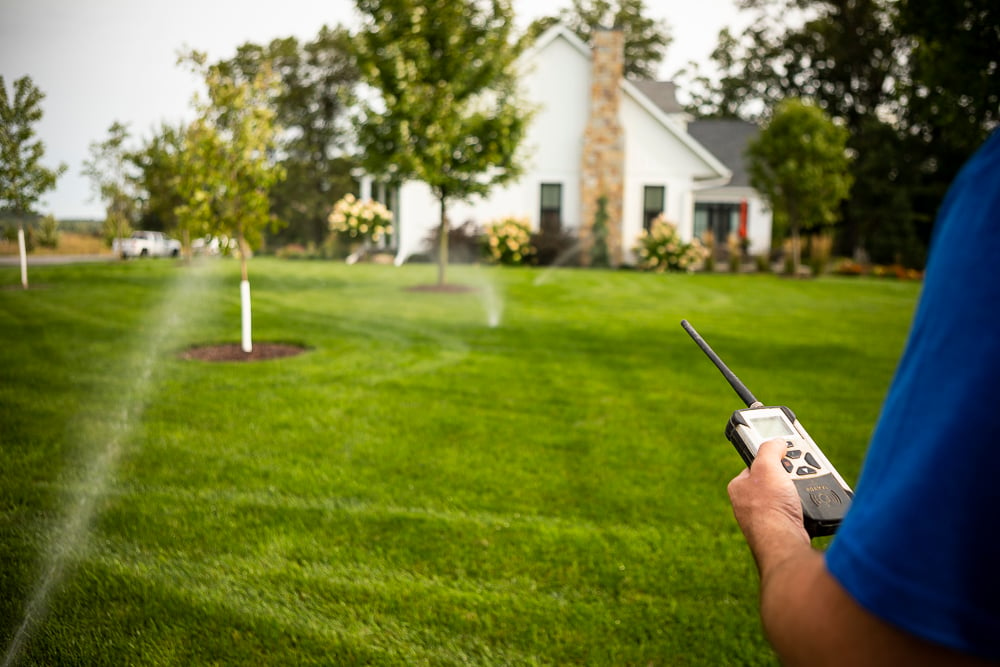 Here's what to do:
Watering After Aeration and Seeding
Pretend you're taking care of a new baby for a few weeks. Except you get to sleep at night.

Your new grass seed needs special attention, especially for the first 21 days or so that it takes to germinate.

When your grass is new, it needs more frequent watering in smaller amounts.

Plan on frequent light watering for the first month. Keep that seed consistently moist. But no big puddles, please. You don't want to drown your new seed or wash it away.

This usually means watering your lawn two or three times a day for 15-20 minutes.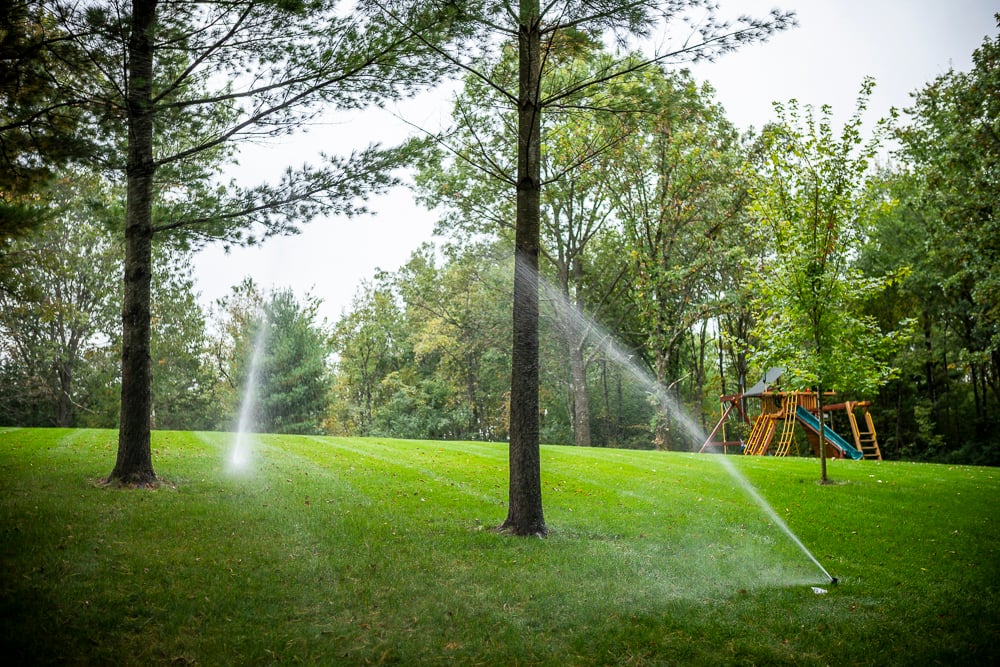 This is really important. If you stop watering, either your seed won't germinate or your precious new grass will die.
Watering Your Lawn After Germination
After four to six weeks, transition to longer periods of watering, but fewer times. You want your grass to have to search for water, sending its roots deeper into the soil. That encourages the roots to grow longer and deeper, which means your grass will be healthier.

Shoot for an inch or so of water a week over two or three sessions.

You want to water a bit longer now, about 45 minutes or so, so the water soaks into the soil nice and deep where the roots are developing.
Fertilizing After Aeration and Seeding
Just like a new baby eats multiple times a day, your new lawn needs fertilizing throughout the year.

That fresh new grass is hungry. Follow up your aeration and seeding with a regular fertilizing program.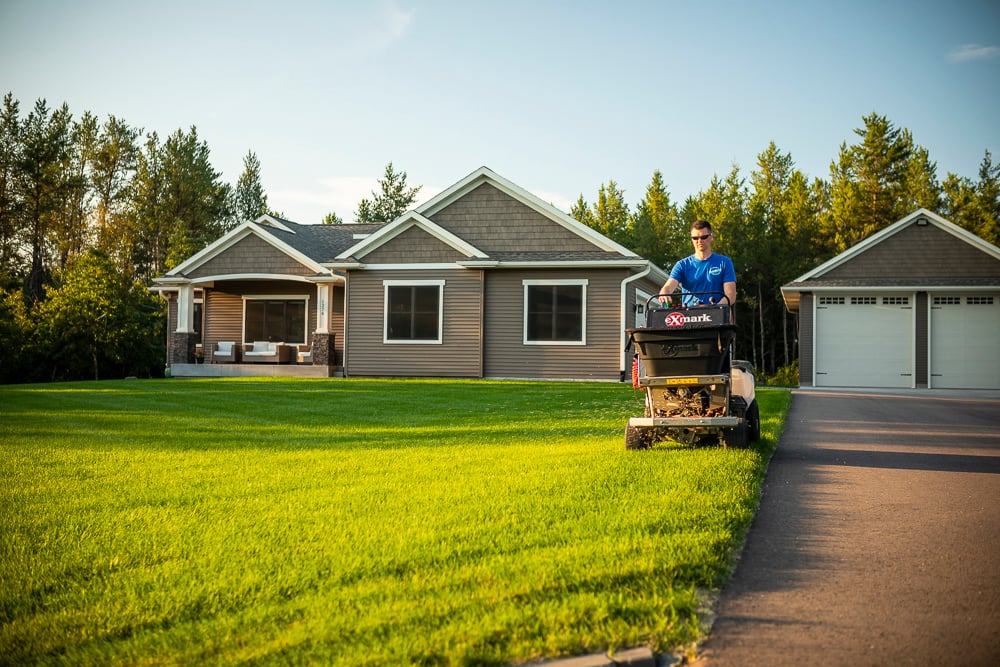 A Couple Other Tips
While watering after aeration and seeding and keeping that hungry new grass fed are key, keep these tips in mind, too:
Back Off on Weed Killer
Don't use weed control products for at least a month. A good way to keep track: if you mow weekly, mow at least four times before you break out the weed control.

We know, weeds often grow faster than your new grass, and it'll drive you crazy.

But that weed killer will also kill your precious new grass. So hold off.

The one exception: if we do your lawn care. We have a pro-level product that will kill weeds without harming your new grass. We can use it the day we seed.
Mow High
Taller grass helps a lawn grow thicker and stay greener. As summer progresses, you should keep raising your mower blade. Shoot for 3 inches in June, 3.5 to 4 inches in July and August.
Puzzled About Watering After Aeration and Seeding? Leave It to RainMaster
Most lawn care and irrigation companies offer one service or the other.

Hire RainMaster, and you get experts in both, which comes in pretty handy for aeration and seeding.

When RainMaster technicians show up to aerate and overseed your lawn, you won't need to worry about hitting your sprinkler heads with a rental aerator or adjusting your controller for new seed.

If we have access to the controller, we'll take care of that for you. We flag your sprinkler heads so we don't hit them. Then, we'll readjust your irrigation controller for the different watering schedule the new seed needs.

No charge. You'll notice other companies charge $50 to $100+ or they put this on the homeowner.

You don't need that hassle.

Plus, when you have a company that can coordinate these two important facets of caring for your lawn, you'll see even better results.

Give your precious new grass a great start in life with a proactive lawn care plan to help it thrive.

That means all the good stuff: Fertilizer. Weed control. Aeration and overseeding. Grub Guard. Proper watering.

We're here to help, with experienced, knowledgeable, skilled technicians in both lawn care and irrigation.

Are you ready to remove the hassle from lawn care and irrigation services? Request a quote today! We'll review your options together so you can make a great choice. Then, you can finally enjoy your lawn and stop worrying about it.