If you've never seen an irrigation system installation before, it's easy to expect the worst.

Bulldozers roaring over your lawn. Huge geysers of water shooting into the sky. Giant slimy worms emerging from underground like in some science fiction movie. Is it your sprinkler system installation? OR THE END OF THE WORLD??!!

Hmmm, sounds kind of cool… Wait, of course that's not cool. Lawn damage from irrigation installation is definitely not cool.

Relax. Sprinkler system installation looks nothing like that. It all goes pretty smoothly when you have pros on the job.

Here's what to expect from RainMaster:
No Messy Trenches
While some irrigation installation companies in Eau Claire, WI and Minneapolis might still dig messy trenches for sprinkler system installation, don't expect that from RainMaster.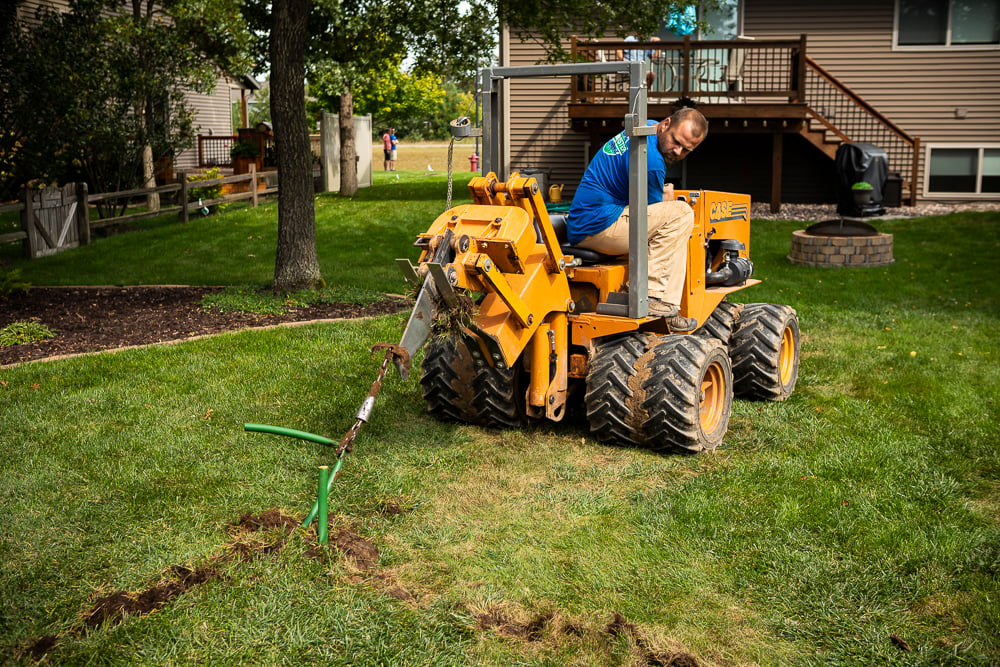 We use a tidier technique to "pull" pipe under the ground, not messy trenching. Crews cut a slit in your lawn and a machine drags the pipe through underground. It's pretty cool. No cutting invasive trenches that throw dirt everywhere.
Courteous Clean-up
RainMaster specialists clean up after they're done with irrigation system installation and even reseed any areas they disturbed. Most companies don't do this — it costs extra money. Your yard will be tidy when the truck drives away. Go ahead, invite the neighbors over for a "we got a new sprinkler system" party.
No Annoying Hassle
Relax from day one. We schedule the plumbing, call the dig hotline, mark all utility lines, and even work with your landscaper if needed.
Expect Handy Extras
Expect irrigation system installation extras from RainMaster:
Flexible tubing attached to each sprinkler head to make future renovations and repairs easy. If you're doing a landscaping project, installing a new driveway or a fire pit, you might need to move a head six inches. Because it's a flexible pipe, it's easier to move.


Extra wires in case you want to add another zone in the future, or in case one gets damaged.


A controller big enough to handle at least one more zone, just in case you need to expand your system later.
You want an irrigation installer in Eau Claire, WI and Minneapolis who plans ahead, saving time and money.
Follow Up? Of Course!
You'll get a free follow-up inspection where specialists will check for any leaks, pressure issues, proper coverage, and more. You'll also get details about lawn irrigation maintenance programs to make sure your system runs great for the long haul.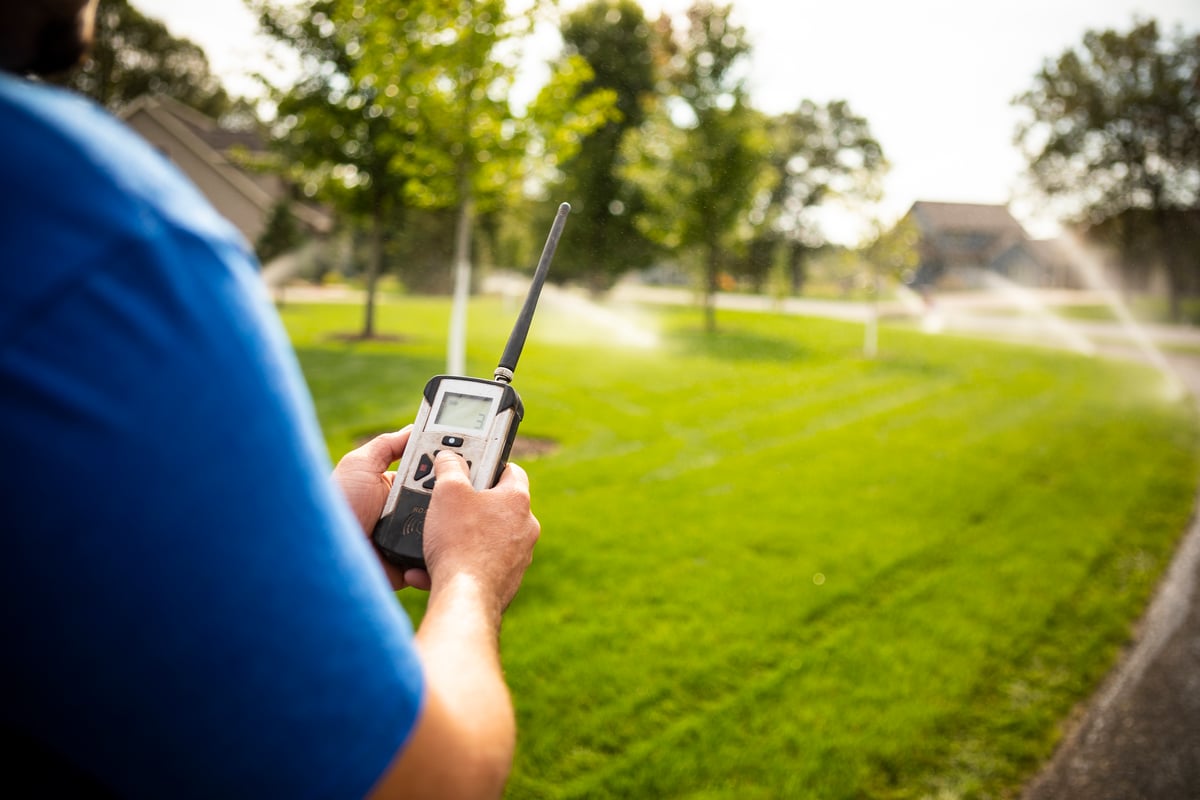 Sit back and enjoy. It's kind of fun to watch. Even without the giant worms. Especially when you don't have to worry about hassle or mess.
Trust Your Sprinkler System Installation to RainMaster
Don't worry about lawn damage from irrigation installation when you hire the pros at RainMaster.

Make it easy on yourself, from start to finish:
One less phone call, one less to-do: Don't worry about scheduling the plumbing or scheduling any routine maintenance. Our automatic scheduling takes care of that.
Simple Process: No need to coordinate the irrigation work with your landscaper, to make sure all the steps are done in the right order. Consider it done.
Reliability: No worries about whether we'll show up. You hired the right company.
When you're ready to take the next step forward, we can't wait to meet you — and help you make the best choice for your lawn.

Want to be confident about your choice for lawn sprinkler installation? Request a quote today! We'll review your options together so you can make a confident decision. Then, you can finally enjoy your lawn and stop worrying about it.