Fall is the best time for a lot of things: Gleefully jumping into big piles of leaves. Munching caramel apples. (Don't try these at once. The leaves will stick to your caramel apple and make you much less gleeful.)

If you're so busy with all the fun fall stuff that you decide to wait until spring to hire a lawn care service, you're missing a great opportunity.

The best time to sign up for a lawn care program is actually fall.

That's right. It's a great time to get your lawn in shape for next season.

Why fall? Lots of reasons: So put down that caramel apple and take a look:
One Word: Weeds
Fall is a great time for weed control.

Broadleaf weeds like dandelions germinate in the cool, moist periods of September and October.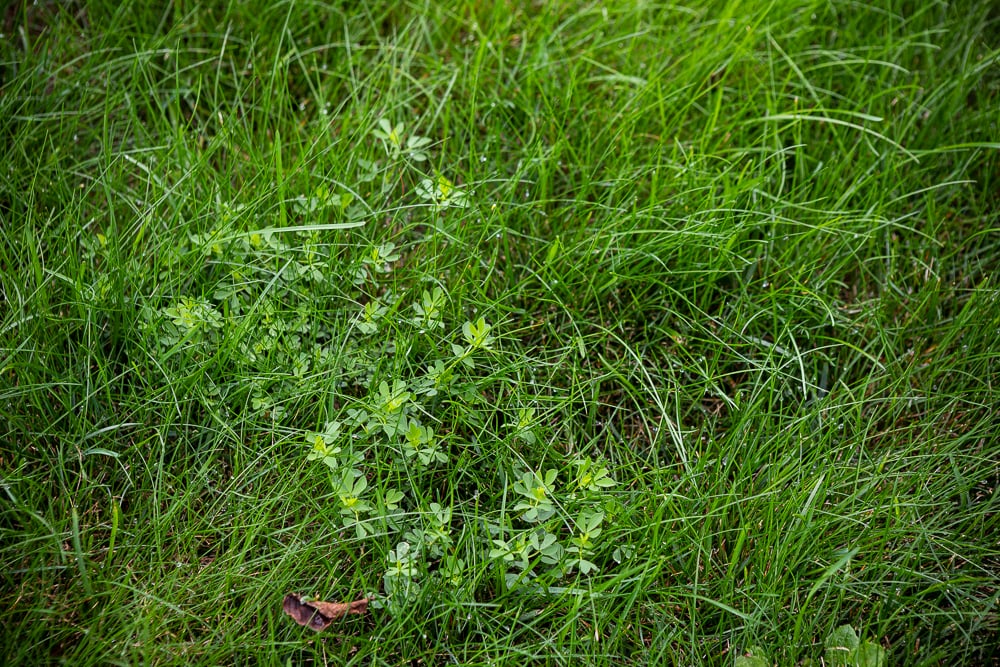 They hang out during the winter as tiny plants, but once spring weather hits, bam! They grow like crazy and are harder to control, especially once they flower.

Zap 'em in the fall before they're well established.

Here in Wisconsin and Minnesota, October is the last chance to spray for weeds before winter sets in.
Fall Lawn Care Can Fill in Thin and Bare Spots
Fall's cooler, rainier weather is great for growing new grass, so grab this opportunity to start filling in the thin and bare spots you've been swearing about all summer.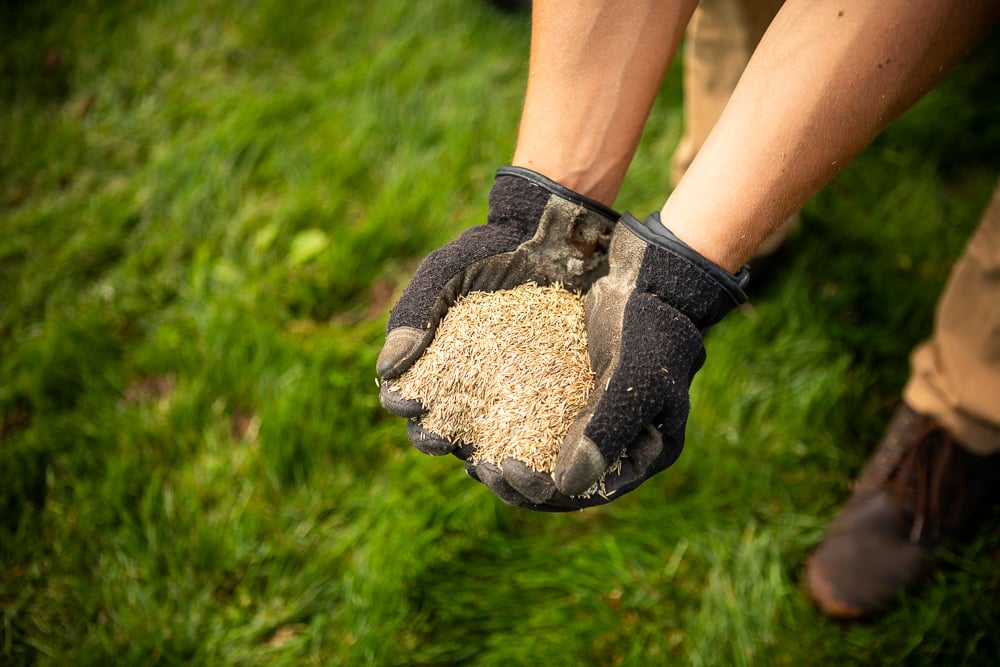 But seed by the end of September to avoid the risk of a killing frost. Otherwise, you'll need to wait until May to safely seed.
Your Poor Lawn is Hungry: Fall Lawn Care Feeds It
Fall is a crucial time for fertilizer. Those turf roots are still hungry. Fertilize in the fall and you give those roots nutrients to grow nice and deep now, with some left over for a healthy start next spring.
Fall is a Perfect Time for Aeration
Fall lawn care means aeration — it's the ideal time for this really helpful lawn task.

Aeration uses a machine to pull out tiny cores of soil from your lawn, allowing water and oxygen to get to the roots. Add overseeding to your aeration service so the grass seed can snuggle down into those perfect new holes.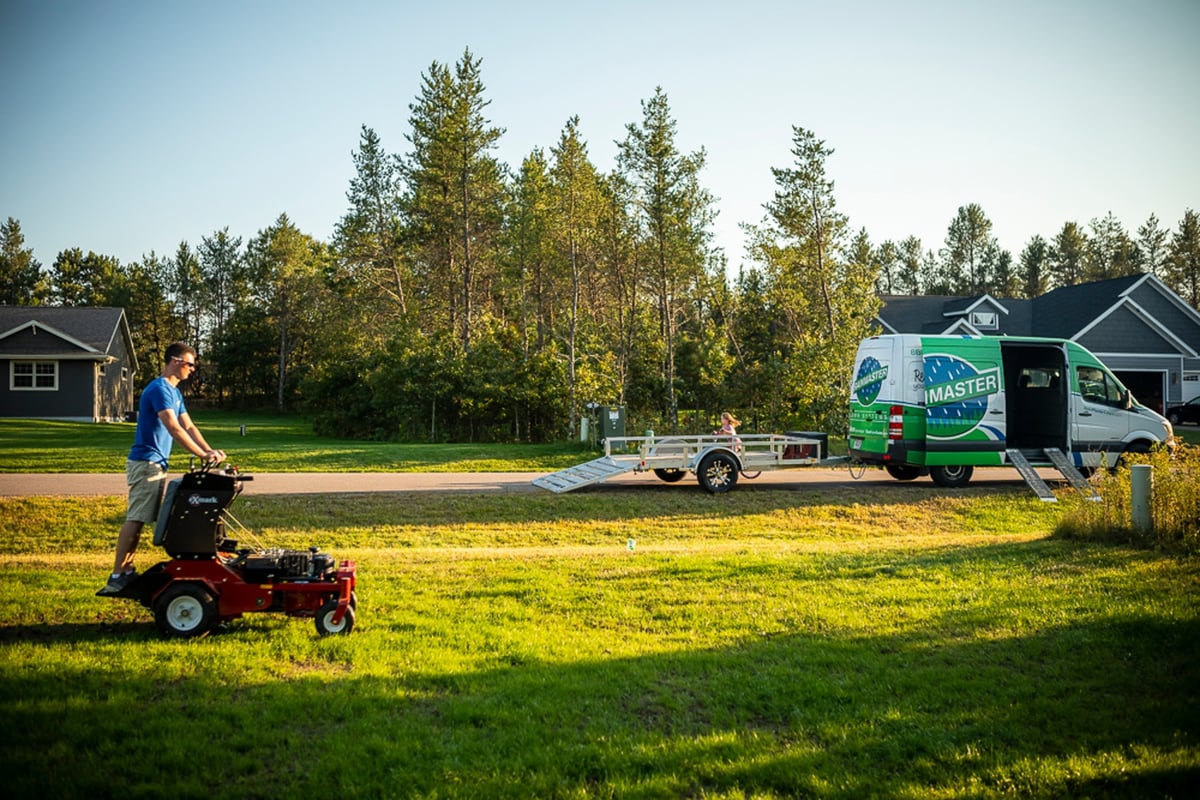 There aren't as many weed seeds flying around in the air in the fall as there are in the spring, so less chance of weeds taking root in those fresh holes in the soil.

Plus, seeding in the fall doesn't interfere with next spring's crabgrass preventer. Crabgrass preventer also kills new grass seed, so timing is tricky.
Everything's Still Fresh in Your Mind
No offense, but can you even remember where you set down your car keys or why you just wandered into the kitchen? (We've all been there.)

If you sign up for lawn care in the fall, all your summer lawn care issues are fresh in your mind. You'll be better able to talk to your lawn care specialist about your lawn's needs and challenges — before you forget. (Lawn? What lawn?)
Your Lawn Loves Fall
Fall is great for lawn care, with its cooler temperatures and extra rain. Your lawn isn't as stressed in the fall as it is in the dry heat of summer. Bonus: less watering. Most lawns don't need watering once we hit the first few weeks of October.
You'll Already Be on the Schedule in Spring
When to hire lawn care services? Fall. Then you can relax and rest easy all winter knowing you're already on the client list come spring.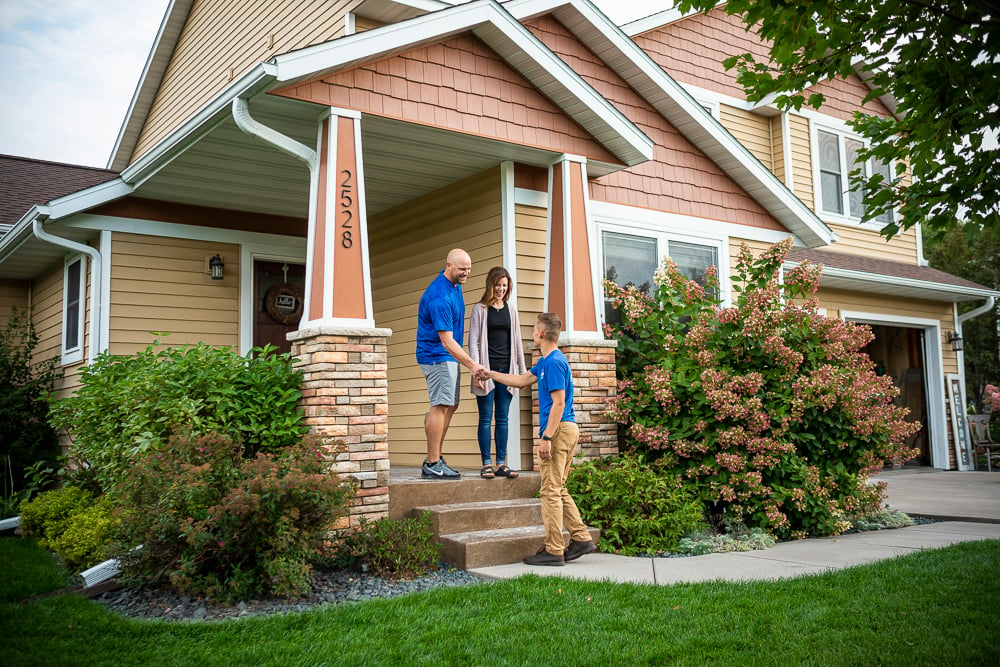 When other lawn owners are freaking out about crabgrass and scrambling to get a lawn care service along with everybody else in town, your spring visits will already be set up. No emergency scrambling. Congratulate yourself for being so smart.
Avoid Getting Stuck with Bad Service
Not happy with your current lawn care service in Minneapolis, MN or Eau Claire, WI? Still simmering over the fact that your lawn isn't any greener and you're still staring at a ton of weeds?

You had such high hopes for this lawn care service. A greener, healthier lawn. Fewer weeds. A lawn that wouldn't embarrass you when your friends came over.

When you don't see results, it's really frustrating.

Don't get stuck with them again just because you didn't get around to switching, or got stuck in their auto renew. Sign up for fall lawn care so you can get a jump on a fresh new start.
Fall Lawn Care Can Fix Your Soil pH Level
If you've been procrastinating about testing your lawn pH, don't feel bad. Summer is busy. You spent half of it looking for your flip flops.

Hire lawn care services in the fall and cross pH off your long to-do list.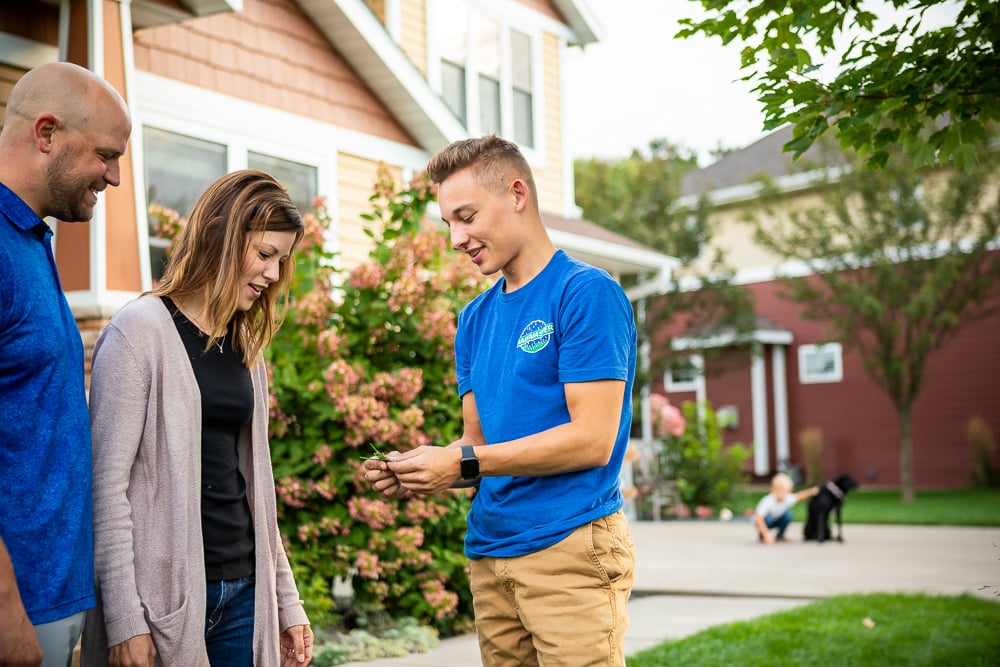 It's worth it.

No matter how much fertilizer you give your lawn, if your grass doesn't have the proper, balanced soil pH, it won't do much good.

Important nutrients for grass are available in soil when the pH is at the right level — not too acidic, not too alkaline.

If your pH is off, your grass won't get the nutrients it needs, no matter how much you fertilize.

The right pH unlocks your lawn's ability to take in nutrients and thrive. That's why pH testing your soil is so important.

If your soil's pH level is out of whack, your lawn care specialist can add the right soil amendments to bring it to the right level.
There's Still Time for Improvement!
Why wait until spring for a healthier, happier lawn when you can start now? There's still time to get your lawn into shape, during its favorite time of year.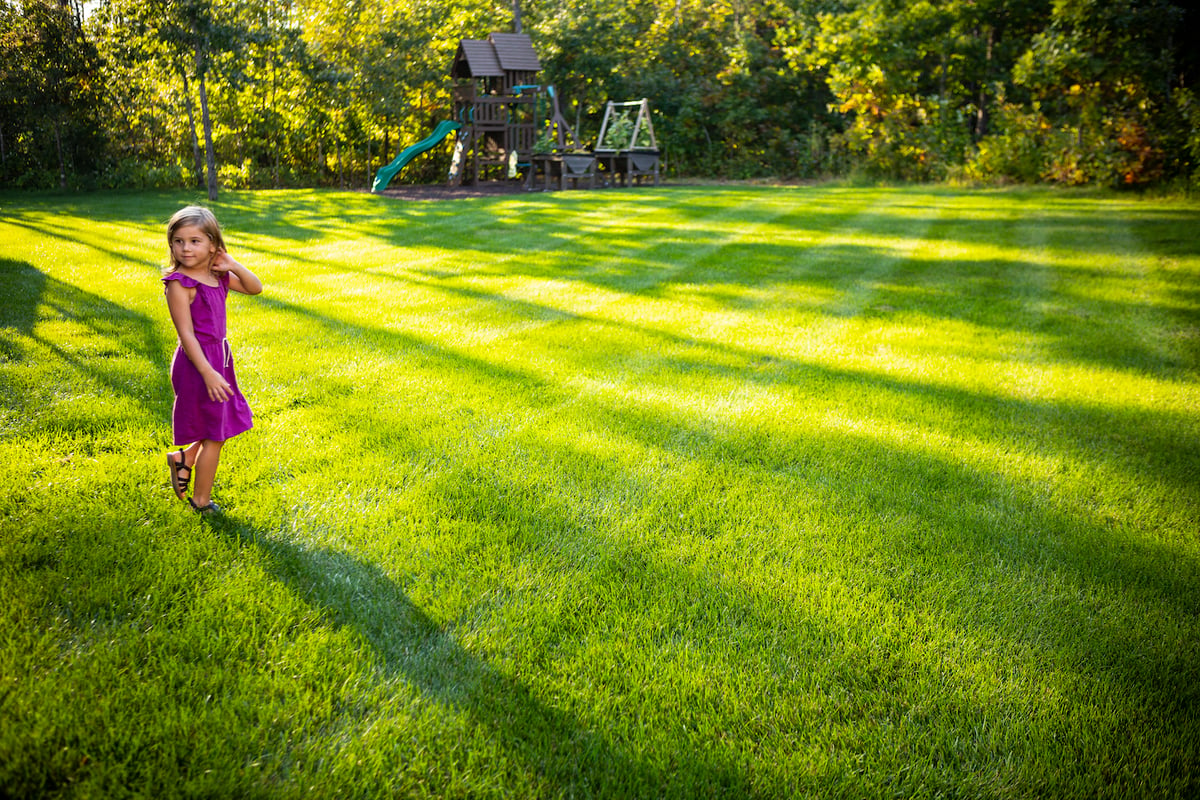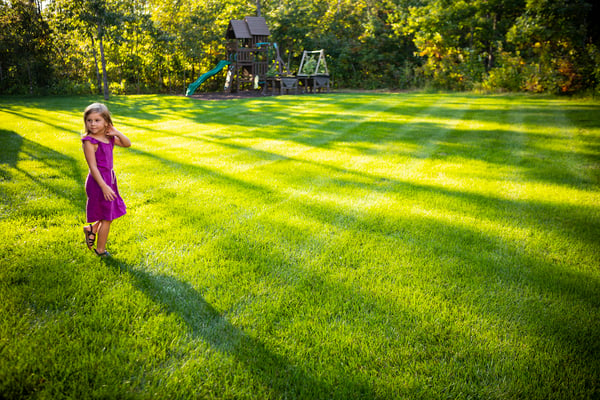 When to Hire Lawn Care Services? Call RainMaster Now
The sooner you start working on your lawn, the sooner you'll get results.

Fall is a great time to hire lawn care services in Minneapolis, MN and Eau Claire, WI

While you're putting off fixing your lawn until next month, next season, or next year, the problems plaguing your lawn are just getting worse — which means a bigger battle when you do start your lawn repair.

Call us any time and we can get you started with whatever action is appropriate for the season.

Choose from three different levels of lawn care programs, based on the results you'd like, how fast you want to see results, and your budget.

When you're ready to put your trust in us, we can't wait to meet you — and help you make the best choices for your lawn.

Want to be confident about your choice for lawn care services? Request a quote today! We'll review your lawn care options together so you can make a great choice. Then, you can finally enjoy your lawn and stop worrying about it.