Keeping up with all your lawn's needs throughout the year is kind of a hassle.

You have good intentions, but then suddenly it's June and you think, "Aw, rats, what was I supposed to do in April?"

Things like fertilizing get away from you. Life gets in the way.

We're giving you the benefit of the doubt and assuming that if only you had a handy month-by-month lawn care schedule, everything would get done.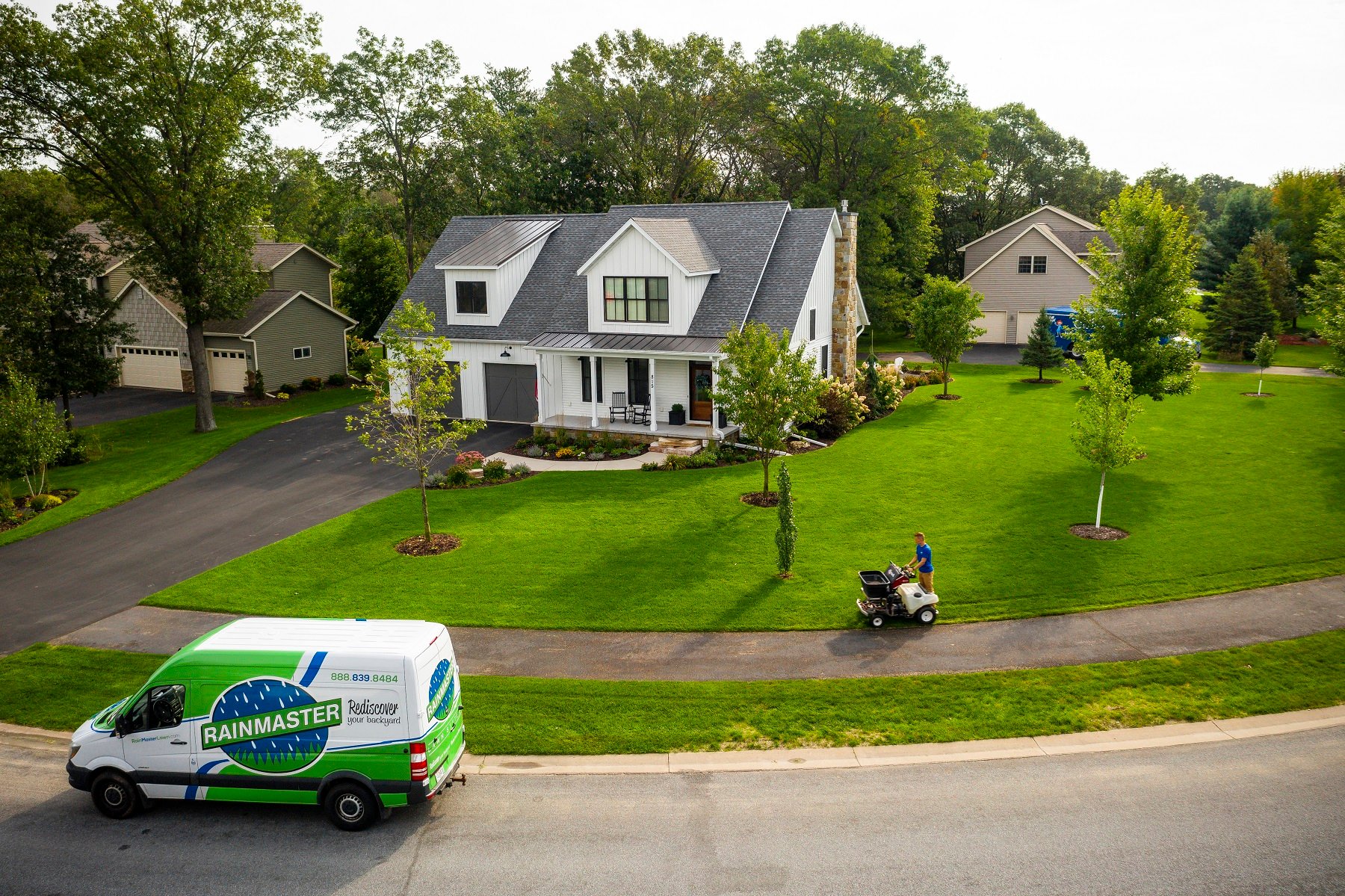 Here you go:
January
There's nothing you need to do for your lawn in the winter, right? Just toss some more logs on the fire, pour some cocoa, and forget about it.

Not so fast. Even though the snow is piling up outside, there's something you can do inside: plan for next season.

Good lawn care companies book up fast. So use January to plan for lawn repair next season before our calendar gets full.

Reserve your spot on our lawn care schedule — then you can get back to that cocoa.
February
Relax, watch Netflix, and dream about spring. Your lawn care calendar is blissfully blank for now.
March
You might want to get those lawn care muscles in shape. Next month, things get crazy.
April
It's finally spring! Woo hoo! We hope you don't have anything special planned because there's a busy lawn care calendar this month:
Time for yard clean-up! Lightly rake your lawn to remove dead grass, leaves, or debris you missed last fall. Go easy, though. You don't want to uproot your turf. It's been sleeping all winter.
Prep your mower for the busy season ahead. Make sure your mower blade is sharp, the tires are aired up, and the oil is changed. (Do this on every month that you're mowing).
Time for crabgrass pre-emergent. This timing is crucial. You want to target those weed seeds as they germinate and take root in the soil so they don't become more seed-producing plants. Here at RainMaster, we do two crabgrass treatments — one in early spring and another in late spring. This extends protection.
Get those grubs. If you have grubs, spring is the best time to take action. The key to controlling grubs is to prevent them before they hatch and begin to cause damage to your lawn. At RainMaster, we apply Bee-Safe Grub Guard right away in the spring during our first visit. Then, you're all set. This material lasts throughout the entire growing season.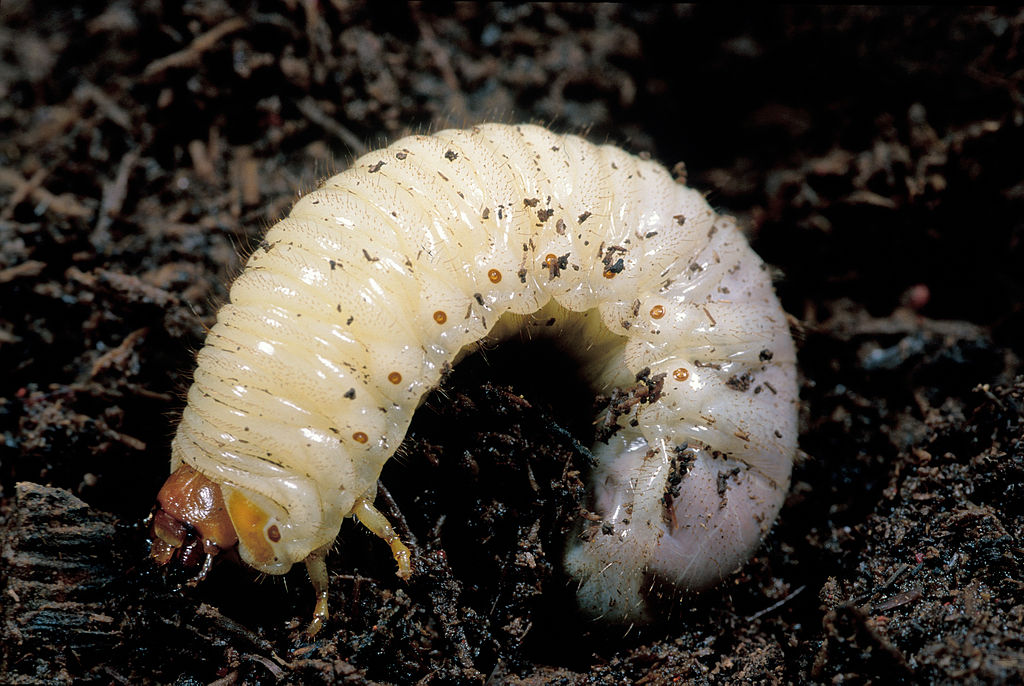 May
It's another busy lawn care calendar month if you want your yard to look great this summer:
Mow your lawn to remove a third of the current grass height. Grass should be 3 to 4 inches tall after mowing.
Reseed any bare spots. We recommend seeding no sooner than Mother's Day. Maybe right after that delicious brunch.
Time for fertilizer and weed control. Your goal should be to have this first round done by Memorial Day.
Look for areas of lawn that aren't recovering from the ravages of winter. You might have damage from snow mold, salt, or snow plows.
When your soil becomes compacted, your lawn can't breathe. Its roots can't take in water or nutrients, which weakens your turf and opens the door for disease and weeds.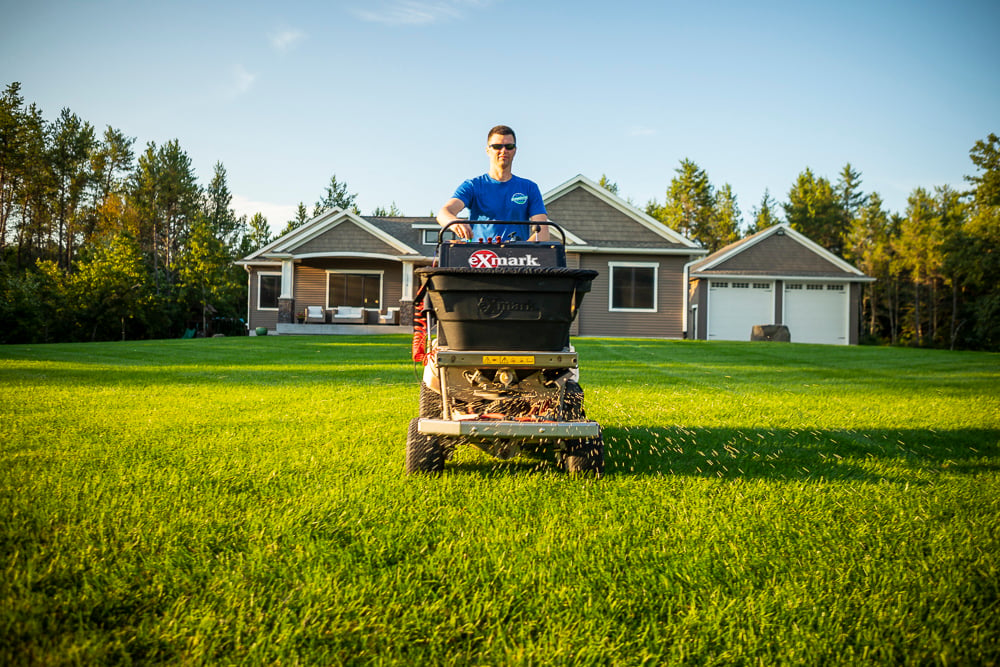 June
You should be seeing the results of your earlier labor — a healthy lawn perfect for barefoot picnics and backyard barbecues. Keep up the good work:
Now that mowing is in full swing, remember to mow high. Taller grass helps a lawn grow thicker and stay greener. Mow too short, and the soil heats up, helping pesky weed seeds to germinate. As summer progresses, you should keep raising your mower blade. Shoot for 3 inches in June, 3.5 to 4 inches in July and August.
Watch for insect pests, diseases, and other lawn problems to catch them early.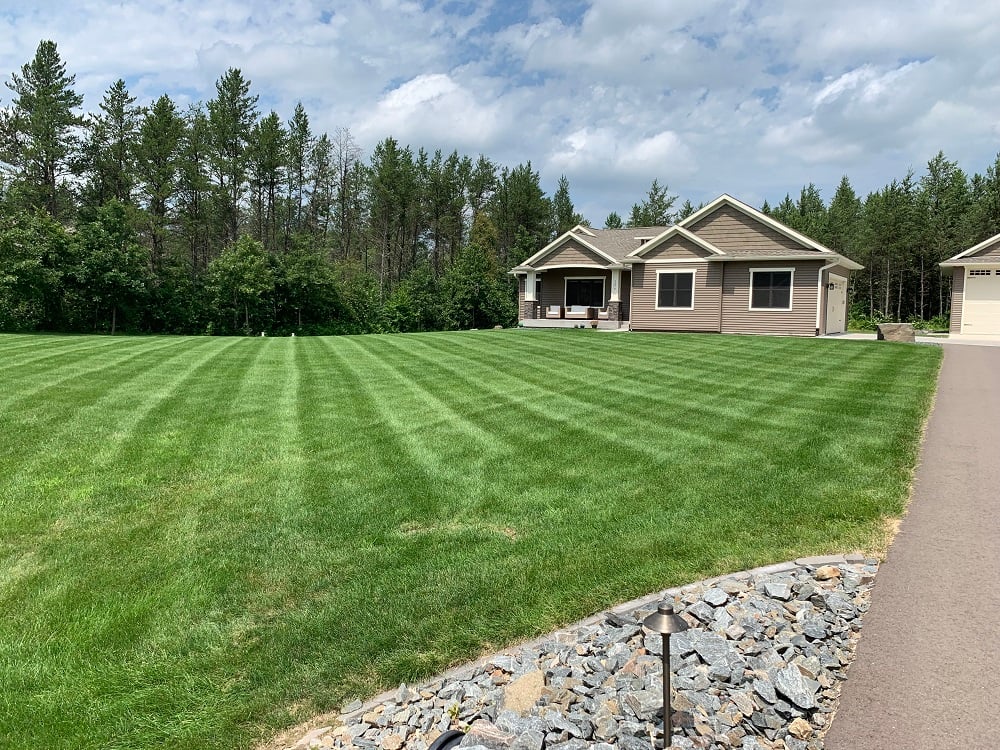 July
July is tough on your lawn, with its heat, lack of rain, and humidity that encourages lawn diseases.There are a few things you can do to help your lawn now:
Test your soil pH. Important nutrients for plants tend to be available in soil when the pH is at the correct level. If your pH is off, your grass won't get the nutrients it needs, even if you fertilize regularly. If your soil's pH level is out of whack, we can add the right soil amendments to bring it to the right level.
Apply fertilizer to get crucial nutrients to your lawn's hungry roots ASAP.
Sharpen your mower blades again.
August
August is technically still summer, but by the end of the month, you're looking toward fall.
Remember you should be mowing high — set that blade between three to four inches.
Aeration and seeding starts at the end of the month. We talked about the benefits of aeration earlier. Aeration is often followed by overseeding, as the holes created by aeration are perfect new homes for grass seed.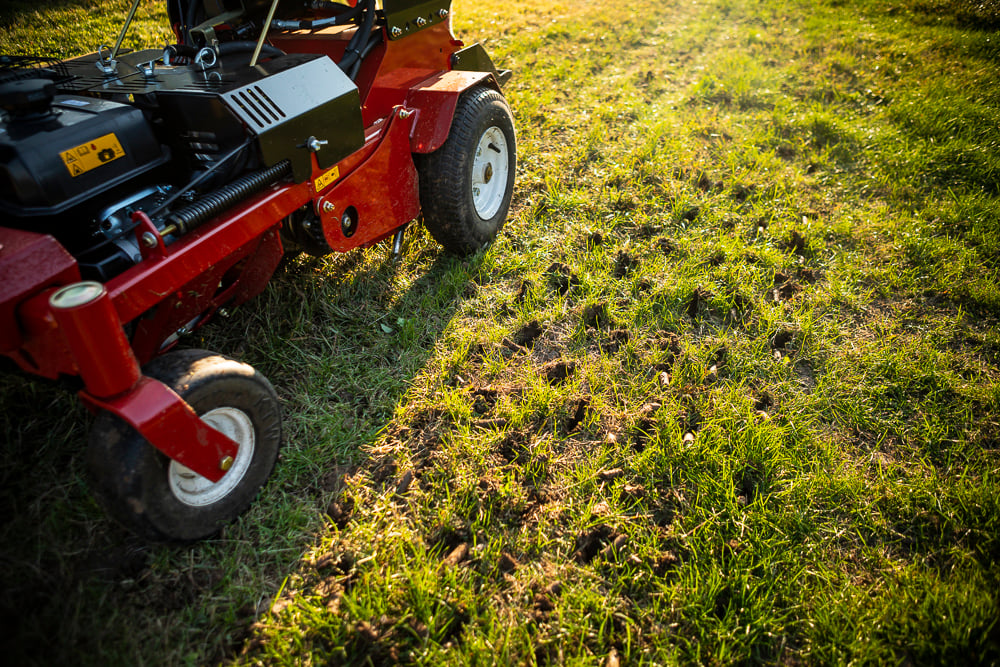 September
It's officially fall this month. Fall is great for lawn care, with its cooler temperatures and extra rain. Pack away your flip flops if you must, but don't assume your lawn care calendar is wrapped up yet.
Time for fall fertilizer. Those turf roots are still hungry. Fertilize in the fall and you give those roots nutrients to grow nice and deep now, with some left over for a healthy start next spring.
Fall is the best time of year to control weeds, so take advantage of another chance to zap 'em.
Need aeration? Fall is the ideal time for this really helpful lawn task. Weed growth isn't as likely at this time of year as it is in spring. Plus, seeding in the fall doesn't interfere with next spring's crabgrass preventer. If you have thatch more than an inch thick, aeration can also help with this challenge. Aeration uses a machine to pull out tiny cores of soil from your lawn, allowing water and oxygen to get to the roots.
October
You're carving pumpkins, watching football, sipping cider — but don't give up on your lawn just yet.
Keep mowing as needed. But resist the urge to mow extra short for the winter. There's no reason. Mowing shorter than 2.5 inches will just stress your lawn.
Remember, it's not too late to aerate in most circumstances!
Start cleaning up leaves to prevent damage to your grass.
November
Nothing much to do now, right except to stay after the leaves until they're all fallen.

How about dormant overseeding if you missed the primetime earlier in the fall?

Apply grass seed now and the seeds will stay dormant under the snow, then sprout as soon as spring weather allows.

Maybe this sounds like a task for lawn over-achievers, but it gives you a jump on great grass for next season.

Otherwise, you'll need to wait until May to safely seed.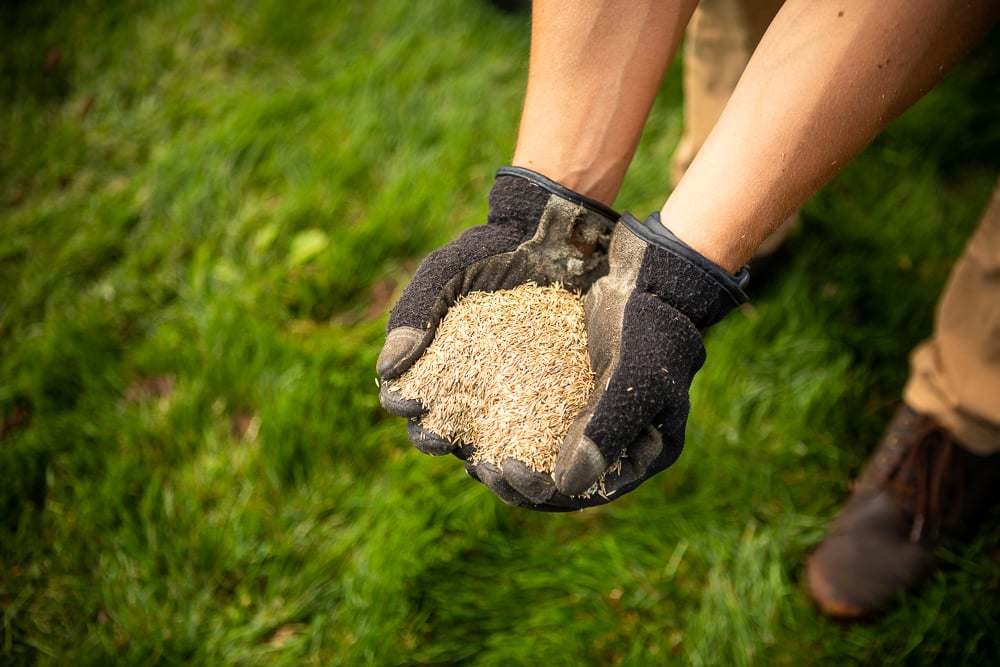 December
Time for holiday shopping!

Consider buying the gift of lawn care services for any lawn lover.

Your dad who loves his lawn but struggles lately to care for it.

Or for your kids who just bought their first house.

Or gift yourself. You deserve it, right?
Trust Your Lawn Care Calendar to RainMaster
So, we have no idea what month it is as you're reading this, but it's clear there's always something you can do for your lawn's health.

Does just reading this lawn care schedule make you tired?

We're happy to take a lot of it off your hands.

Call us any time and we can get you started with whatever action is appropriate for the month.

Choose from three different levels of lawn care programs, based on the results you'd like, how fast you want to see results, and your budget.
Luscious Lawn is a high-end, proactive program that will promote amazing lawn care results. This is the program to choose for the quickest and best results, particularly if your lawn needs a lot of help.
Terrific Turf, a mid-level option, is our most popular program to grow a thick, green lawn and deal with most challenges.
Healthy Habitat is a basic plan that includes the elements you need for a better lawn.
When you're ready to put your trust in us, we can't wait to meet you — and help you make the best choices for your lawn.

Want to hand over those pesky lawn care tasks and be confident about your choice for lawn care services? Request a quote today! We'll review your lawn care options together so you can make a great choice. Then, you can finally enjoy your lawn and stop worrying about it.
Image Source: Grub