So, you've just seeded your new lawn, and you feel like a proud parent nurturing your precious green grass baby.

You water it, check on it each day, send good growing vibes, and impatiently wait for the happy day you can wiggle your bare toes in that lush green grass.
Then, disaster. WEEDS!!!!! Noooooooooooooo! Grab the hatchet! Where's the flamethrower? Where's the weed killer?

Whoa, whoa, whoa. Do you really trust yourself with a flamethrower? Maybe some weed killer.

But is weed killer safe for new seed? How long after seeding can you spray for weeds?

Calm down and let's take a look.
Yes, Weeds Are Waiting to Move In on Your New Lawn
It's really common for weeds to pop up in newly seeded areas. You can plan on it.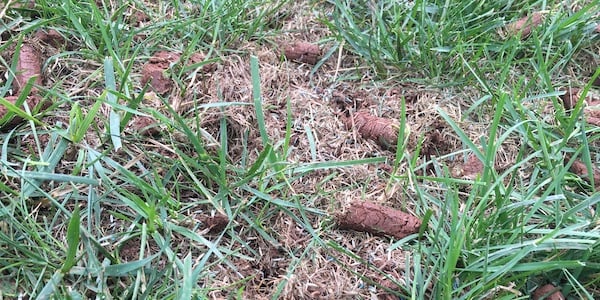 That new soil, or newly aerated soil, is prime real estate for weed seeds drifting in the air looking for the perfect new home.

So how do you go about killing weeds in a newly seeded lawn?
Sorry, Back Off on Weed Killer
Sorry, but you can't use weed control products for at least a month. The same ingredients that will kill those evil weeds will also kill your new baby grass.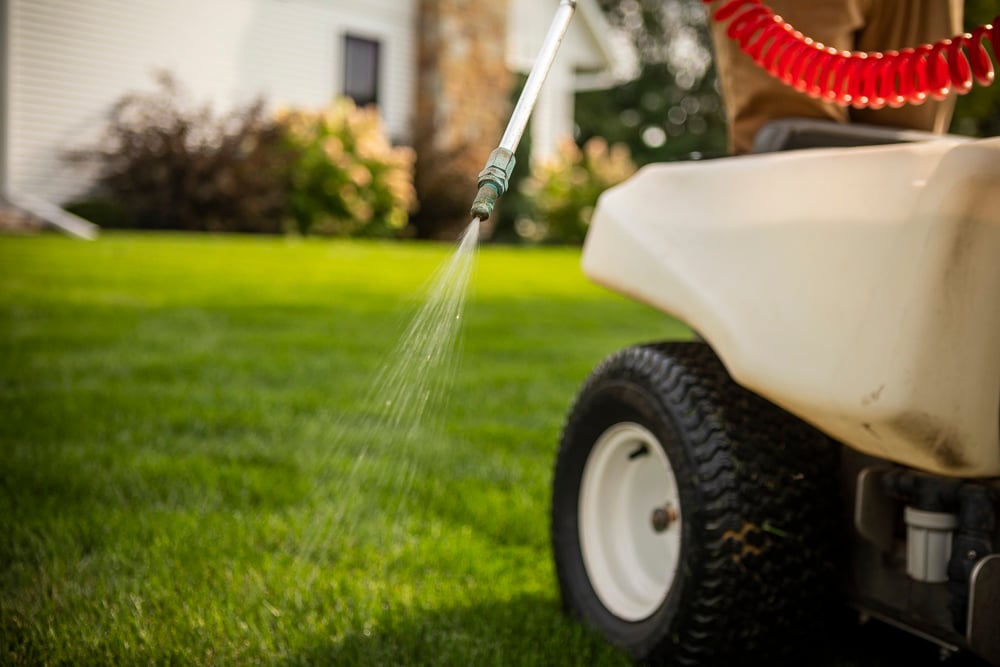 A good way to keep track: if you mow weekly, mow at least four times before you break out the weed control.

We know, weeds often grow faster than your new grass, and it'll drive you crazy.
Here's the Good News
Here's one noteworthy exception: If you live near Eau Claire, WI or the Minneapolis you can partner with RainMaster to do your lawn care. We have a pro-level product that will kill weeds without harming your new grass. We can apply it the day we seed. You won't find anything like it in the DIY lawn care aisles. It's sort of like magic, but with science.

Speaking of seed….
Be Picky About That Seed
Be really picky about grass seed in Minnesota and Wisconsin.

Sure, it sort of all looks the same spilled out in your hand, but there are important differences, including when it comes to weeds.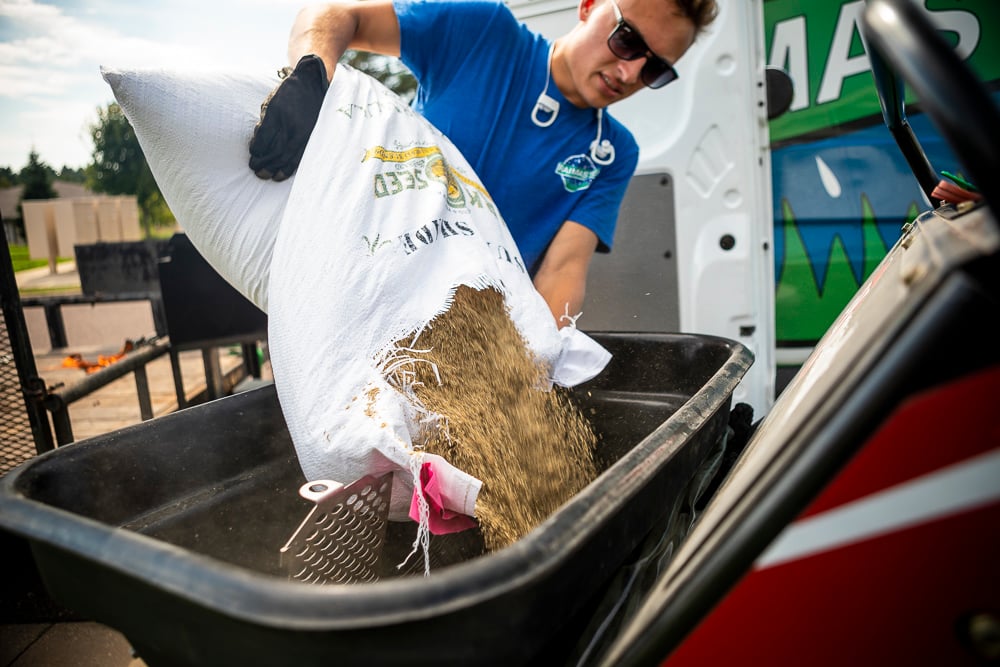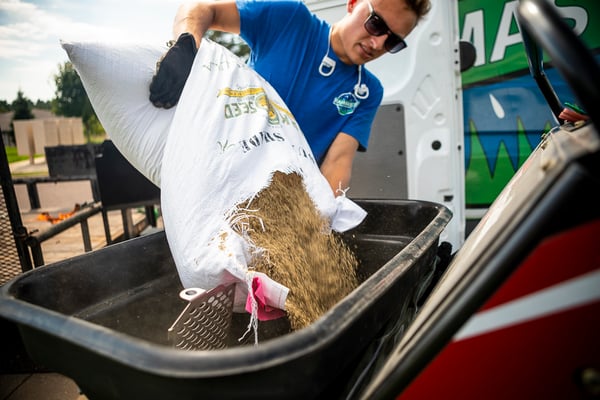 That cheap grass seed piled up in bags in the home improvement store may actually contain weed seeds. So there you are worrying about killing weeds while growing grass, and you could be planting weed seeds yourself, without even realizing it!

It's absolutely worth it to pay more for premium grass seed.
Keep Your New Grass Healthy
It's easy to obsess over killing weeds in your newly seeded lawn, but step back and look at the bigger picture.

Healthy, thick grass will fill up the space in your lawn, leaving less room for weeds. Achieving that healthy lawn goal starts now.

First, your new grass seed needs special attention, especially for the first 21 days or so that it takes to germinate.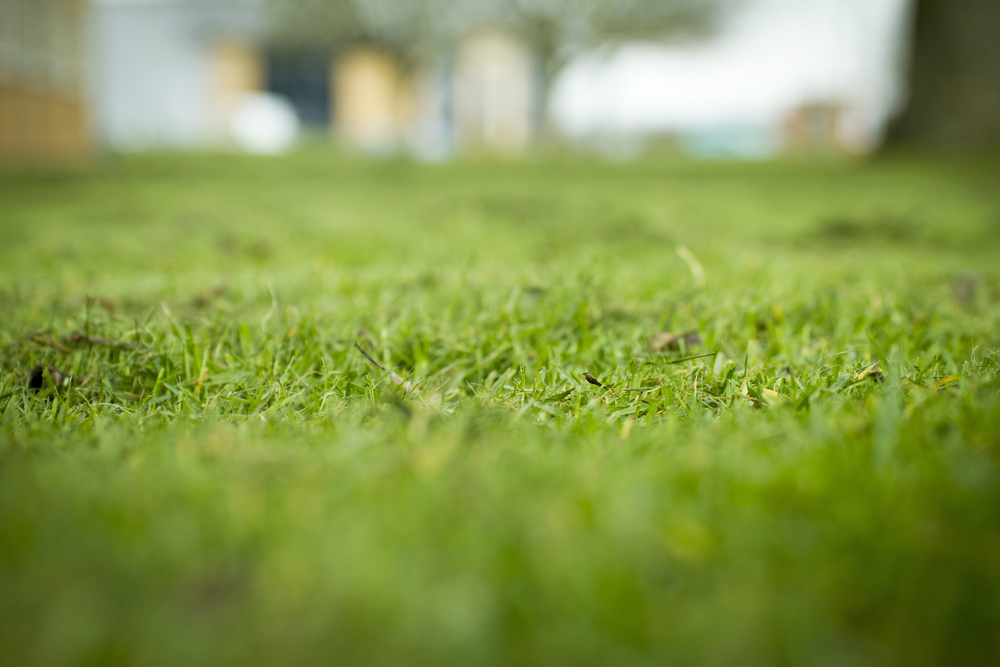 Plan on frequent light watering for the first month. Keep that seed consistently moist. But no big puddles, please. You don't want to drown your new seed or wash it away.

This usually means watering your lawn two or three times a day for 15-20 minutes.

This is really important. If you stop watering, either your seed won't germinate or your precious new grass will die.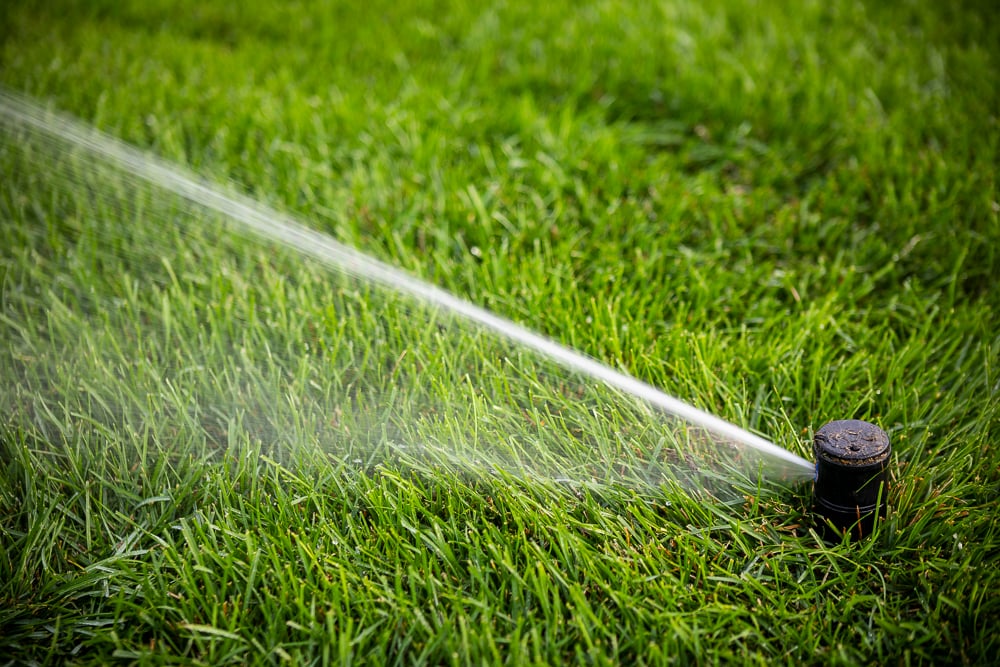 After four to six weeks, transition to longer periods of watering, but fewer times. You want your grass to have to search for water, sending its roots deeper into the soil. That encourages the roots to grow longer and deeper, which means your grass will be healthier.

And that fresh new grass is hungry. Follow up your aeration and seeding with a regular fertilizing program.
Killing Weeds While Growing Grass in Eau Claire, WI or the Minneapolis: Trust RainMaster
Killing weeds in a newly seeded lawn is a big worry of lawn lovers. But that's just the beginning.

Invest in a complete, proactive lawn care program to continuously improve and protect your Minnesota or Wisconsin lawn.

Let's create a custom nutrition plan for your lawn, so the roots will be nourished, the soil packed with nutrients, and your grass thick and healthy.

You choose from three different levels of lawn care programs at RainMaster, based on the results you'd like, how fast you want to see results, and your budget.

Luscious Lawn is a high-end, proactive program that will promote amazing lawn care results. This is the program to choose for the quickest and best results, particularly if your lawn needs a lot of help.

Terrific Turf, a mid-level option, is our most popular program to grow a thick, green lawn and deal with most challenges.

Healthy Habitat is a basic plan that includes the elements you need for a better lawn.

Once that grass seed sprouts, are you ready to give your new lawn the healthy life it deserves? Request a quote today! We'll review your lawn care options together so you can make a great choice. Then, you can finally enjoy your lawn and stop worrying about it.