You're smart about the purchases you make as a consumer, so when you're looking for options, you may look at a few different lawn care companies in Eau Claire, WI.
Then, you start comparing.
Ugh. This is more stressful than you thought.
It can get pretty time-consuming and confusing.
You're not usually comparing apples to apples, because not all lawn care companies are set up the same, or even offer the same services.
Some offer prices right up front on their website. But most don't.
Want to save some time? Here's a look at how RainMaster Lawn Systems compares to one local company you may be considering, Green Oasis.
Lawn Care Reviews
When you want recommendations, you ask your friends and neighbors, right? Checking Google reviews is like asking a whole bunch of friends and neighbors.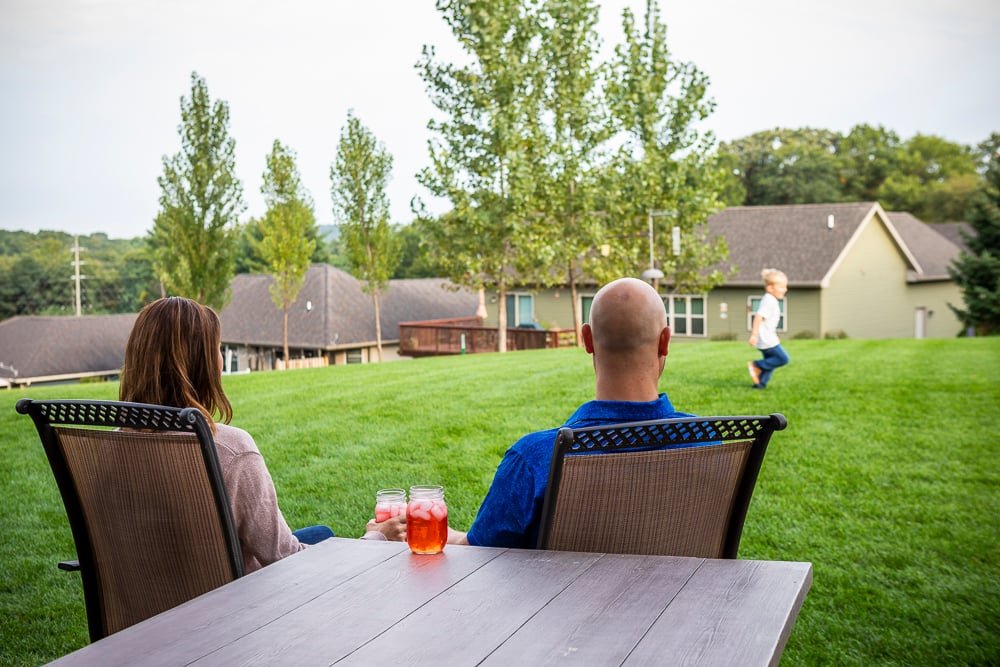 Here's what they say:
Do You Need a Lot of Services or a Focus on Lawn Care?
Green Oasis started business in 1978 with a sole focus on sprinkler system installation.
​Over the years the company expanded to include landscape design, installation, and maintenance services including lawn care, with the main focus now on landscaping and their retail garden center that also offers decor and clothing.
Services include lawn care programs; landscaping; spring and fall clean-up; pest control; snow removal; irrigation; window cleaning, and Christmas lighting.
They do a lot of stuff.
RainMaster started out small, too. But we maintained a more targeted focus. Our services include three levels of comprehensive lawn care; irrigation; commercial snow removal; and pest management.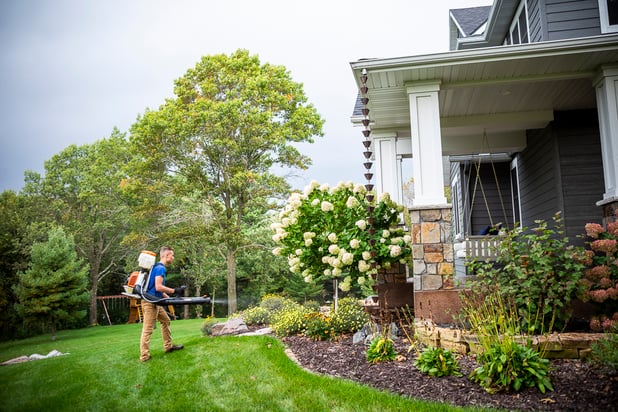 At RainMaster, we're not interested in cleaning your windows or hanging your Christmas lights. You can find those services elsewhere.
Our focus is on your lawn's health, with programs that produce healthy soil, healthy roots, beautiful, healthy green grass, and fewer weeds.
Want to turn your lawn over to experts who'll give you a healthy lawn the neighbors will admire and give you your weekends back? That's what we do.
Choice of Lawn Care Programs: RainMaster vs. Green Oasis
Green Oasis lists one recommended lawn care program on the company website, along with an organic program option.
Their recommended lawn care program includes five visits from spring through fall, with mostly liquid fertilizer, and weed control.
RainMaster offers three different levels of lawn care programs, based on the results you'd like, and your budget.
Luscious Lawn is a high-end, proactive program that will promote amazing lawn care results.
Terrific Turf, a mid-level option, is our most popular program to grow a thick, green lawn and deal with most challenges.
Healthy Habitat is a basic plan that includes the elements you need for a better lawn.
Each program is detailed on our website, so you don't have to wonder exactly what you'll get.
Type of Lawn Care Fertilizer
Green Oasis uses liquid fertilizer more often than granular.
RainMaster uses granular fertilizer, which is more expensive and effective than liquid counterparts some of our competitors use.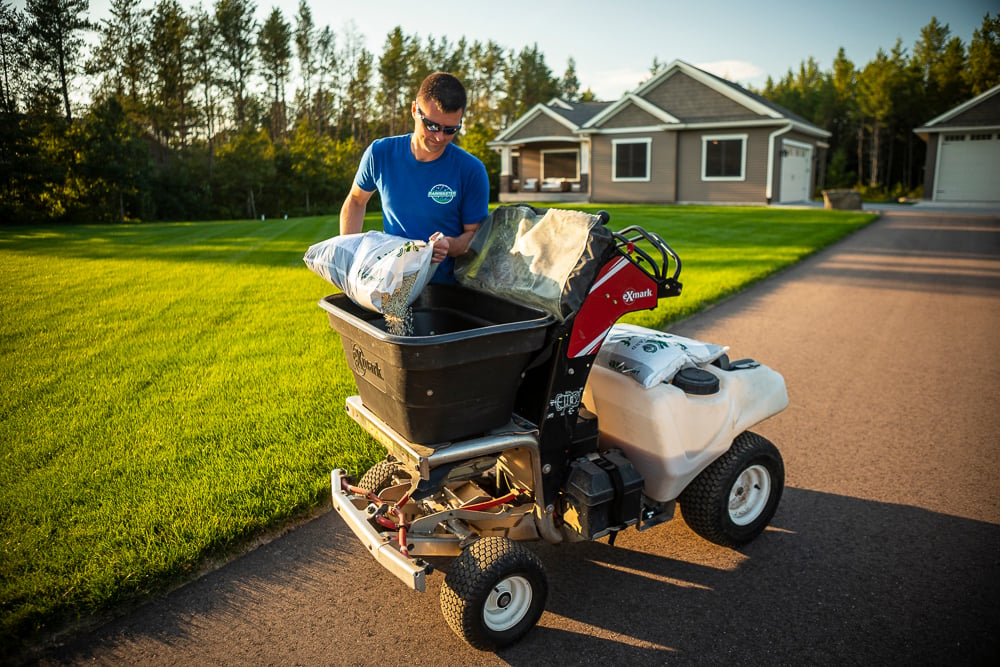 Our granular fertilizer breaks down slowly, giving you consistent benefits from fertilization.
Upfront Pricing: Green Oasis vs. RainMaster
Green Oasis doesn't post their pricing on their company website, so you'll need to call to get that information.
RainMaster lists the pricing for all services on our website.
You'll see our three lawn care programs start as low as $279 per year.
Three irrigation maintenance options start as low as $179 per year
Annual pest control services for mosquito and tick control starts at $489 and mole control starts at $419.
We know value is important to you. Our pricing reflects our commitment to investing in higher-end products, like high-quality granular fertilizer, and more expensive grub control that doesn't kill bees.
Our premium grass seed cost more but it's worth the expense. Paying for premium seed means more of it will actually germinate and the species often performs better against certain environmental pressures.
Our higher-tier programs include more emphasis on proactive lawn health, preventing problems before they're big issues, from the roots up. That costs more. Ultimately, you want your lawn to be healthy, not just look the part.
If you'd like to call us with questions, we'd love to hear from you. But you don't need to call just to find out our prices, or exactly what each of our programs offers.
We know you don't want to spend a bunch of time on the phone. All the information is right there for you on our website. We make it easy.
The Little Things Aren't So Little
You'll notice other differences in RainMaster services that might seem small at first.
RainMaster technicians physically call you on the phone after we're done on your property, to tell you what we just did.
Just a quick phone call. But it's rare in our industry. And it keeps you in the know.
When RainMaster technicians show up to aerate and overseed your lawn, you won't need to worry about your sprinkler heads or adjusting your controller for new seed.
If we have access to the controller, we'll take care of that for you. We flag your sprinkler heads so we don't hit them. Then, we'll readjust your irrigation controller for the different watering schedule the new seed needs.
No charge. You'll notice other companies charge $50 to $100 or more for this or won't even offer it.
RainMaster vs. Green Oasis in Eau Claire WI: Choose the Best For Your Lawn
When all the comparing and figuring is done, ultimately, we want the same thing you do: a healthy, vibrant lawn you're proud to show off.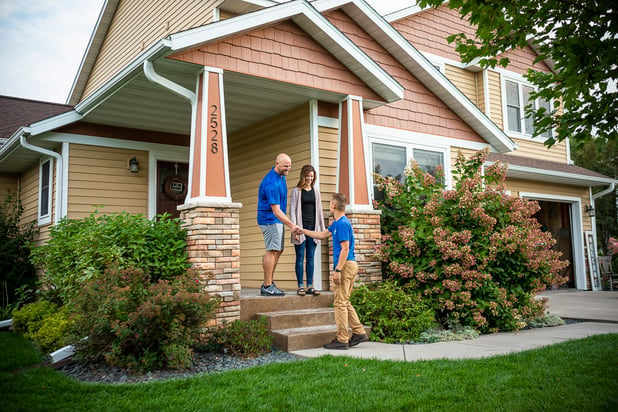 You want a company you can trust to show up with skilled and conscientious technicians who know how to make your lawn vibrant and healthy and take care of those pesky weeds.
You want a hassle-free experience that actually makes life easier, not adds stress. You have better use for your weekends, right?
When you're ready to put your trust in us, we can't wait to meet you — and help you make the best choice for your lawn.
Want to be confident about your choice for lawn care services? Request a quote today! We'll review your lawn care options together so you can make a great choice. Then, you can finally enjoy your lawn and stop worrying about it.