Are there a lot of major differences between mosquito control services in Eau Claire, WI?
Fundamentally, all mosquito services show up at your house and spray areas on your property with a mosquito control product that will be effective for about three weeks. Repeat visits will help extend season-long mosquito reduction measures. Most companies guarantee the results.
Ultimately, you want mosquitoes taken care of, and (if executed properly) pest control companies can do that.
But the few (VERY important) differences are worth pointing out. They're about how their services are performed, using a local company or a franchise, about the need for extra bells and whistles, about the kind of customer service that makes you feel valued.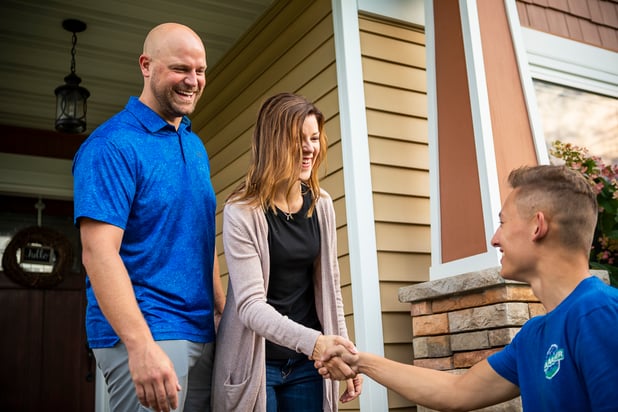 After all, you wouldn't want to trade one annoying pest (mosquitoes) for another (a company that is a hassle to deal with).
It takes time to sort through a few mosquito control services, visit their websites, call them for more information, compare their services, ponder the differences, and decide on the best choice for you.
Frankly, it's tiring just thinking about it.
So, here's a shortcut. Take a look at the best mosquito control services in Eau Claire WI.
(You should probably read this inside. Chances are, your property is buzzing with mosquitoes.)
Green Oasis
Google reviews: 4.4 out of 5 stars with 202 reviews (when article was published)
Green Oasis started in 1978 with a focus on sprinkler system installation. Over the years, this local company expanded to offer a plethora of services including a retail center that sells decor and clothing, landscape design, lawn care, window cleaning, and pest control.
One of the services they offer is mosquito control. They perform 6 visits a year, applying a natural plant extract. Personally, we've found that natural mosquito control remedies have a very short shelf life and we've chosen to use the widely-accepted traditional mosquito spray methods that still pose very minimal risks (except if you're a mosquito).
Green Oasis does not list any pricing on their website.
Mosquito Hunters of Chippewa Valley
Google reviews: 5 out of 5 stars with 100 reviews (when article was published)
Mosquito Hunters is a national company with franchise locations throughout the country.
In addition to serving residential customers, the company serves commercial clients, as well as communities and municipalities.
They also offer one-time event mosquito control, and has an all-natural application option in addition to the standard barrier spray.
Mosquito Hunters doesn't list prices for any of its mosquito control services on its website, so you'll need to call for that information.
Since it's a franchise, you can learn very little (if any) information about their local team on their website. The national franchise adds a few new pages on their website each time they add a franchisee. Wouldn't it be nice to understand just who you're working with?
Orkin
Google reviews: 4.7 out of 5 stars with 985 reviews (when article was published)
Most people know the Orkin name. The pest control company has been in business for 100 years, founded in 1901. They operate more than 400 locations worldwide, serving residential and commercial customers.
Orkin's service offering goes way beyond mosquito control services.
They also target carpenter ants, bed bugs, fleas, ticks, crickets, roaches, mice, spiders, termites, and more.
In addition to pest control, Orkin also offers moisture control services and attic insulation.
Orkin doesn't list prices for any of its mosquito control services on its website, so you'll need to call for that information.
Like franchises, large corporations like Orkin have many locations and it's not easy to learn much about their local team on their website.
And as it follows with most national corporations with hundreds of locations with millions of customers, you may be concerned if you are just another account. While there could be some great team members there, you may want to do your research if this is the best choice for you.
RainMaster Lawn Systems
Google reviews:
Eau Claire WI Location: 4.8 out of 5 stars with 362 reviews
Blaine MN Location: 4.8 out of 5 stars with 236 reviews
In your quest for great mosquito control services in Eau Claire, WI, we hope you consider RainMaster.
Here are some of our biggest differences.
We Focus on Homes
While other mosquito control services in Eau Claire serve commercial properties, campgrounds, and municipalities, we focus on residential customers.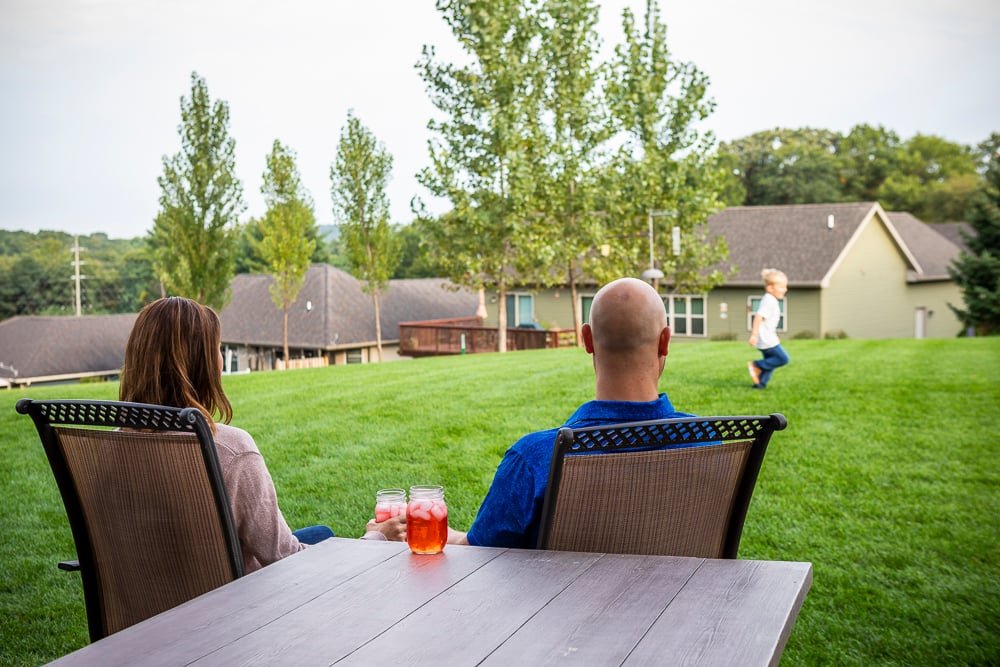 Our specialty is helping homeowners like you who want to enjoy your yard all summer, relax at your cabin, lounge on the patio or by your pool, and feel safe about letting your kids and pets play in the yard.
The Right Size with Long-Term Customer Relationships
One of the things we pride ourselves in is building long-term relationships with our clients. Most of our technicians have been with our company for years and have actually developed friendships with the customers they service.
As our company grows at a healthy pace, we put our strongest focus on developing our team members so they stay and continue to keep providing impeccable service for our customers. We put more emphasis on keeping those customers happy than adding new ones in droves.
Our organization isn't too small that we can't keep up with the pace of our customer demand nor is it too big that we're looking at a constant turnover of team members and customers.
That's something we're very proud of and we think you'll feel that impact and confidence in our personalized approach.
Double Duty: Mosquitoes and Ticks
Yes, our mosquito treatments help with ticks, too.
Ticks and mosquitoes like the same type of habitat — vegetative areas that are damp, shady areas with access to moisture.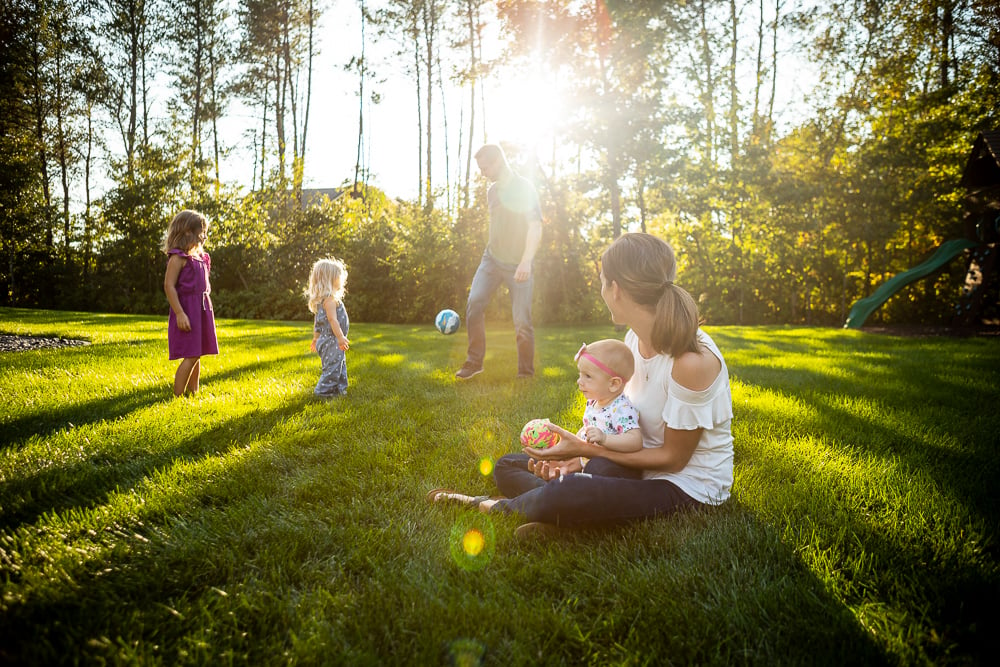 So, our mosquito control services target them both, reducing mosquitoes and ticks on your property all season long, with regular visits every three weeks.
A lot of pest control companies charge separate fees for killing mosquitoes and ticks, even though they're using the same product in the same areas to kill both.
At RainMaster, we kill both pests for one price.
Speaking of Price....
Our mosquito control service starts at $539 for a season, based on the size of your yard, with six treatments each year, spaced approximately every three weeks from spring to fall.
You'll find pricing information for all of our services, including lawn care and irrigation, on our website. No detective work needed.
We truly believe that our customers should clearly understand how much they will pay to get rid of mosquitoes and how that service will be performed.
Which begs the question...why don't these other companies share any pricing information on their website?
No Gimmicks, Just What is Proven to Work
While other mosquito control services in Eau Claire WI offer automatic misters and "tick tubes" to get mice in on the tick-killing action, we concentrate on spraying your yard to kill mosquitoes and ticks.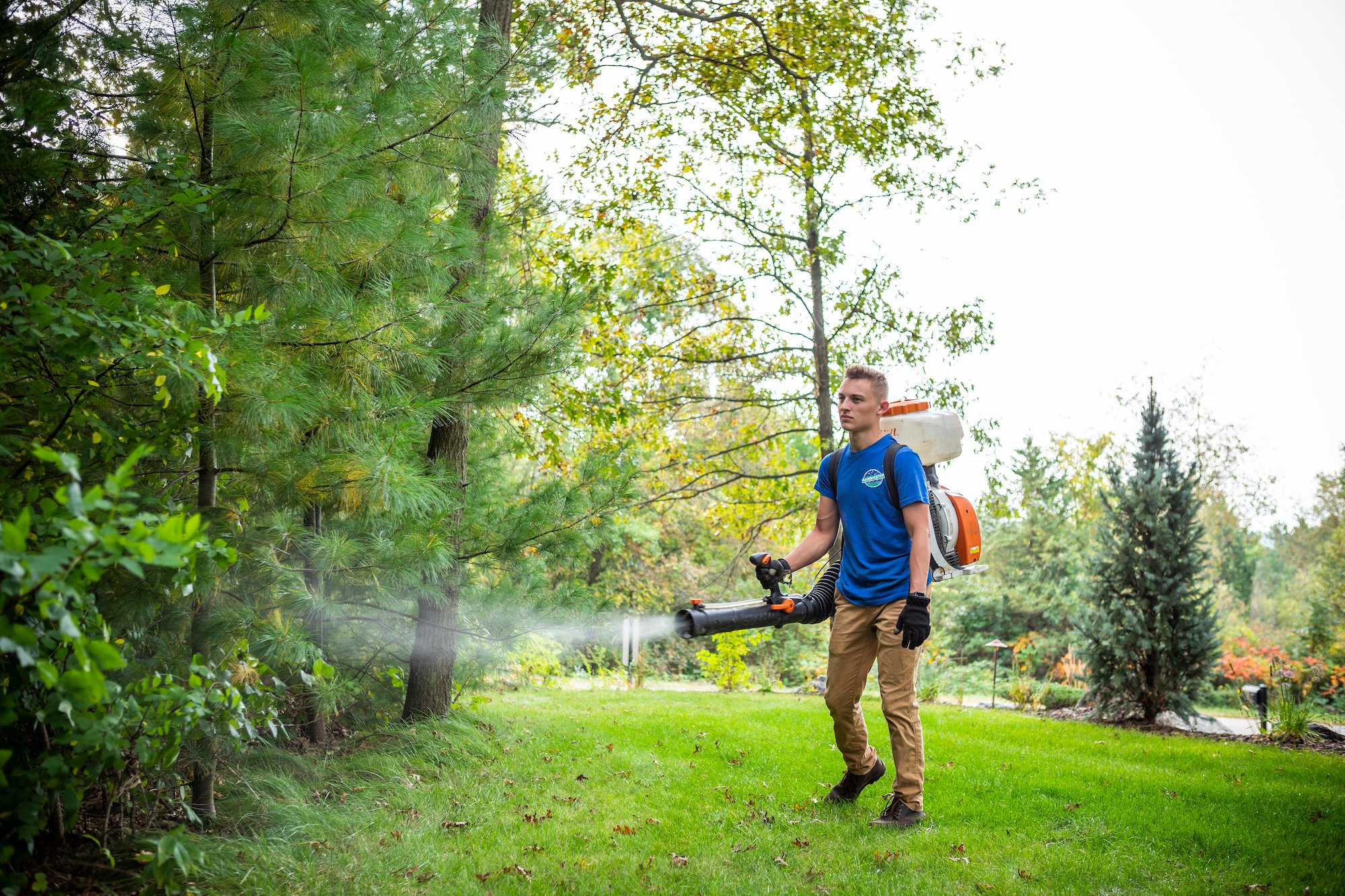 Honestly, our dependable barrier spray is all you need. It really works. We guarantee it.
If you're looking for an all-natural option for mosquito control, you won't find it here. Plus, traditional mosquito control products pose very minimal risks after they dry in an hour or two (unless you're a mosquito!).
We tried natural options. They don't work as well, even though they cost considerably more. Our customers didn't like it, either. They want their mosquitoes gone.
Courteous Customer Service
You expect good customer service. We provide it.
We tell you when we're coming over to spray, notifying you the day before.
Our customers appreciate that. You don't have to worry about coming home to find a sign in the yard that your mosquito control service was there — and realize your dogs were out running around.
Plus our technicians love leaving recommendations for other little things you can do to reduce pests even more. You'll get those after we perform a treatment. It's just all part of us becoming good friends.
Mosquito Control Services with Thorough, Immediate Results
Killing mosquitoes and ticks is kind of like the real estate business: location, location, location.
We spray the perimeter of your yard, hitting the spots where ticks and mosquitoes lurk and breed:
Underneath plant leaves
Shady areas
Wet areas
Under decks
Under tree canopies
Wood piles
Then, bam, immediate results. Head outside and enjoy your evening. Linger as late as you like. No swatting required.
Need Mosquito Control Services in Eau Claire WI? Trust RainMaster
Isn't it time you took your yard back?
No more retreating inside from the pesky invaders who took over.
It's your yard. Get back in the garden, out to the grill, and on the swing set again.
Backyard life, worry free.
Are you ready to stop stressing about mosquitoes and ticks? Get a free quote for mosquito control. Then, you can get back to enjoying your yard, without all the swatting and scratching.