It's easy for your eyes to glaze over when you start looking for the best lawn care company.
Fertilizer, grass seed, weed control, toss in a core aeration and maybe some grub control. After a while, it's just a blur.
Stressed about your choice? We get it.
What if you pick the wrong lawn care company and end up wasting money?
What if they turn out to be a big pain, cutting corners on your lawn care services or ignoring your phone calls?
We know you're looking for the best lawn care company in Eau Claire. A company you can trust to show up with skilled and conscientious technicians who know how to make your lawn vibrant and healthy, and take care of those pesky weeds. We know that's non-negotiable.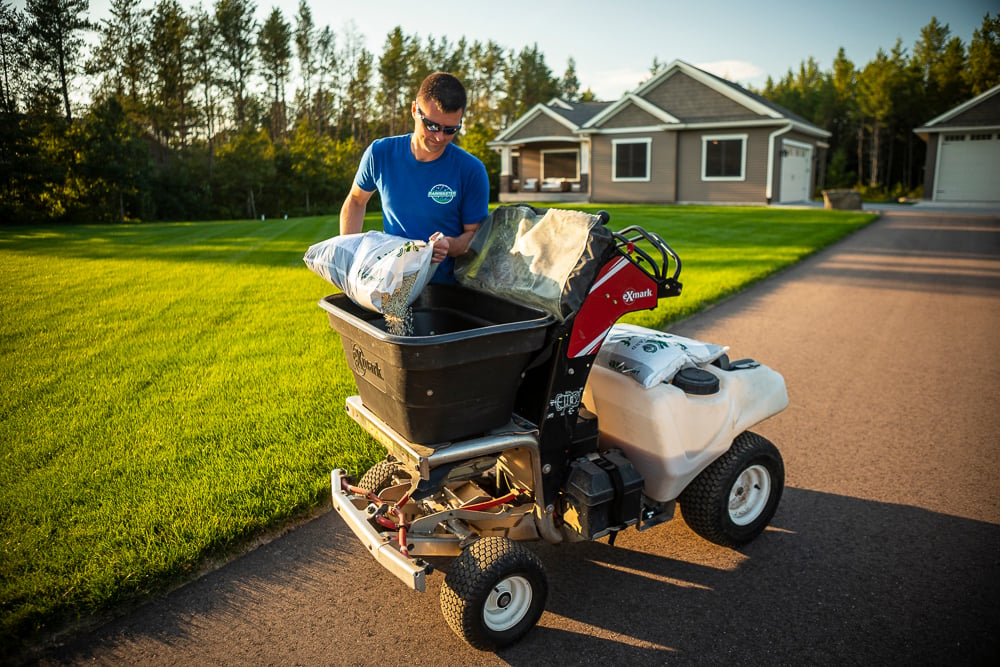 And it's okay to admit you also want people in the neighborhood to notice your great-looking lawn. You're only human.
Allow us to narrow down your choices. Take a look at our list of some of the best lawn care companies in Eau Claire, WI.
Green Oasis
Green Oasis started business in 1978 with a sole focus on sprinkler system installation.
Over the years the company expanded to include landscape design, installation, and maintenance services, with a main focus now on landscaping and their retail garden center.
Services include lawn care programs; landscaping; pest control; snow removal; irrigation; window cleaning and Christmas lighting.
TruGreen
Everybody's heard of TruGreen. It's the nation's largest lawn care company, serving more than 2.3 million residential and commercial customers across the United States with lawn, tree, and shrub care.
There are more than 300 TruGreen lawn care branches in the United States and Canada, plus about 35 franchise locations.
TruGreen services the Eau Claire, WI area through its Vadnais Heights branch location. It offers several lawn care plans to choose from, and also provides flea and tick control; mosquito prevention; tree and shrub care plans.
While some people assume the best lawn care company is the biggest one, remember you often get more personalized customer service from smaller companies.
Plus national companies are often known for having a lot of turnover with team members.
Premium Lawn Service
This family-owned business started in 2000 with basic lawn mowing services and has grown to offer landscaping, irrigation, snow removal, landscape lighting, and mosquito spray.
The company offers a 5-step liquid application program. The first application includes a crabgrass prevention, and the last one focuses on winterization. The middle applications include a broadleaf control along with fertilizer. They also offer products that focus on specific types of weeds in your lawn.
NatureScape Lawn and Landscape Care
NatureScape started in Appleton, WI in 1986, and now operates 38 locations in the Midwest and South. In many cases, this company is often known for having the lowest prices.
But is that necessarily a good thing? Hmm...
Services include lawn care; pruning; snow removal; mosquito control; tree and shrub care; mowing; aeration; preventive grub control.
Greener Images Lawn Care
Greener Images started in 2004 and specializes in liquid fertilizer and weed control applications.
The company also offers lime application; grub and insect control; plug aeration; birch tree insecticide and mole trapping.
RainMaster Lawn Systems
As you compare lawn care companies in Eau Claire, we hope you also consider RainMaster.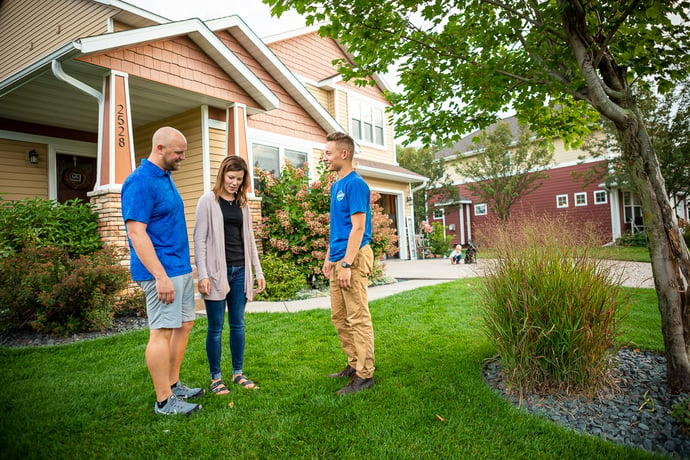 Like many of our competitors, we started out small in 1999. Our founder's basement kind of small.
But by 2004 we constructed new facilities to house our expanding team and equipment.
Today, our services include three levels of comprehensive lawn care; irrigation; commercial snow removal; and pest management.
Tell us about your lawn hopes and dreams, from finally hosting the family reunion to lazy barefoot weekend afternoons.
We'll tell you about our nutritional plan for your lawn, so the roots will be nourished, the soil packed with nutrients, and your grass so thick and healthy, weeds won't stand a chance.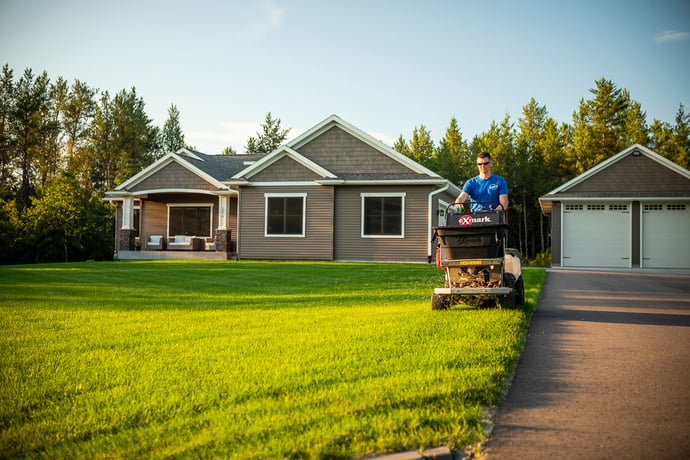 At RainMaster, we believe the best lawn care companies focus on your lawn's total health, with programs that start deep below the soil's surface.
Healthy soil. Healthy roots. Beautiful, healthy green grass. Fewer weeds.
What makes us stand out from the rest?
Meet Our Skilled and Educated Lawn Care Team
It includes pros with horticulture degrees, decades of experience, and time working on the pristine turf of the Milwaukee Brewers.
While most people who work in the lawn care industry are seasonal, we hire our team members on a full-time, year-round basis. Then, we invest in them, providing training and education. You'll see the results of all this in your healthy lawn.
Expect Comprehensive Lawn Programs —Not Just Visits
It's easy to get caught up in the number of visits your lawn care service offers. The best lawn care companies offer the most, right?
That's not what really matters.
At RainMaster, we care about the quality of visits to your lawn. We assess your lawn, then create a program that will help it thrive.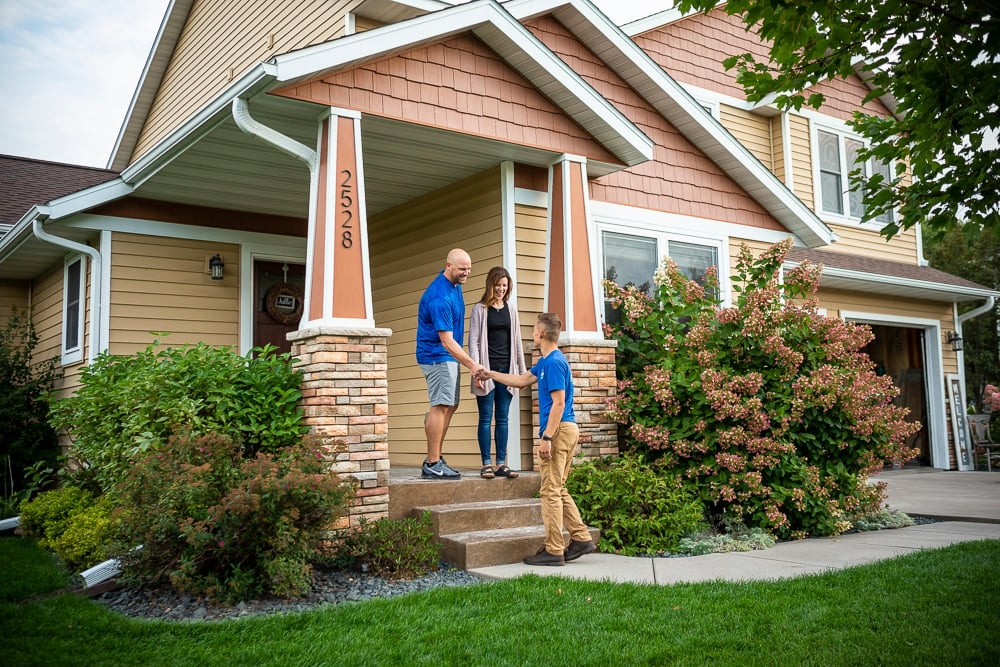 You want a healthy, attention-grabbing lawn that isn't a forest of weeds. That's what we want, too.
We offer three different levels of lawn care programs, based on the results you'd like, and your budget.
Healthy Habitat is a basic plan that includes the elements you need for a better lawn.

Terrific Turf, a mid-level option, is our most popular program to grow a thick, green lawn and deal with most challenges.

Luscious Lawn is a high-end, proactive program that will promote amazing lawn care results.
Whatever level you choose, your lawn will get granular fertilizer, which is more expensive than the liquid counterparts many of our competitors use. Liquid is more common in our industry, but our granular fertilizer breaks down slowly, giving you consistent benefits from fertilization.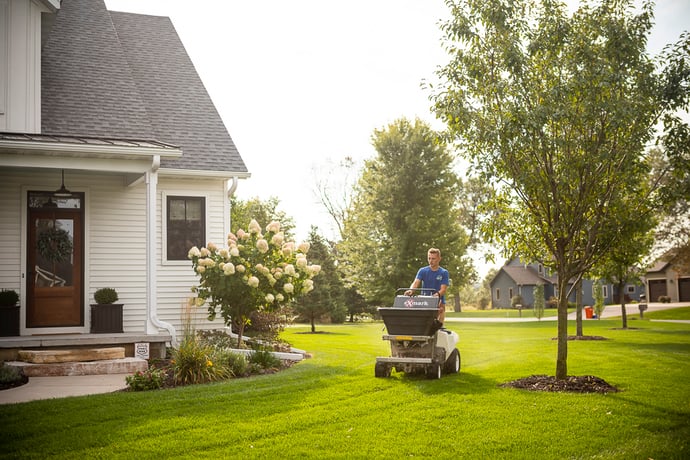 And when we apply grub guard to your lawn, it won't kill bees like the cheaper products most other companies use. Let's all do what we can to help the little guys.
Want to talk about your lawn care program choices? We'd love to. We're happy to help you choose the plan that's best for your lawn.
We're in this together.
Be Confident in Your Lawn Care Choice
As you search for the best lawn care company, we know you want to be confident about your choice. That's what we want, too. We've listed some of the best lawn care companies in Eau Claire in hopes of helping you out a bit.
There's a lot at stake. Your pride. Your relaxing outdoor living. But mostly, the health of your lawn.
Don't settle for a lawn care company that just pops over once in a while to make your grass look green. Whatever lawn care company you choose, expect more than that.
We'd love to hear your high expectations.
Are you ready for a vibrant, green lawn that not only looks great, but is healthy, right down to the roots? Request a quote today. We'll review your options together so you can make a great choice. Then, you can finally enjoy your lawn and stop worrying about it.