How do you zero-in on the best lawn care services in Minneapolis?
It seems like an overwhelming task, right?
Everybody tosses around the same terms —fertilizer, aeration, weed control.
Everybody will tell you they're the best. But are they? How are you supposed to know for sure?
If you're stressed about your choice, we get it.
What if you choose the wrong lawn care services and end up wasting money?
What if they turn out to be a big pain, cutting corners on your lawn care or ignoring your phone calls?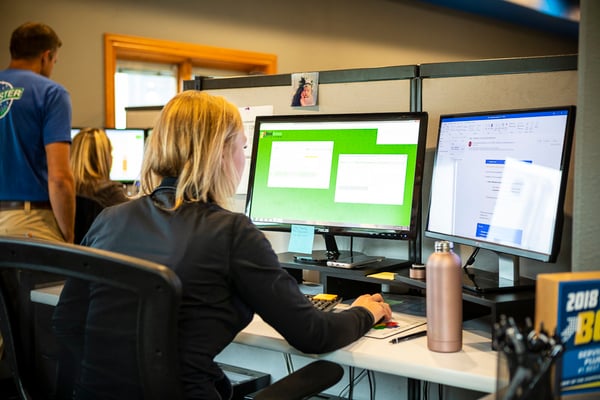 We know you're looking for the best lawn care services in Minneapolis:
a company you can trust to show up with…
skilled and conscientious technicians who know how to make your lawn vibrant and healthy, and take care of those pesky weeds and…
a hassle-free experience that actually makes life easier, not adds stress.
(We know that's non-negotiable.)
Allow us to narrow down your choices. Take a look at our list of some of the best lawn care services in Minneapolis.
1. Scott's Lawn Care, Inc.
Located in North Independence, MN, Scott's has served the Twin Cities west suburbs since 1996.
The locally owned, family-run company offers weekly maintenance; trash and tree debris pick up; spring and fall clean up; fertilizing; weed control; tree and shrub trimming; sprinkler system maintenance; mulch; flower planting; seeding and sod installation; landscape renovation; snow plowing and ice control.
Offering everything from weekly maintenance programs to snow plowing to storm cleanup, Scott's offers many services instead of one or a few areas of specific focus.
Their lawn care services page offers some descriptions of various treatments they offer, but it's uncertain which of these are included or extra services on their recommended programs. There also doesn't appear to be any pricing information on their lawn care programs or treatments.
Their Google review summary shows 5 out of 5 stars with 5 reviews.
2. T.P.C. Landscape
In business since 1986, this Burnsville, MN company specializes in design consultation; maintenance for townhome associations as well as offering landscaping; irrigation system installation and maintenance; lawn care; and snow removal.
One of the largest landscapers in the region, the company highlights quality craftsmanship in its landscape design, specializing in high-end homes.
Its lawn care division is called Top Choice Lawn Care. This services page on their website lists various applications they recommend but it's not clear if they offer a specifically-recommended program or what the pricing for their options may be.
Their Google review summary shows 3.9 out of 5 stars with 7 reviews.
3. RainMaster Lawn Systems
As you compare the best lawn care services in Minneapolis, we hope you also consider RainMaster. It's our goal to become a lawn care resource you can trust to show up, deliver great results, and remove stress and worry from your life.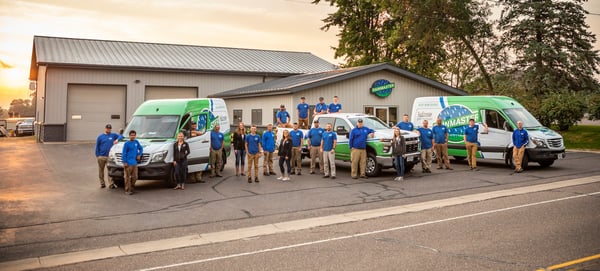 Like many of our competitors, we started out small in 1999. Our founder's basement kind of small.
But by 2004 we constructed new facilities to house our expanding team and equipment.
Today, our services include three levels of comprehensive lawn care; irrigation; commercial snow removal; and pest management.
Tell us about your lawn hopes and dreams, from finally hosting the family reunion to lazy barefoot weekend afternoons.
We'll tell you about our nutritional plan for your lawn, so the roots will be nourished, the soil packed with nutrients, and your grass so thick and healthy, weeds will struggle to survive.
At RainMaster, we believe the best lawn care services in Minneapolis focus on your lawn's total health, with programs that start deep below the soil's surface.
Healthy soil. Healthy roots. Beautiful, healthy green grass. Fewer weeds.
RainMaster's Google review summary:
What makes us stand out from the rest?
Meet Our Skilled and Educated Lawn Care Services Team
It includes pros with horticulture degrees, decades of experience, and time working on the pristine turf of the Milwaukee Brewers.
While most people who work in the lawn care industry are seasonal, we hire our team members on a full-time, year-round basis. Then, we invest in them, providing training and education. You'll see the results of all this in your healthy lawn.
Expect Comprehensive Lawn Programs —Not Just Visits
It's easy to get caught up in the number of visits your lawn care service offers. The best lawn care services offer the most, right?
No, that's not what really matters.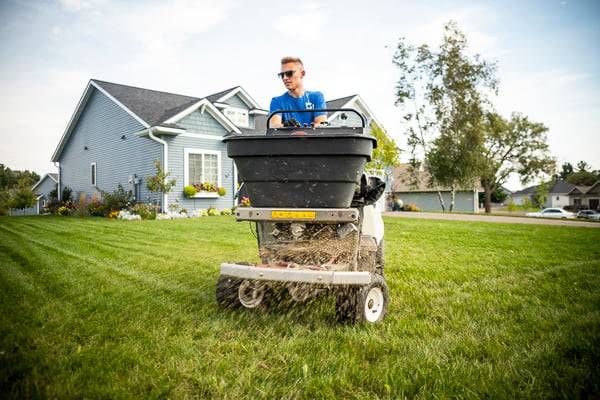 At RainMaster, we care about the quality of visits to your lawn. We assess your lawn, then create a program that will help it thrive.
You want a healthy, attention-grabbing lawn that isn't a forest of weeds. That's what we want, too.
We offer three different levels of lawn care programs, based on the results you'd like, and your budget.
Luscious Lawn is a high-end, proactive program that will promote amazing lawn care results.
Terrific Turf, a mid-level option, is our most popular program to grow a thick, green lawn and deal with most challenges.
Healthy Habitat is a basic plan that includes the elements you need for a better lawn.
Whatever level you choose, your lawn will get granular fertilizer, which is more expensive than the liquid counterparts many of our competitors use.
Liquid is more common in our industry, but our granular fertilizer breaks down slowly, giving you consistent benefits from fertilization.
And when we apply grub guard to your lawn, it won't kill bees like the cheaper products most other companies use. Let's all do what we can to help the little guys.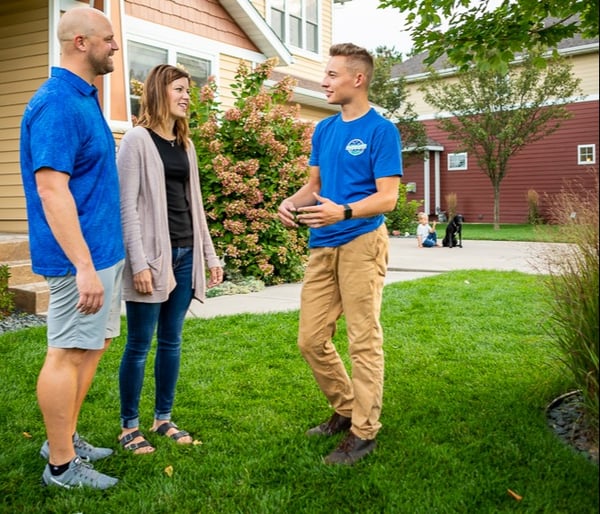 Want to talk about your lawn care program choices?
We'd love to. We're happy to help you choose the plan that's best for your lawn.
We're in this together.
Be Confident in Your Lawn Care Services Choice With RainMaster
As you search for the best lawn care services in Minneapolis, we know you want to be confident about your choice.
That's what we want, too. We've listed some of the best lawn care services in Minneapolis in hopes of helping you out a bit.
There's a lot at stake. Your pride. Your relaxing outdoor living. But mostly, the health of your lawn.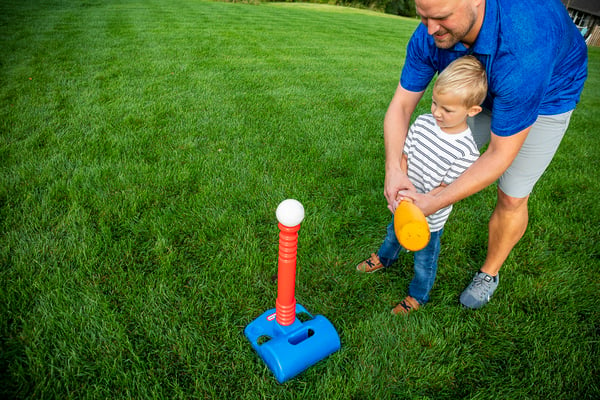 Don't settle for a lawn care company that just pops over once in a while to make your grass look green.
Whatever lawn care company you choose, expect more than that.
We'd love to hear your high expectations.
Want to be confident about your choice for lawn care services in Minneapolis? Request a quote today! We'll review your lawn care options together so you can make a great choice. Then, you can finally enjoy your lawn and stop worrying about it.